I love a cake topper, especially a cute one like this! I think mostly because it can be the star of the show and no one looks at my icing too hard! ;) Want to learn how to make a Ice Cream Party cake topper with your Cricut Maker and the Cricut Knife Blade? Let's do it!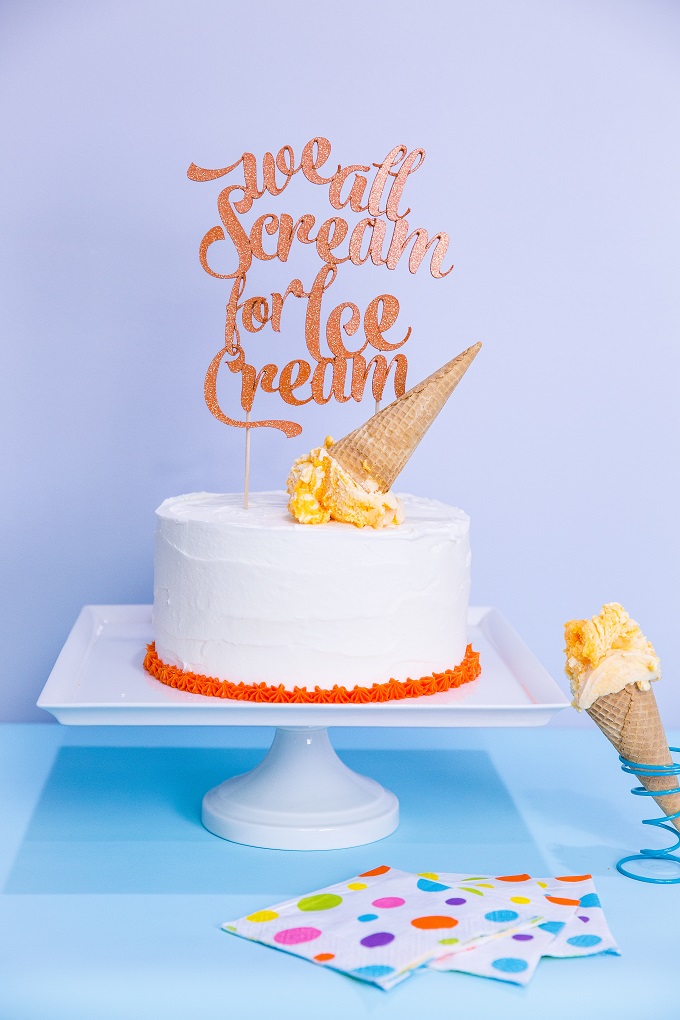 I make a lot of party decor with my Cricut Maker, like cake toppers, cupcake picks, party banners, treat bags, favor tags and so much more. The new Knife Blade is perfect for durable crafts like this ice cream party cake topper that you want to use again and again. Did you see my 4th of July cake topper? I'll be hanging on to this one to use year after year.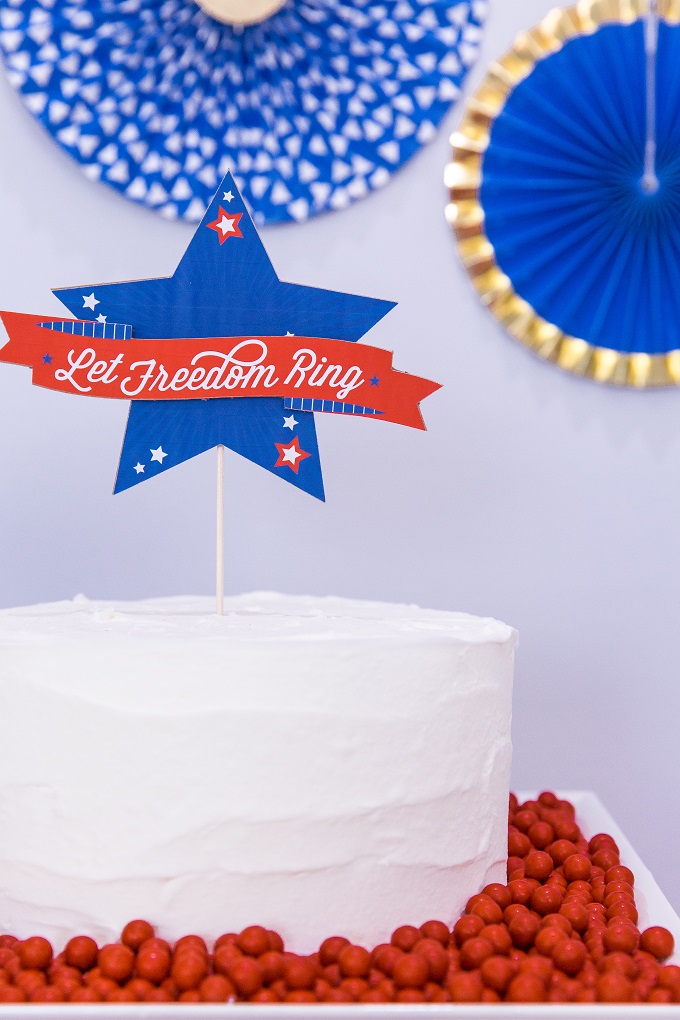 For this patriotic cake topper, I used Cricut printable vinyl, then adhered it to chipboard. It's so easy and I love how the patriotic cake topper has all the design of print then cut! Join me for the complete 4th of July cake topper tutorial! I also hosted a Facebook Live for this cake topper on the Cricut Facebook page. I messed up a few times so make sure and check it out and laugh at me or with me. Your call. ;)
Back to the ice cream party cake topper, I used chipboard to make my "We All Scream For Ice Cream" cake topper. Once I cut it all out, I painted it. Just take several light passes with the spray paint and you won't have any drips!
Ice Cream Party Cake Topper Supplies
To make this cake topper you'll need:
Orange Spray Paint
Gold Glitter Spray Paint
Wooden Food Dowels
Masking Tape or Painters Tape
Glue Gun
Optional: Small Scissors & Cricut Weeding Tool
Ice Cream Party Cake Topper Tutorial
Step 1 – Design Space – Open the project linked above and size the design. My cake is an 8″ round, double layer, so I made my cake topper 7″ wide.
Step 2 – Prep Mat – Knife Blade projects require a strong grip mat (purple). And they require you to tape down the edges of the material you're cutting.
Step 3 – Start Cut – Move the Maker star wheels (those little wheels that grab the mat) to the right. Connect your computer to your Cricut Maker machine and start the cut. (Note: Knife Blade projects can not be managed from your mobile device due to the length of time they can take.) This project could take up to 20 passes and 2 hours to complete depending on how new your blade is. You can check around pass 16, and if the blade is fairly new your cut might be done.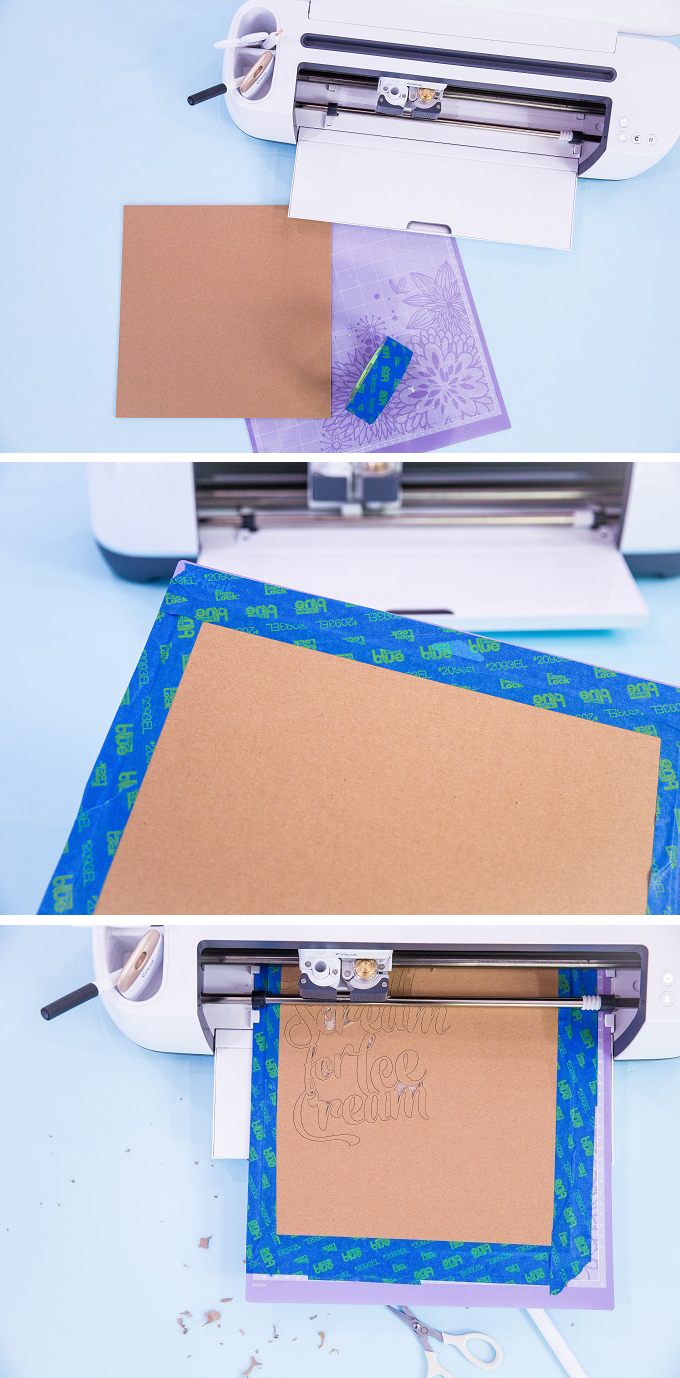 Step 4 – Stay Near – I recommend staying near the project while it's cutting. When I see a edge in tight spots that wants to pop up, I pause my cut and trim away the excess with small scissors or pull it out with a weeding tool.
Step 5 – Paint – I like to spray paint cake toppers. I use several light passes (in a well ventilated area) and then end with a glitter spray so they sparkle.
Step 6 – Attach Dowels – Using a hot glue gun, attach two food safe dowels to the backside of the cake topper.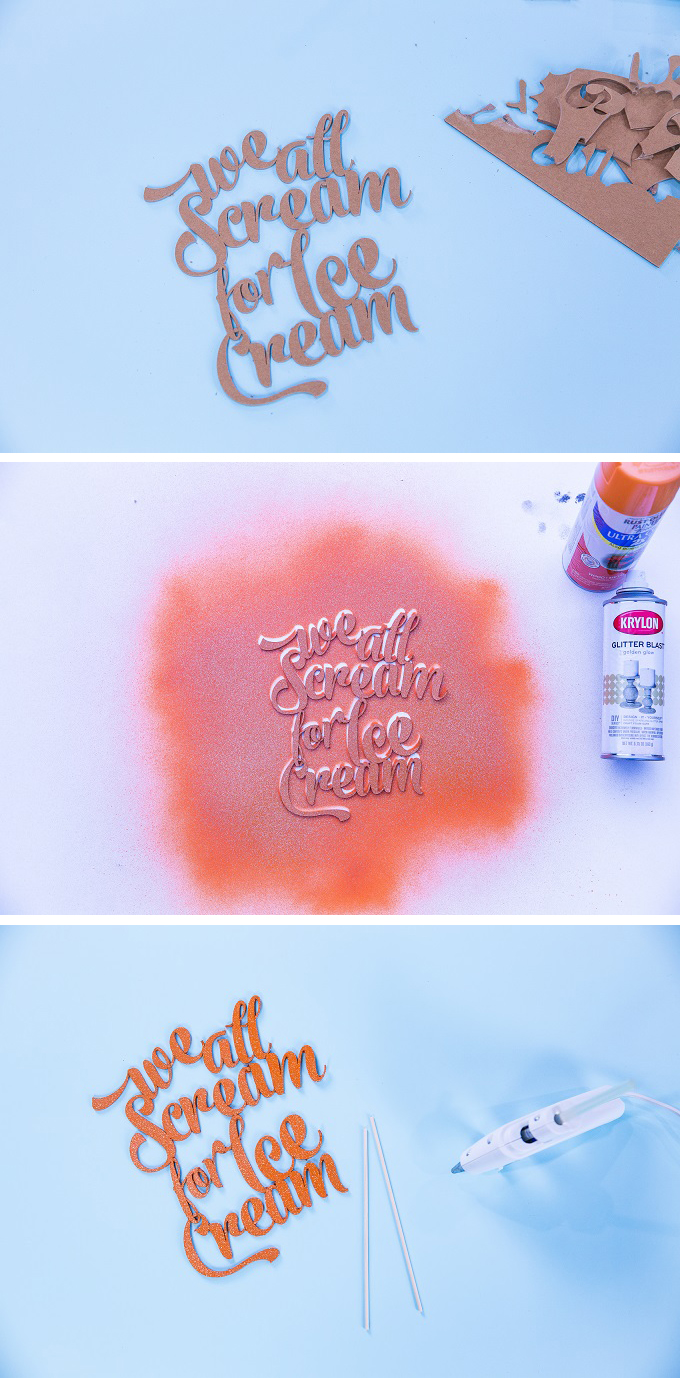 It's that easy to make a ice cream party cake topper with the Cricut Knife Blade!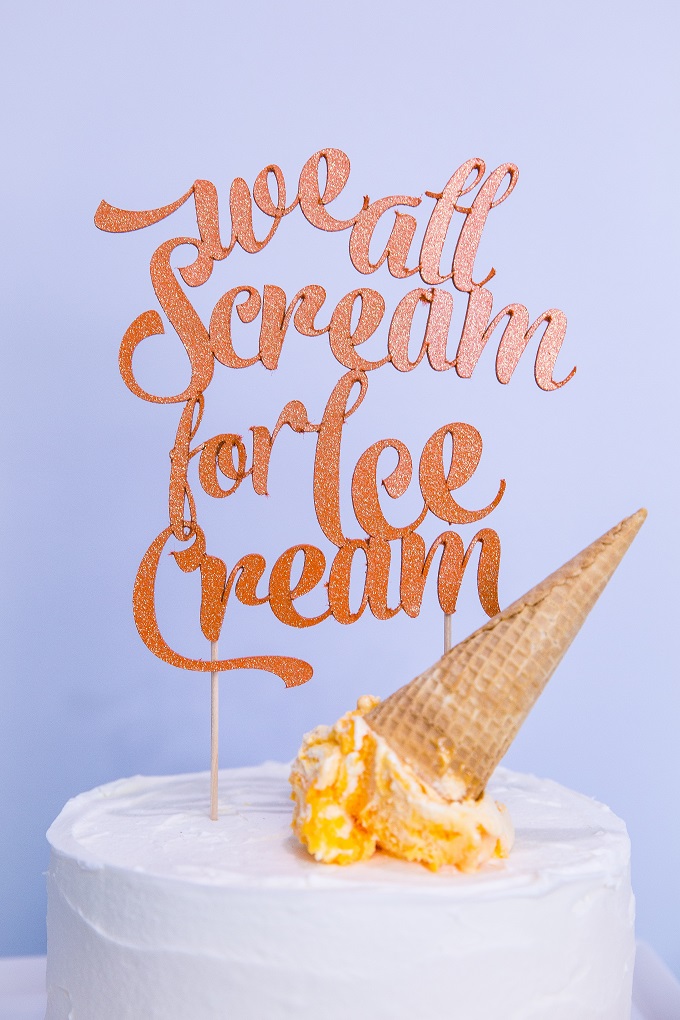 For the cake itself, I made standard vanilla cake, my son's request, vanilla white frosting, and topped it with a orange sherbet sugar cone. Next time I think I'm going to layer the sherbet between the cake layers because it was amazing together. I picked it up at Target if you want to try it out. It's their brand! And if you make the ice cream cake version, just make sure you have room in your freezer to store it before you serve. It gets soft really fast. :)
Browse My Cricut Cartridges!
Want to see my other Cricut cartridge designs in Cricut Design Space? Maybe you'll find something to inspire your next Cricut craft!
More Cake Topper Ideas
Want more cake topper ideas? I've got you covered!
As always, I hope you're inspired to craft, bake, create and celebrate!
Thank you for supporting my wonderful sponsors. They make it possible for me to keep the ideas coming! All content, ideas, photography and opinions are that of my own and I'd have it no other way! There may be affiliate links in this post, of which we do earn a small fee at no cost to you.