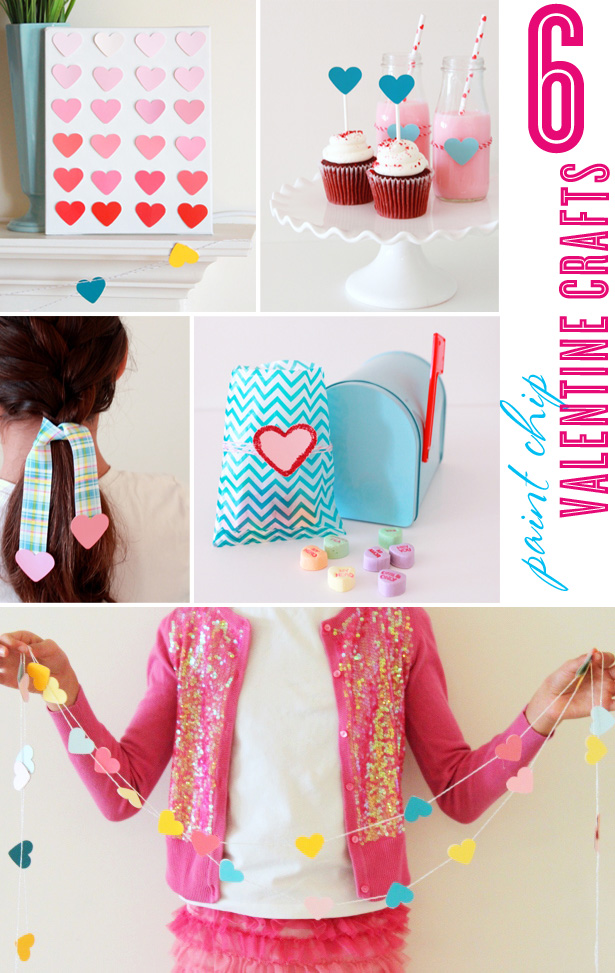 Hi there! It's Deanna, from Mirabelle Creations, and I'm excited to share six easy and inexpensive (my favorite combination!) Valentine's Day crafts. With just a heart shaped punch and a few paint chips from your local home improvement shop, you can recreate these sweet looks.
Valentine's Day is one of my favorite holidays. By the middle of February, Christmas decorations have been put away for some time and all those toys from Christmas don't seem so shiny and new. Valentine's Day is a perfect way to add just a little sparkle to the long stretch between Christmas and Easter. Our family Valentine's Day usually consists of a few simple decorations, little trinkets to show how much we appreciate one another, and a Valentine's Day themed dinner. Make sure you hop over to my blog and download my FREE Owl Always Love You Valentine Party Printables!
I have six heart shaped crafts for your Valentine's Day:
Heart Garland,
Heart Cupcake Toppers,
Beverage / Bottle Pendant,
Heart Hair Ribbon,
Heart Canvas Art, and
Heart Favor Bags.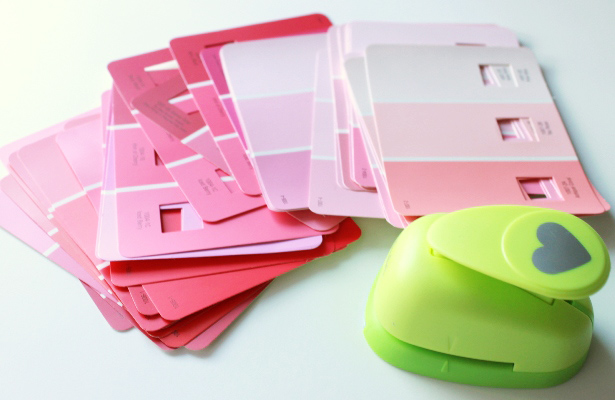 To start you need a heart shaped punch. I picked mine up at a local crafts store. With a 40% coupon, it only cost about $6. Then, you'll want to stop by your favorite paint shop or home improvement store to pick up paint chips. (Tip: If you're wondering where to get paint chips. Ask the paint desk, they're glad to give you any old paint chips that they plan to throw away. And if they don't have your color, most craft stores offer cardstock shades, and each sheet is between .16 and .25 each.) With those items and a few other craft supplies, you'll be ready to get started.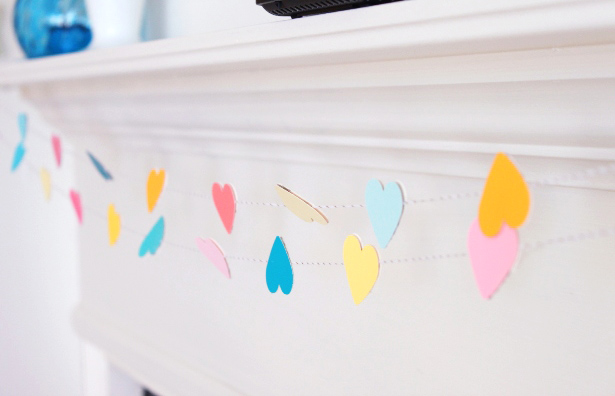 DIY Heart Garland
For this garland, you'll also need a hot glue gun and bakers twine (or other string). To make the garland, simply hot glue two hearts of the same color on either side of the twine. Gluing together two hearts of the same color will assure that when you hang the garland, the backside of the paint chip will not show.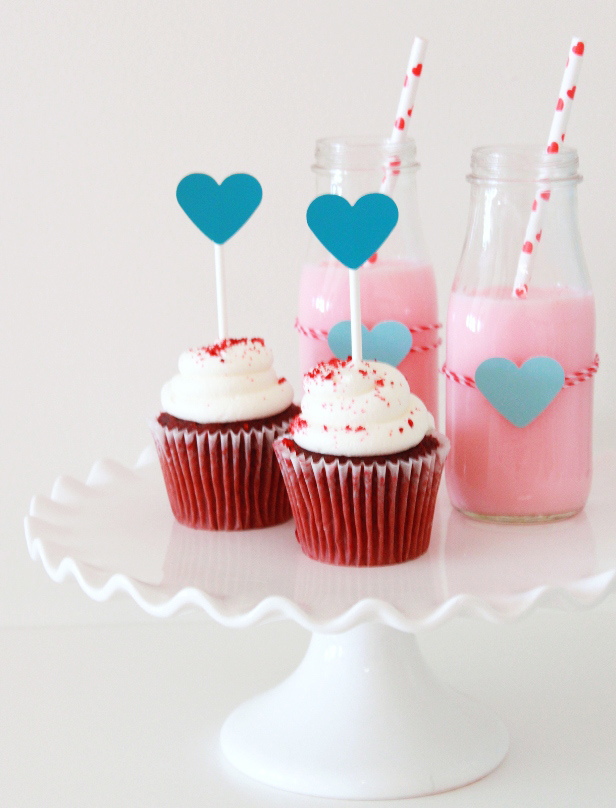 Easy Heart Cupcake Toppers
These paint chip party supplies couldn't be simpler! After punching out your paint chip heart, use a glue dot to attach the heart to a small lollipop stick. If you don't have lollipop sticks on hand, you could also use a toothpick. And if no glue dots, a spot of hot glue works every time!
Quick Beverage / Bottle Pendants
To decorate a plain glass bottle, simply wrap baker's twine around the bottle and secure with a glue dot. Use a glue dot to also adhere the paint chip heart to the glass bottle. The heart shape bottle pendant is a great way to turn an ordinary after school snack into a extraordinary Valentine's Day treat.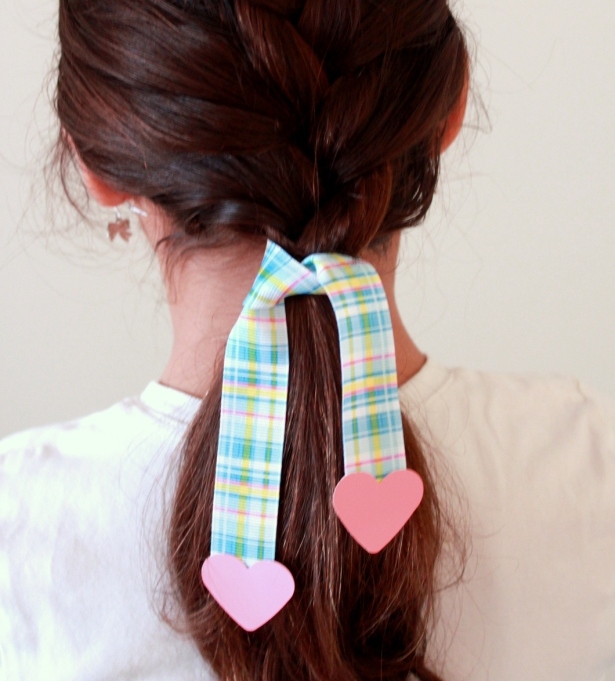 Simple Heart Hair Ribbon
My little girl has decided she has gotten a little too big for a Valentine's Day t-shirt or outfit. But, she is definitely not too big to go to school on Valentine's Day with a heart inspired hairdo! By simply hot gluing paint chip hearts onto the end of a ribbon, a French braid becomes a subtle holiday hairdo.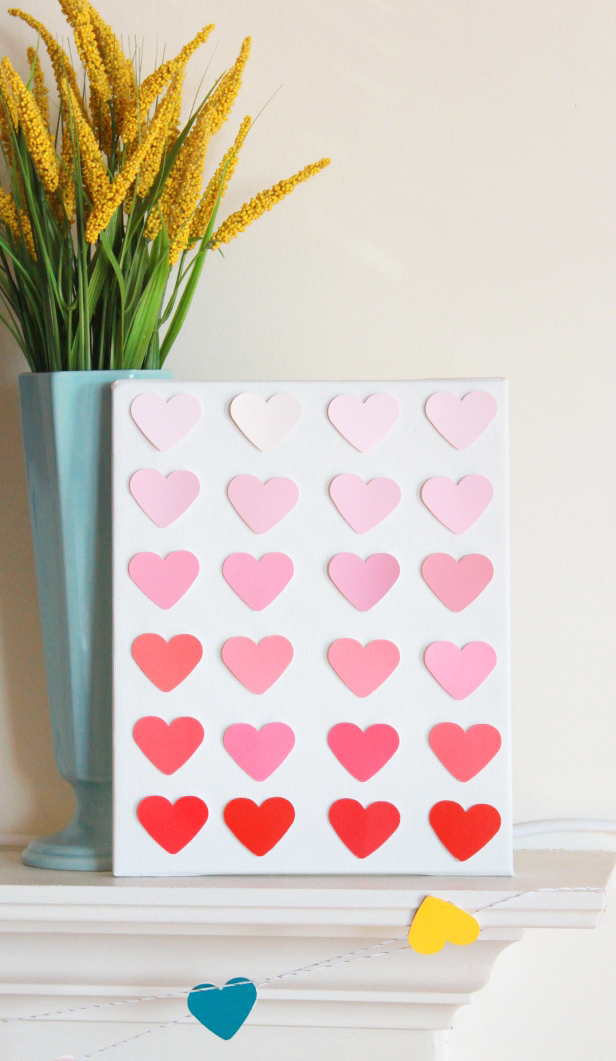 Lovely Heart Canvas Art
I wanted to add just a little bit of Valentine's Day décor to my mantle, without going overboard. I saw a rainbow heart shaped canvas project on Pinterest and knew it would be a clean, unassuming addition to the mantle. To make this project, choose paint chips that create a ombre effect and hot glue them onto an 8×10 canvas.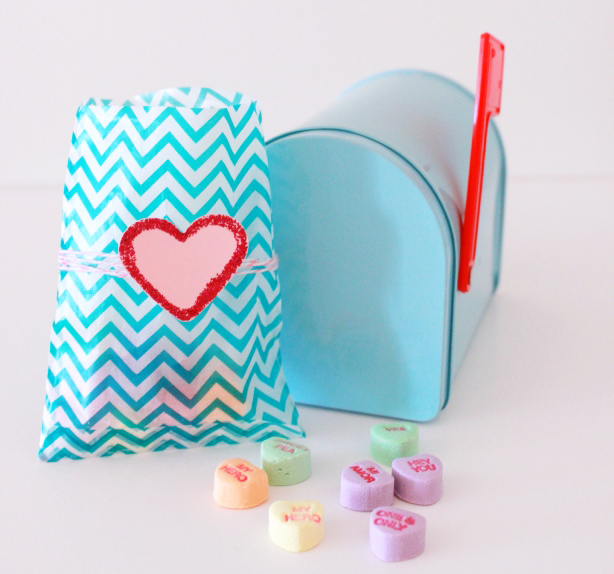 Sweet Valentine Heart Favor Bags
For the heart favor bags, you'll also need favor bags, twine, and glitter glue. Trace the outline of your paint chip heart with glitter glue. Wrap baker's twine around a small favor bag and attach the twine to the back of the bag with tape. After the glitter glue dries, glue the heart to the bag and fill with candy or a small treat.
You can find me at Mirabelle Creations, including more lovely Valentine Party ideas and tips, plus download my FREE Owl Always Love You Valentine Party Printables.
As always, we hope you're inspired to craft, bake, create and celebrate!
Join The Celebration Shoppe on facebook, sign-up for the daily ideas to come right to your inbox (never miss an idea, giveaway or free printable!), follow us on twitter, pinterest and on instagram at @thecelebrationshoppe.