I'm a huge fan of Better Homes and Gardens magazine and I simply can't wait each year until they publish their special issues, particularly their "tricks & treats" issue each Fall. And the 2010 Fall issue does not disappoint! It's full of wonderful ideas for a multitude of Fall and Halloween parties ranging from adult only to bright and whimsy for all ages to a monster for preschoolers!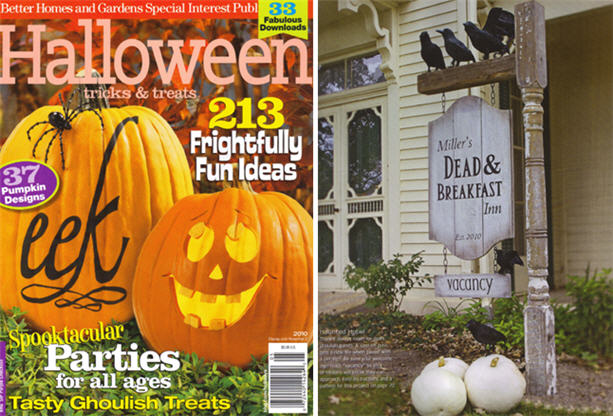 And that's not all! It offers some adorable homemade costume ideas too. My favorite is the "feathered friend!" And in true BHG style it also offers a TON of decorating ideas (the one next to the cover is part of the "Dead & Breakfast Inn" article).
If you love Halloween and you love to throw a party, you simply must pick up a copy!
Want more Halloween party ideas: Halloween Party with DIY Wall of Balloon Bats, Host a Pumpkin Carving Party, Halloween Party Photo Booth Backdrop.
As always, I hope you're inspired to craft, bake, create and celebrate!
INSTAGRAM | FACEBOOK | PINTEREST | GOOGLE+ | TWITTER | YOUTUBE | BLOGLOVIN