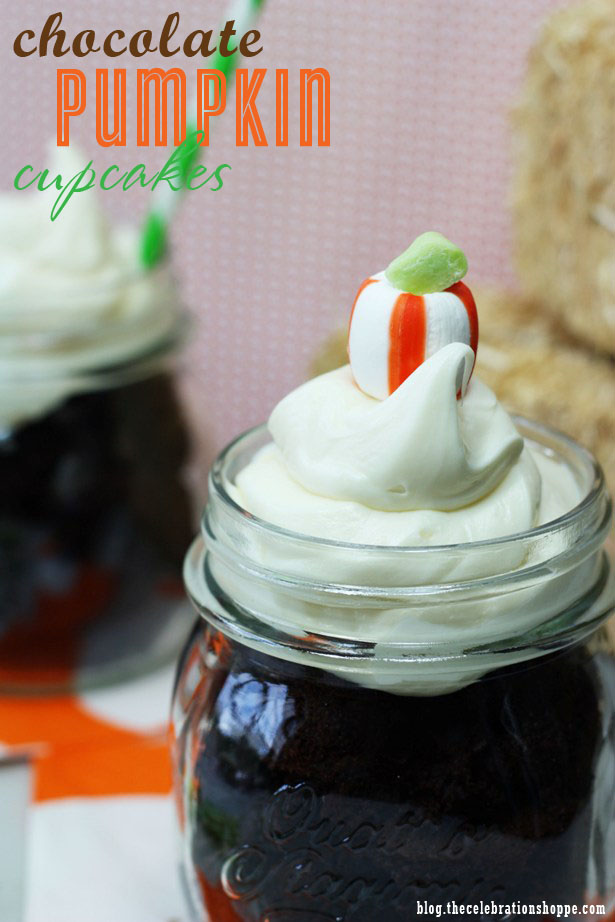 [pinit count="vertical" url="https://thecelebrationshoppe.com/2012/08/30/chocolate-pumpkin-cupcakes/" image_url="https://thecelebrationshoppe.com/wp-content/uploads/sites/95/2012/08/The-Celebration-Shoppe-Chocolate-Pumpkin-Cupcakes-7157-wt.jpg" description="Chocolate Pumpkin Cupcakes with easy candy pumpkin garnishes from blog.thecelebrationshoppe.com ~ Happy Harvest!" float="right"]
Have I ever told you that I LOVE the holiday season?! This little stretch from now until New Year's. I can find a party anytime of the year, but when I was a little girl this time of year was very special. Lots of family, lots of creativity, lots of laughs and lots of memories. And I want all of that for my boys too.
So this past weekend, I was playing around in the craft room, burning my pumpkin spice candle in the kitchen and got the craving for pumpkin bread. Instead of going traditional, how about a chocolate pumpkin cupcake?!
I didn't have time to create my own recipe, I wanted to bake right then, so I hopped on the net and came across this recipe from allrecipes.com.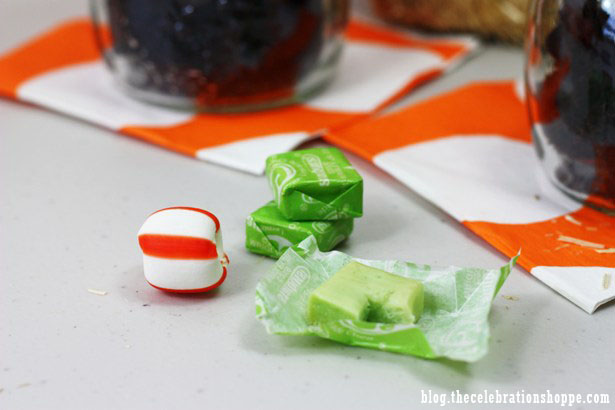 But I did have time to create a quick pumpkin garnish. I knew these would make my boys smile… after all, that is the point, right?! Using orange flavored soft mint candies from my local candy store (left over from a previous project) and sour apple Starbursts, I simply cut a small triangle from the Starburst and lightly pushed it into the candy. Ta-Da! Pumpkin!
Now on to the cupcakes. You'll need: 1 (18.25 ounce) package chocolate cake mix; 1 (15 ounce) can pumpkin; 2 eggs; 2 tablespoons vegetable oil; 1 (16 ounce) container cream cheese frosting. Now hop over to allrecipes.com for all the easy directions for a moist yummy cake idea that will have your kitchen whispering fall!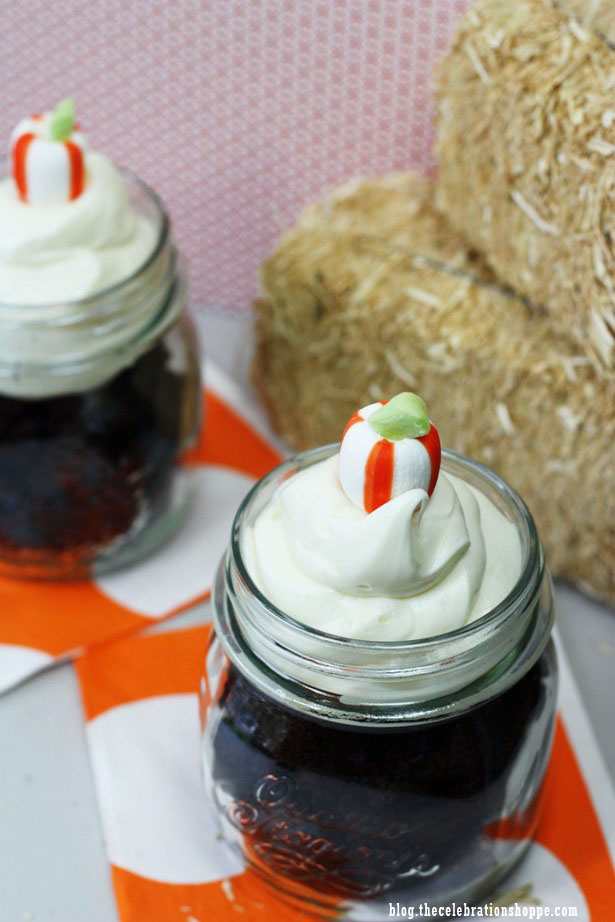 And you see these sweet little jars? These are Bormioli Rocco Quattro Stagioni 8 1/2 Ounce Canning Jars. You can pick  these cuties up on Amazon.com.
As always, I hope you're inspired to craft, bake, create and celebrate!
Join The Celebration Shoppe on facebook, sign-up for the daily ideas to come right to your inbox (a box in the right-side navigation bar), follow us on twitter, pinterest and on instagram at @thecelebrationshoppe