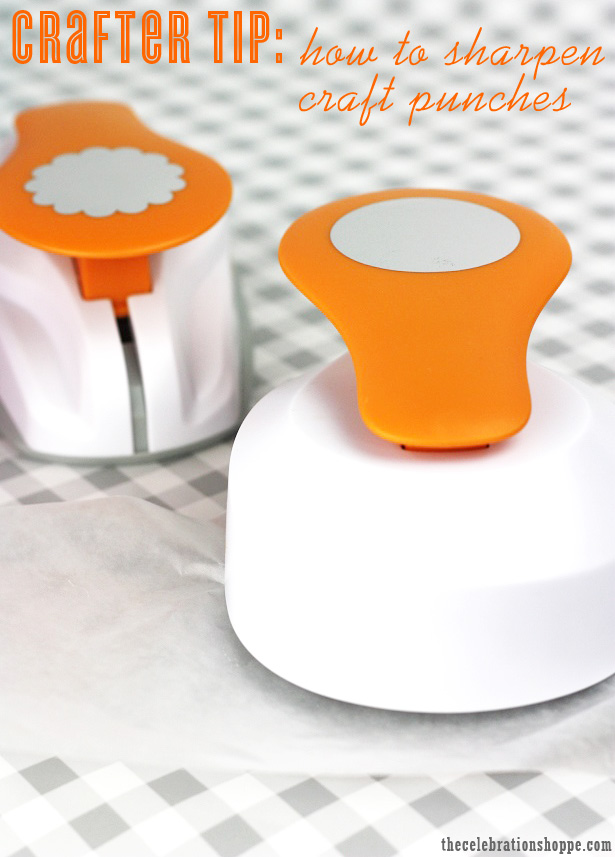 I love craft punches and I expect each punch to be perfect.
Often I'm using them on my designs (that I've printed at a local Kinkos… hence I've spent money on that sheet of paper) so I need a perfect edge every time or the camera will pick up the imperfection.
I can't stand it when a punch starts to dull and pulls at the color on the paper leaving ragged white edges. Want to know how to sharpen your punches?
Wax paper. Yep. It's that easy. Punch wax paper 3-4 times (it won't punch all the way through, but it will coat all the details of your punch design.
It's that easy!
As always, I hope you're inspired to craft, bake, create and celebrate!

Join The Celebration Shoppe on facebook, sign-up for the daily ideas to come right to your inbox (never miss an idea, giveaway or free printable!), connect with Kim on twitter, pinterest and on instagram. And don't forget to shop the party store for birthday, baby shower and holiday party supplies. Oh, and now you can follow the blog with Bloglovin too! Hope to see you around!