Having a little Halloween fun with my boys this weekend we created our version of the crashing witch cupcake to go with our Halloween decor.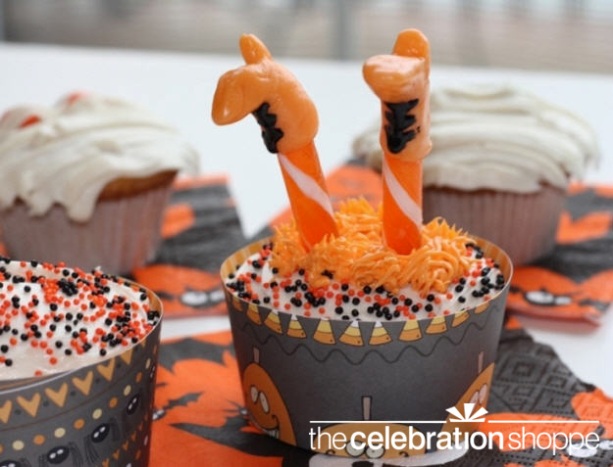 Here's what you'll need:
can white icing
orange food coloring
black writing icing tube
tangerine candy cane (or any other flavor you want)
Starburst (one square per shoe)
resealable freezer weight bags
#233 grass tip
connector
black and orange sprinkles
And here are the super simple steps:
Ice your cupcake with white icing and sprinkle with orange and black dots.
Tint a heaping tablespoon of icing orange and place in a resealable bag with a #233 tip (grass tip) and a connector.
Pipe her ragged dress in the center of the cupcake.
Break your candy cane in half.
Heat two Starburst in the microwave for 8-10 seconds and then mold them into the shape of shoes on the candy cane ends.
Pipe shoe laces onto the shoes with the tube of black writing icing. (Allow it to set for a few minutes before inserting it into your cupcake so that it doesn't run.)
Insert your witch legs (AKA candy canes) into the center of your cupcake.
Hope you love making these as much as we did. Happy baking!
You might also like these other Halloween posts:   DIY Halloween Masks, Crashing Witch Cake, Halloween Game: Bowling for Witches.
As always, I hope you're inspired to craft, bake, create and celebrate!
INSTAGRAM | FACEBOOK | PINTEREST | GOOGLE+ | TWITTER | YOUTUBE | BLOGLOVIN