Okay, so these mummy cupcakes are really not that creepy.  They're actually kind of cute and oh so easy to make for Halloween.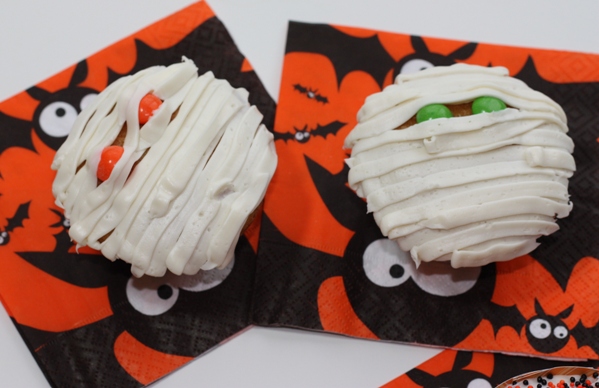 You'll need:
white icing (cream cheese is best!)
#46 icing tip
resealable bag (freezer weight)
connector
Skittles (for dairy free) or M&Ms
And here are the simple steps:
Snip the corner of your resealable bag, insert a connector and fill with icing. Add the tip, you'll be using the flat side, and connector ring. (You can find these in the baking section for a dollar.)
Place your Skittles or M&Ms (AKA eyes) on your cupcake.
Starting at the bottom, pipe rows of icing overlapping every once in a while to give it the appearance of strips of fabric.
It's as easy as 1, 2, 3. Happy baking! (Oh, and you can find the batty napkins in our Halloween decor.)
For more Halloween ideas:  Host a Halloween Boo Bash – Party Ideas, Halloween Goodies Recipes, DIY Mummy Treat Cups.
As always, I hope you're inspired to craft, bake, create and celebrate!
INSTAGRAM | FACEBOOK | PINTEREST | GOOGLE+ | TWITTER | YOUTUBE | BLOGLOVIN