Excited to have Jen of Passion for Parties guest posting this morning and sharing her adorable coin wrapper Frankenstein favors, perfect Halloween kids craft and so inexpensive to make!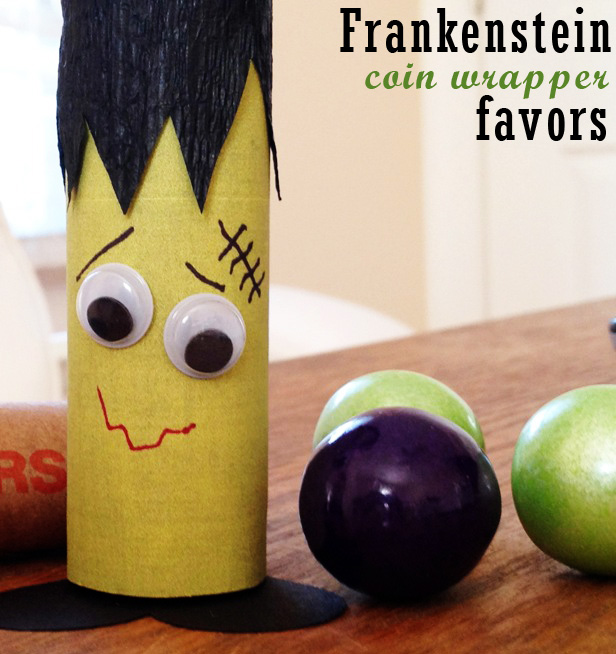 [pinit count="vertical" url="https://thecelebrationshoppe.com/2012/10/08/diy-frankenstein-coin-wrapper-favors/" image_url="https://thecelebrationshoppe.com/wp-content/uploads/sites/95/2012/10/Frankenstein-Coin-Wrapper-Favors.jpg" description="DIY Frankenstein Halloween Party Favor Crafts from @Passion for Parties via blog.thecelebrationshoppe.com" float="right"]
~~~~
Good morning everyone! Here's what you'll need for this easy craft:
Coin wrappers for quarters (I bought an entire bag of wrappers at the dollar store)
One-inch gumballs (in a pretzel cello bag) or other wrapped candies
Black duct tape
Scissors
Black crepe paper
Black cardstock
Double-sided tape
Hot glue
Google eyes
Black and red sharpies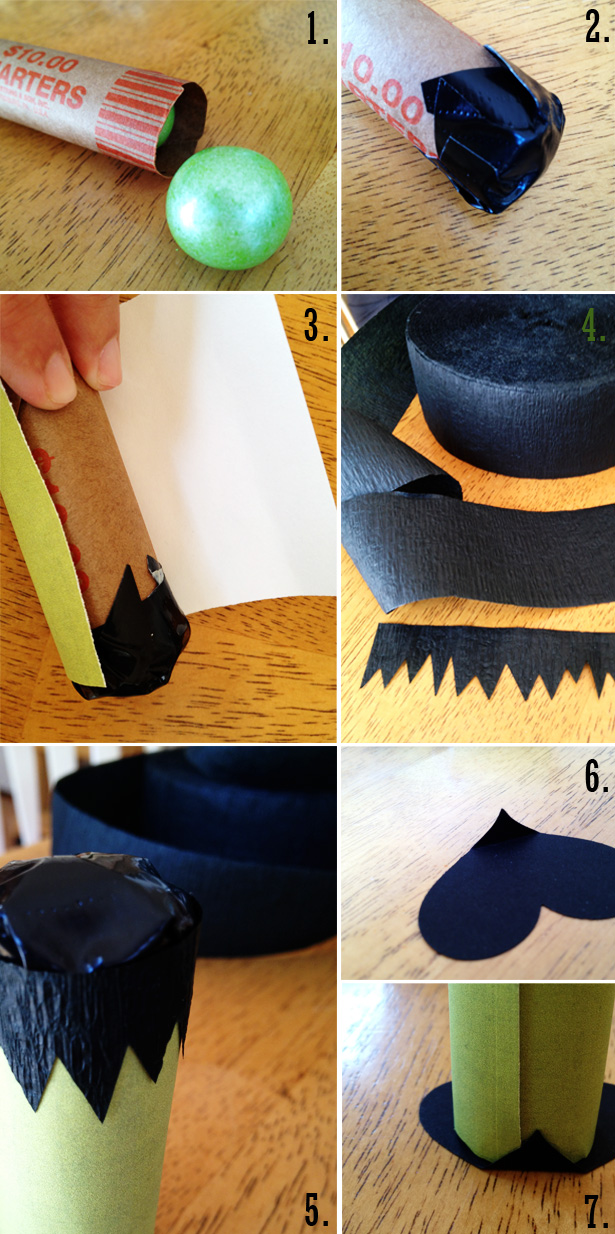 And here are the easy DIY how tos: 
Stuff the coin wrappers with gumballs in food safe pretzel cello bags, or other prepackaged candies, as you would with coins, folding over the edges to secure.
Cut a piece of duct tape large enough to cover the opening of the wrapper and fold down the sides a bit.
Rest the tape on top of one end of the wrapper.
Use scissor to cut slits in the tape, then fold the edges down and secure.
Measure and cut a piece of green paper long enough and wide enough to fit around the coin wrapper.
Use double-sided tape to secure it in place.
Measure and cut a piece of crepe paper long enough to wrap around the top edge of the coin wrapper.
Cut the crepe paper in half lengthwise, then cut triangular snips out of the paper to create hair.
Use double-sided tape to secure the crepe paper around the tape-wrapped edge of the coin wrapper.
Use scissors or a large heart-shaped paper punch to make a 2 to 2 ½ inch heart out of black cardstock.
Fold the tip of the heart over about ¼ of an inch, then secure it to the back of the coin wrapper with a dot of hot glue to serve as "feet."
Attach the google eyes to the face of your Frankenstein, then use the sharpies to add accents like eyebrows, a mouth, and stitches.
Thanks so much for having me Kim!
~~~~~
You can find more of Jen's fabulous ideas on her blog at Passion for Parties!
For more Halloween party favor ideas from The Celebration Shoppe:  Easy Jack-o-Lantern Party Favors, DIY Gumball Spider Favors, DIY Spider Cello Bags and Free Favor Tag.
As always, I hope you're inspired to craft, bake, create and celebrate!
INSTAGRAM | FACEBOOK | PINTEREST | GOOGLE+ | TWITTER | YOUTUBE | BLOGLOVIN
DIY Coin Wrapper Frankenstein Favors seen on The Celebration Shoppe first.