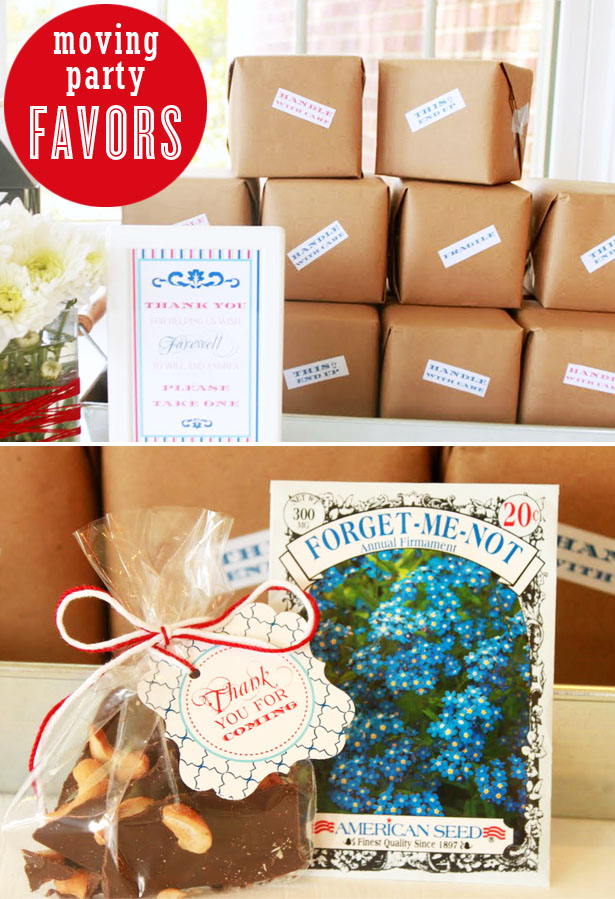 [pinit count="vertical" url="https://thecelebrationshoppe.com/2012/08/21/diy-moving-party-favor-boxes/" image_url="https://thecelebrationshoppe.com/wp-content/uploads/sites/95/2012/08/Moving-Party-Favor-Boxes.jpg" description="Send a kiddo off to college or wish a friend farewell with these crafty moving party favor boxes!" float="right"]
Hello there! It's Deanna, event designer and editor of Mirabelle Creations, again! I'm so happy to be back here at The Celebration Shoppe, sharing an easy party favor packaging idea. I recently co-hosted a Going Away party for a friend who was moving out of state. For party favors, I decided to package the favors like little moving boxes.
The moving boxes were filled with a packet of Forget-Me-Not seeds and homemade dark chocolate cashew bark. Additionally, a sweet card was added to the box, which read, "Flowers make the world colorful, bright and fun, just like Will & Andrea. Think fondly of them as these bloom." The Forget-Me-Not seeds were a great favor for our Going Away party because they are both inexpensive and sentimental!
And if you have a college student heading back, these little boxes would be a creative way to wrap up a special little farewell gift!
What you'll need:
4x4x4 cupcake box or other small box
roll of craft paper
8×11 shipping label
tape
scissors
favor of your choice
And the simple how-to:
I started with 4x4x4 cupcake boxes that I ordered from an online bakery packaging supply store (my resource). It's my favorite way to package party favors so I ordered a case of 100 boxes! But you can also find them at your local craft store in smaller quantities.
Fold the boxes and fill with the favor of your choice.
Wrap the cupcake box with the craft paper, just like you would gift wrap a present.
Using a word processing program, print moving phrases, such as "This Side Up," "Fragile," and "Handle with Care," onto the 8×11 shipping label. Cut out the labels and attach to the outside of the boxes.
As always, we hope you're inspired to craft, bake, create and celebrate!