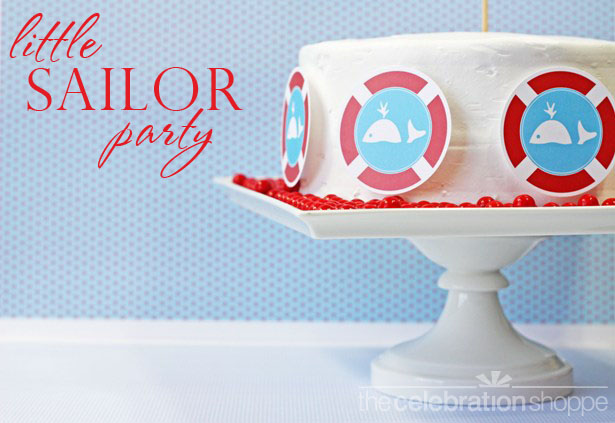 I'm so excited this morning to share the first of many easy birthday party cakes decorated with printables designs! I created my first one for my youngest son's pirate party this past summer (coming in a post soon) and have been thinking up ideas ever since. And just this past week I finally stopped long enough to grab my camera and photograph a few.
This cake is perfect for a nautical inspired baby shower or birthday party and a cake printable party set (as you see here and with the option to have personalized) is available in the shoppe along with the rest of my Little Sailor printable party collection, including invitations, thank you notes, beverage wrappers, cupcake wrappers, dessert tags, banners and more, later today!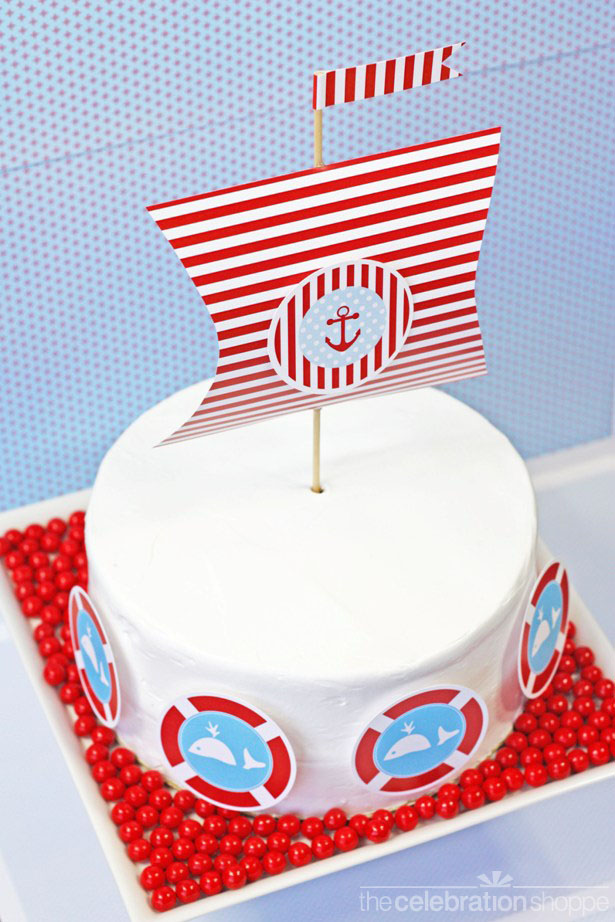 Not a great baker?! No matter. Just visit your local bake shop or grocery store and order up a two layer flat iced buttercream or whipped frosting cake. I picked this one up at Kroger for $14.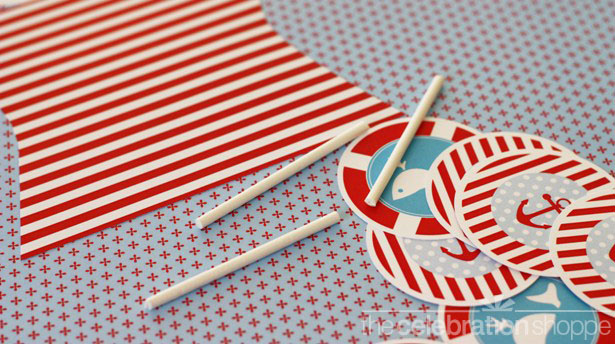 Here's how you get started. The set comes with both anchor and whale rounds (I suggest using a 2 1/2″ circle punch, available at any craft store) and a sheet of red and white stripe paper.
You'll also want white lollipop sticks (cut in half), a thin dowel (available in packs of 20 at your craft store for $2), a glue stick and your hot glue gun.
Plus, you'll want some type of candy filler or edger to hide the base of the cake. I used bright red sixlets. And this cake plate, is the medium square cake plate from the Martha Stewart line at Macy's.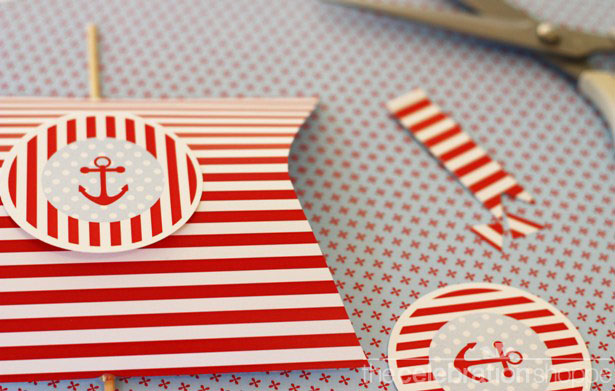 And here's how you assemble your printable cake designs.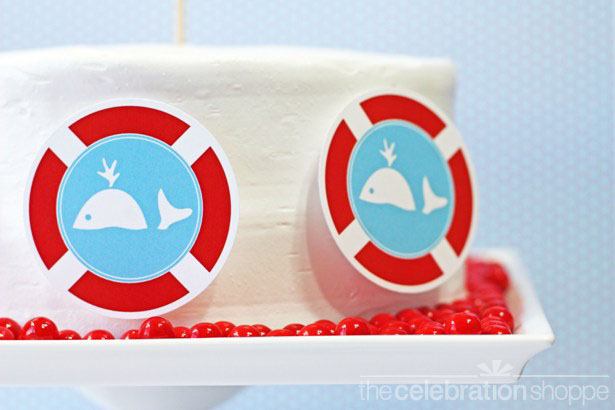 Port holes for cake sides:
Punch out the whale and anchor rounds
Place a small dot of hot glue on the end of one lollipop stick and attach the whale round to the end, like a flat umbrella, repeat six times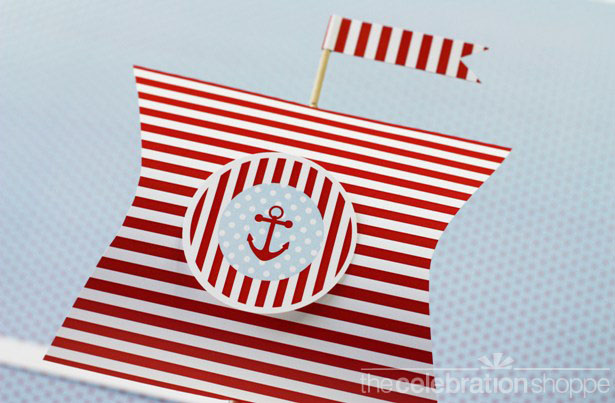 Sailboat mast:
Cut out a mast from the pattern sheet (cut out a rectangle with a straight edge paper trimmer and then using scissors, cut a  slight curve in at the sides)
Cut out a flag (long rectangle, 3/4″ x 5″)
Place glue (glue stick works best) on the back side of your flag and fold it around the top of the dowel starting with the stick at the center of the paper. Sure up your edges the best you can and then trim off any small pieces of white and trim out a triangle on the tip.
Place one dot of hot glue on the dowel where you want the bottom of your mast. Insert the center portion of the paper, holding it straight up, not flat. Allow it to dry for 8-10 seconds. Repeat at the top allowing the paper to bow out as if the wind is blowing.
Add a dot of hot glue to the center of the mast and apply a anchor round.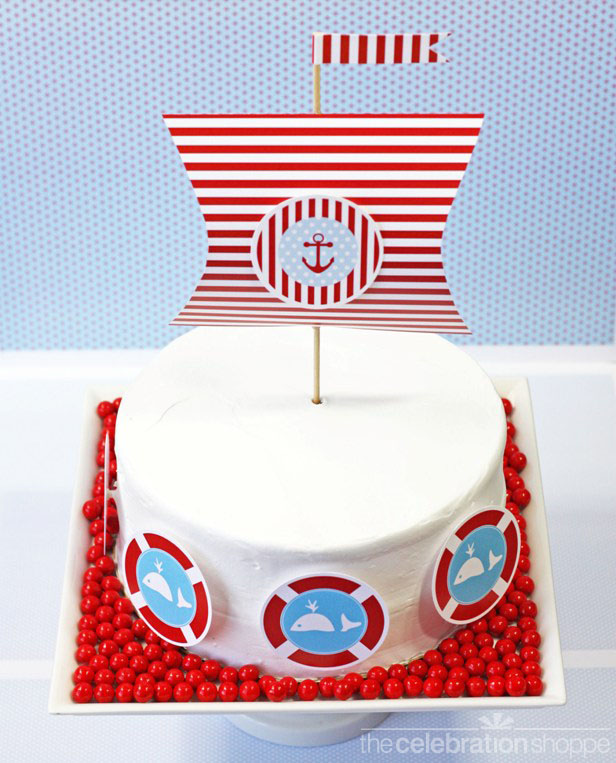 It's one of the easiest cakes I ever decorated, especially since I didn't have to bake or ice! Hop over the shoppe to see my entire Little Sailor printable party collection, including the cake printable set later today! Want to see a few more of my easy to decorate birthday cakes? Visit my post for an art birthday party and dessert table and bugs & butterfly birthday cake with many more to come!
As always, I hope you're inspired to craft, bake and create!
Join The Celebration Shoppe on facebook, sign-up for the daily ideas to come right to your inbox (never miss an idea, giveaway or free printable!), follow us on twitter, pinterest and on instagram at @thecelebrationshoppe.