When I was a little girl my grandmother always had Little Debbie Nutty Bars in her kitchen. Always! So when Laura of Laura's Little Party sent this Father's Day dessert table over I just knew I wanted to share it with all of you.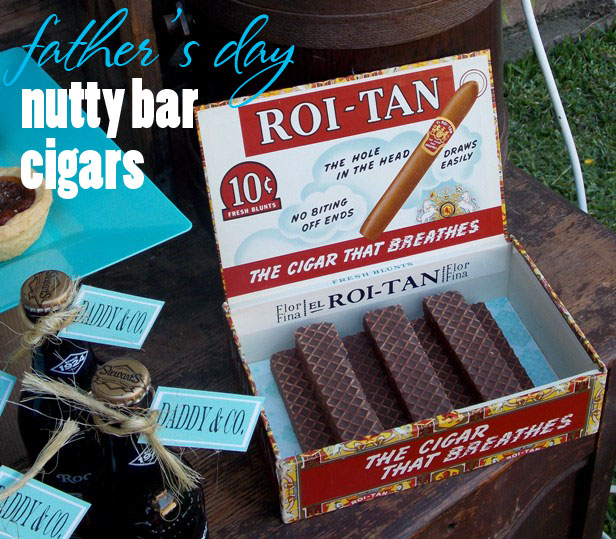 What a simple and clever idea perfect for Father's Day and for new dads when their little pumpkins are born!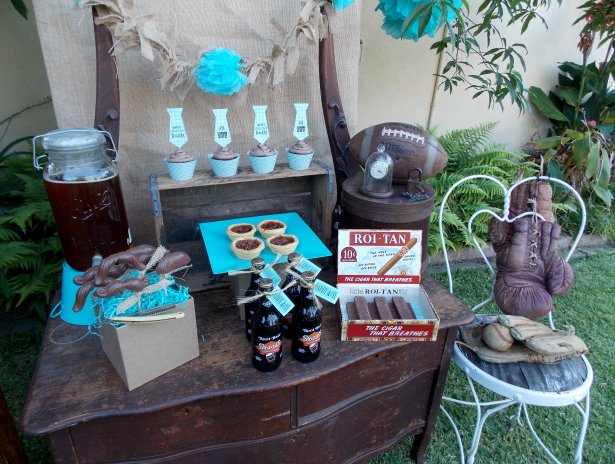 When Laura was thinking about her table she went to her grandmother, who collected some great antique items that belonged to her father, and grandfather. I love all the masculine touches. And although I highly dislike smoking, I would love to have some of these old cigar boxes!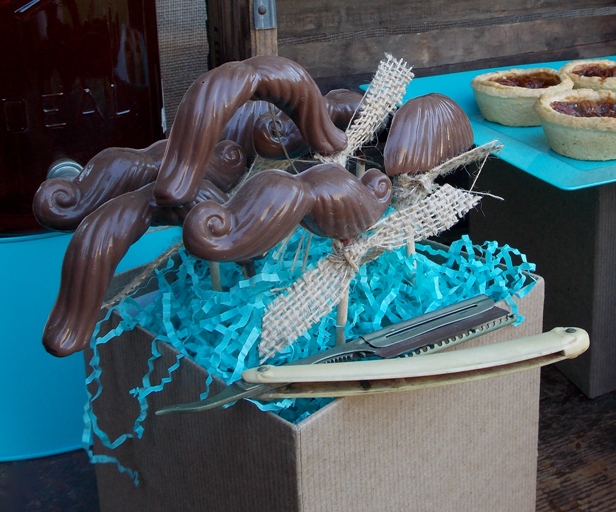 My second favorite in this collection are the chocolate mustaches perfect for Father's Day photo props! Laura made them herself with a chocolate mold she picked up at Michael's.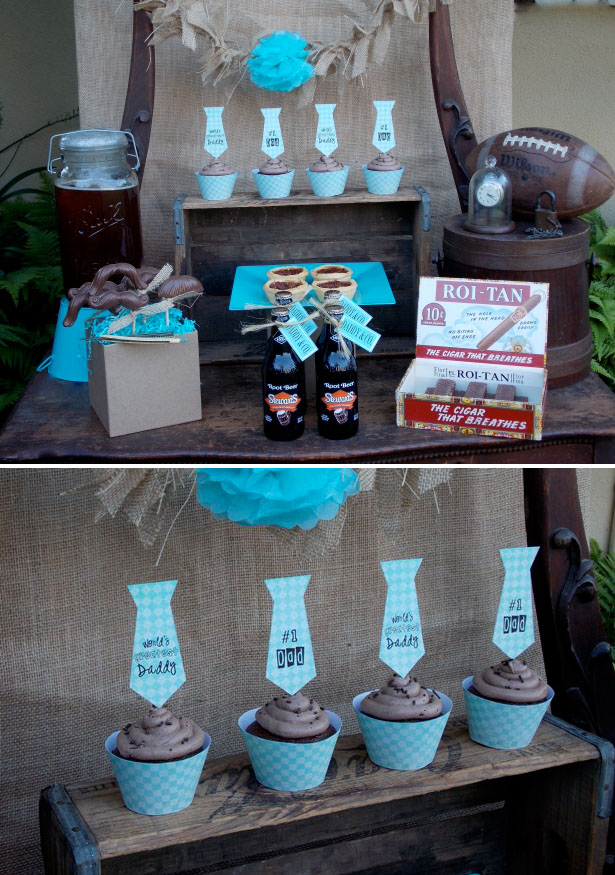 This was highly personal for Laura and here are a few details in her own words:
"I displayed the Father's Day spread on an antique dresser. I knew that burlap, twine and Robin's egg blue would be my color scheme. I custom ordered some fun Daddy & Co. tags from J. At your Service, and attached them to root beer bottles. I designed some tie cupcake toppers, inspired by Amanda's Parties To Go, and cupcake wrappers by using a cute paper printable from The Hybrid Chick. I served iced tea inside of an old Mason jar. The chocolate mustache lollipops I made were accompanied by an antique straight razor. An old cigar box worked as a display for some yummy Nutty Bars. And an old football, ball & mitt, and boxing gloves, belonging to my Grandfather, helped bring in all the "Father" things I wanted to showcase.
I also displayed an old picture of my Grandfather, as a child, with his pet goat. The lock & chain belonged to my Great-Grandfather, it's from LA transit, where he used to work. And the antique watch belonged to my Great, Great-Grandfather! I was so excited to celebrate Father's Day with treats, antiques, and some very special items belonging to my male family members."
Huge thanks to Laura for sharing her ideas with us! You can see more from Laura on her blog at LAURA'S little PARTY.
Looking for more Father's Day party inspiration?   Check out my my posts on Easy Father's Day Cupcakes, Father's Day Surprise and Father's Day Fun!
As always, I hope you're inspired to craft, bake and create!
Vendor credits:
Join me on facebook, sign-up for my daily feedburner e-mail (box in the right navigation), follow me on twitter and pinterest.