You Get What You Work Hard For. There is no greater truth! Being a girl boss isn't always easy. I've been out of college (undergrad and masters) for 13 years now. Neither of those degrees came easy. My career at JPMorgan definitely didn't come easy. And now that I've broken free of my corporate chains and have my own graphic design company and blog, along with being a mom… wow… nope… not easy. I have a lot more control over my schedule by working for myself, and I love that part, but this day to day does not come easy. Nothing worth having ever does.
I'm sure your dreams require a lot of work too! It's just the way it goes! Simply… You Get What You Work Hard For.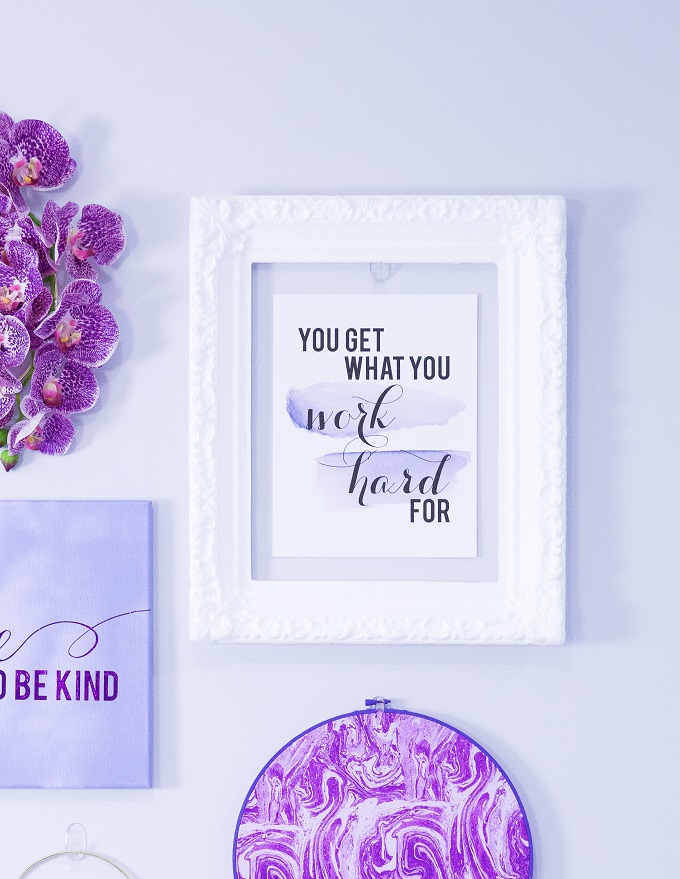 I designed this free print for my office wall and for a little project I crafted for JOANN. You can find the full violet, color of the year, gallery wall on the JOANN blog, The Creative Spark.
I'm loving the hoop wall art lately. They're just so easy to make and to customize with fabrics and embellishments. I have a few more hoop art projects for you at the end of the post. Make sure you have a look.
And do you love the frame around the print? I've been wanting an ornate white frame for my office, one that I could use to showcase different prints, but I didn't want to spend $100 for it and that is all I could find. I came across this frame and it's perfect. It's inexpensive, white, and made of FOAM! It's from Flora-Craft and comes in a variety of sizes. I picked this one up and now I want four… or five more in various sizes! Not only are they light and easy to hang, but they're easy to paint!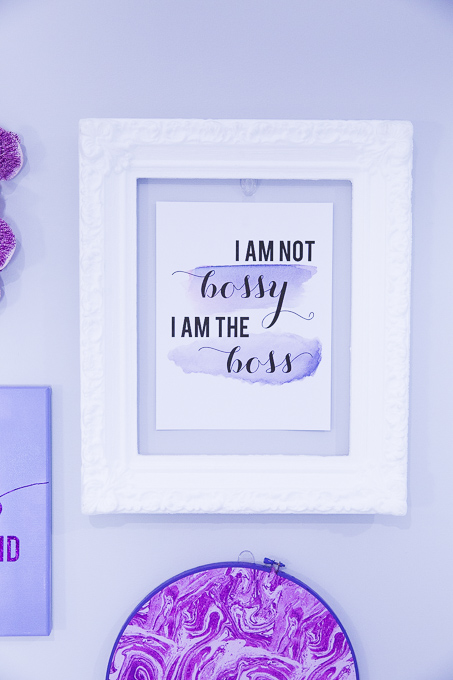 Grab your prints in the color of the year! Perfect for office art, and journal covers. I'm thinking of posting the "I'm Not Bossy" print on the fridge to remind my kids. ;)
Download FREE Office Prints

You Get What You Work Hard For
More Girl Boss Ideas
As always, I hope you're inspired to craft and create with JOANN!
Thank you for supporting my wonderful sponsors. They make it possible for me to keep the ideas coming! All content, ideas, photography and opinions are that of my own and I'd have it no other way! There may be affiliate links in this post, of which we do earn a small fee at no cost to you.