Rice Krispies Treats are a favorite in my house so they tend to grace every holiday party with this past Friday's Halloween party being no exception. Let's get crafty and make some Ghost Rice Krispies Treats pops!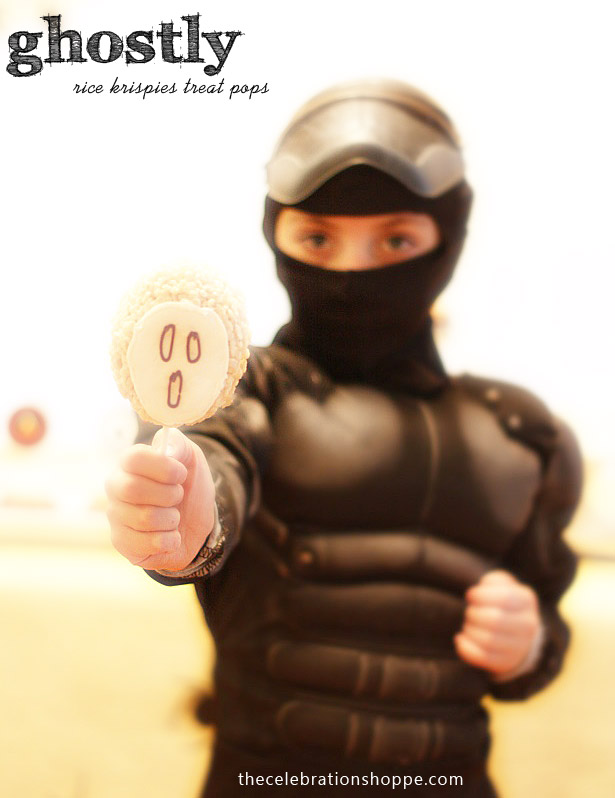 To make Rice Krispies Treats Ghosts (yield six), you'll need:
6 cups rice crispy cereal
1 bag large marshmallows
3 tsp butter
1 cup white icing
1/4 chocolate icing
6 lollipop sticks
egg shaped cookie cutter (inch deep)
wax paper
2 plastic icing bottles
toothpicks
Easy steps:
Butter the cookie cutter and your hands and then mold each ghost while the treats are still warm.
Insert the popsicle sticks into the bottom (small part of the egg) of each crispy. (Tip: Doing it later might cause your icing to crack.)
Add white icing into a plastic icing bottle and pipe the outline of the shape.
Heat the remaining icing for 8 seconds and slowly fill the krispie, pulling any icing to the sides with a toothpick.
Allow the icing to set for at least five minutes.
Add chocolate icing to second icing bottle and pipe faces.
Allow to set for a few hours if you decide to package in cello bags.
For more fun ideas:  Frankenstein Rice Krispies Pull Apart Cake, Candy Corn Shaped Rice Krispies Treats, Pumpkin Rice Krispies Treats.
As always, I hope you're inspired to craft, bake, create and celebrate!
INSTAGRAM | FACEBOOK | PINTEREST | GOOGLE+ | TWITTER | YOUTUBE | BLOGLOVIN
Ghost Rice Krispies Treats seen on The Celebration Shoppe first.