Okay, I swear my obsession with the Thanksgiving turkey cookie and cupcake are going to end soon, but before it could I needed to get into the kitchen myself. And I did just that with my two little ones this week. These are mine. I call them the giggling gobblers. All smiles and happy… little did they know they were about be "gobbled!" {wink}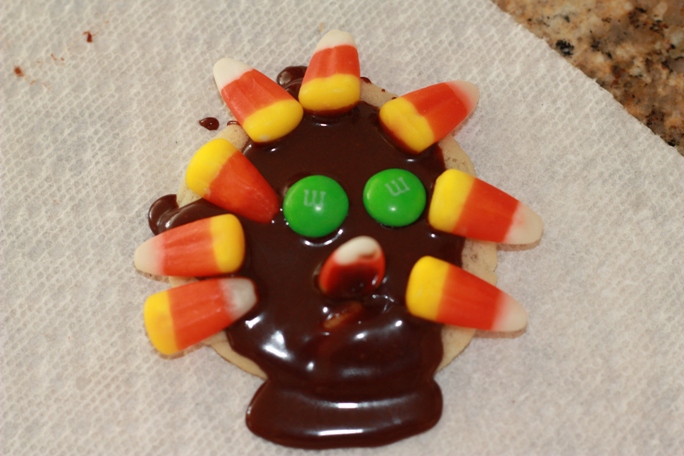 And this is what they likely looked like (thanks Alex!) just before the terrible end. Feathers flipped around, wide eyes, melting chocolate, mouth screaming… Ahhhhhhhhh!! Just trying to help you guys get in the Thanksgiving spirit. {giggle}
Oh, and if you're interested in making the before version, here's what you'll need (just so you know, they're kind of big… but could be fun as a placecard at your Thanksgiving kid's table):
Sugar cookies (round and large flower shapes)
Chocolate and white icing (we used Pillsbury cream cheese since there is no egg or dairy)
Candy corn (we were lucky and found a dairy free store brand at Kroger)
Yellow and orange food coloring (I recommend gel so that you don't thin your icing)
Optional: M&Ms for the after version
And here are the easy steps:
Outline and flood a flower cookie (chocolate or yellow depending on your version) and a round cookie.
Once they've almost set, stack them and start decorating.

 Candy corn feathers, or
Pipe orange outline, like leaf veins, using a plastic bottle (like we did) or a #2 tip would work the same

Pipe on the eyes and add a candy corn nose
Remember, not everything you bake has to be perfect. Enjoy your little ones in the kitchen; it makes for great holiday memories!