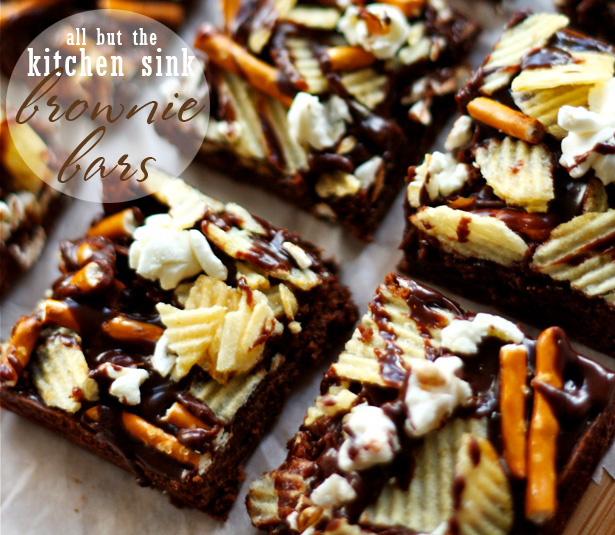 I love brownie recipes and I'm dubbing these "all but the kitchen sink" home made bars, because they have almost everything in them, but the kitchen sink! These little bites are sweet and savory all rolled into one. You've got your chocolate, your pretzels, your popcorn, your potato chips… wow! So when Lauryn Cohen of Bella Baker sent these over I knew I had to share.
Here's Lauryn's complete Half-Time Snack Brownie recipe:
 12 tbsp unsalted butter, cut into 12 pieces
6 ounces bittersweet chocolate, finely chopped
1 1/4 cup sugar
4 large eggs
2 tsp pure vanilla extract
1/4 tsp salt
2/3 cup all purpose flour
1/2 cup heavy cream
4 ounces semi sweet chocolate, finely chopped
2 tbsp butter, room temperature, cut into 4 pieces
Potato Chips
Thin Pretzel Sticks
Regular popcorn (not kettle corn flavored)
 And her easy how to steps:
Center a rack in the oven and preheat the oven to 325 degrees. Generously butter a 9×13 glass baking pan.
Put the butter in a microwave safe bowl, top with the chopped chocolate. Microwave for 45 seconds, then remove and stir vigorously with a whisk until the ingredients are just melted – you don't want them to get so hot that the butter separates. Microwave for another 30 seconds if needed to melt the chocolate completely. 
With a whisk, stir in the sugar. Whisk in the eggs one by one. Add the vanilla extract and whisk vigorously to bring the batter together and give it a shine before gently stirring in the salt and flour; stir only until incorporated. Scrape the batter into the pan and smooth the top with the rubber spatula.
Bake the brownies for 30 to 33 minutes, or until the top is dull and a thin knife inserted into the center comes out clean. (The tip of the knife may be a touch streaky.) Transfer the pan to a rack and cool to room temperature.
While they are cooling, make the ganache. Put chopped chocolate in a medium bowl. Bring heavy cream to a boil. Once heavy cream has reached boiling pour half the heavy cream over the chopped chocolate. Let sit for 30 seconds, then gently stir chocolate and cream together with a rubber spatula in a figure eight motion. Pour remaining heavy cream over chocolate and continue to gently stir. Add butter, one piece at a time, until ingredients are fully incorporated and ganache is smooth and glossy.
Pour ganache over brownies, and smooth with rubber spatula to completely cover top of brownies. While ganache is still wet, sprinkle potato chips, pretzels and popcorn on top. Refrigerate brownies for one hour until ganache has set before cutting into squares.
You can find more of Lauryn and her Game Day fare at Bella Baker.
As always, I hope you're inspired to craft, bake, create and celebrate! 
Join The Celebration Shoppe on facebook, sign-up for the daily ideas to come right to your inbox (never miss an idea, giveaway or free printable!), follow us on twitter, pinterest and on instagram at @thecelebrationshoppe. And don't forget to shop our birthday, baby shower and holiday party supplies!