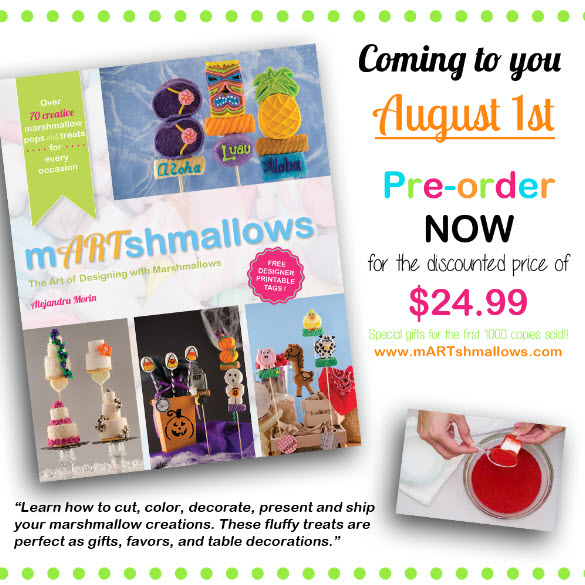 Ever wonder how to make marshmallows? How to decorate marshmallows? How to color and cut marshmallows?
Well I'm happy to share that my friend, Alejandra Morin, author and creator at The Marshmallow Studio, has a book coming out and it will tell you everything you need to know about marshmallows! It's called mARTshmallows. Clever name right! When you see all of creations you will absolutely think ART!
Pre-order your copy at mARTshmallows.com today! She has special gifts for her first 1000 orders!
And make sure you visit her blog, The Marshmallow Studio, now. She has tons of ideas and tutorials for making creative marshmallow treats!
As always, I hope you're inspired to craft, bake, create and celebrate!




Join The Celebration Shoppe on facebook, sign-up for the daily ideas to come right to your inbox (never miss an idea, giveaway or free printable!), connect with Kim on twitter, pinterest and on instagram. And don't forget to shop the party store for birthday, baby shower and holiday party supplies. Oh, and now you can follow the blog with Bloglovin too! Hope to see you around!