We've been working on our new printable Candy Corn Halloween collection for weeks (along with several other Fall and Halloween printable collections (like our Harvest Collection) and sharing little peeks here and there.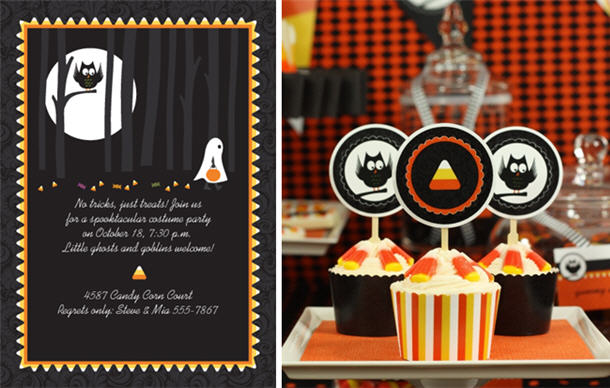 Well, I'm finally ready to show it all off! Just in case you didn't see the peeks of the invitation and the cupcakes, here they are again.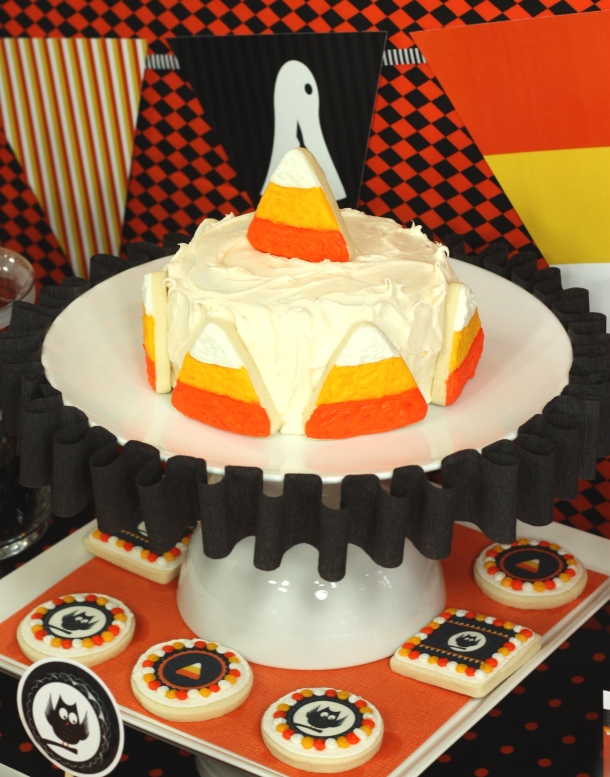 I started this project at the fabric store. I'm a huge fan of coordinating patterns, without all the matchy matchy. I selected a diamond pattern for the background and a polka dot for the table. You've not seen it yet, but the invitation back carries this same diamond pattern and if you look closely you'll see a faint polka dot pattern on the front of the invitation along with a filigree pattern along the borders. Our inspiration for this collection was the desire to host a Halloween bash that is fun for the kids, but with a few semi-sophisticated elements for the adults. And since dessert tables are all the rage, we of course created one we thought was just boo-tiful.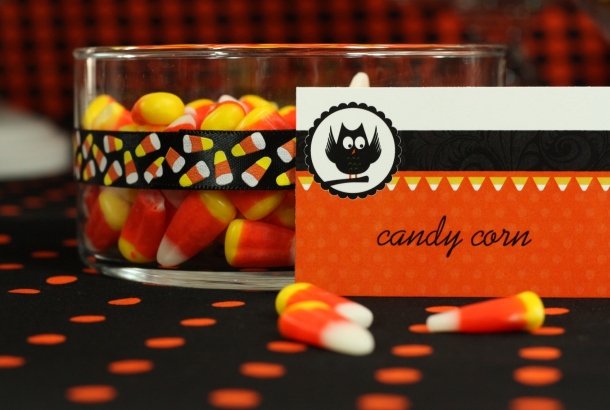 We created dessert labels starring our little owl and offer them both pre-filled and blank so you can choose your own spooky treats. For the candy corn shown above, I picked up shallow round bowls and embellished them with candy corn ribbon. (The kids loved swinging by during the shoot to grab a piece or two!)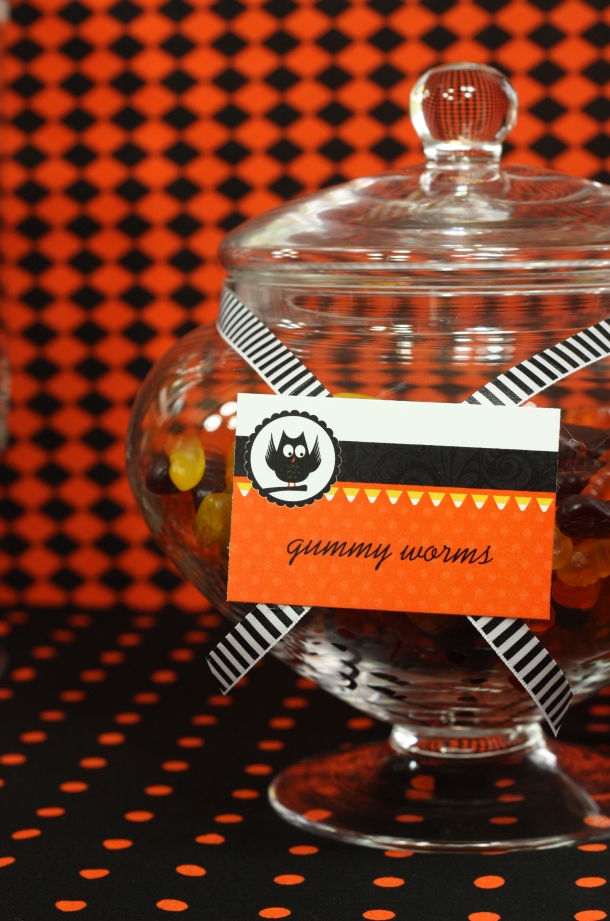 And since my youngest has terrible food allergies, we just had to have gummy worms.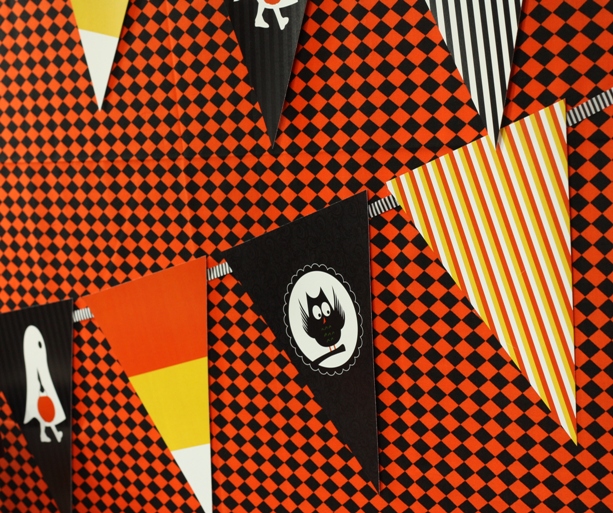 To further bring the dessert table to life we created a flag banner using candy corn patterns, stripes and our ghost and owl designs.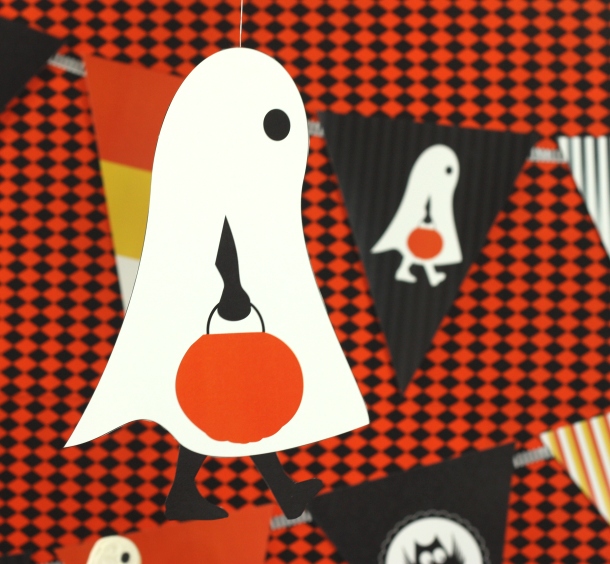 But I couldn't leave it there. Nope! I loved the little ghost so much that we created a large one (available in the shoppe too) to hang over the dessert table. I used four of them!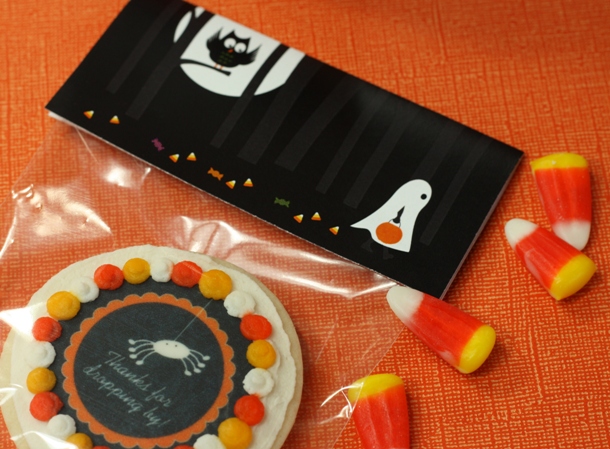 We also created cello toppers, and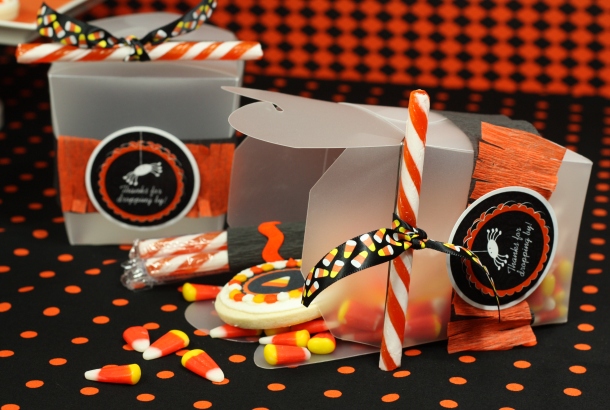 "thanks for dropping in" favor tags for the collection. I love the idea of using these to give the neighbor kids something special on Halloween night this year!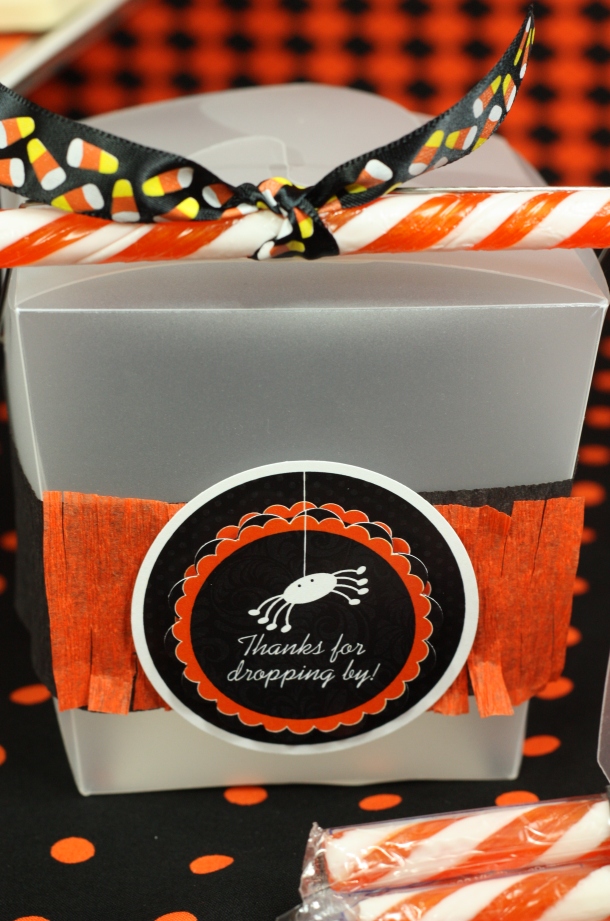 Here's a closer look at just the tag. (If you like the spider, you've got to see our Boo collection.)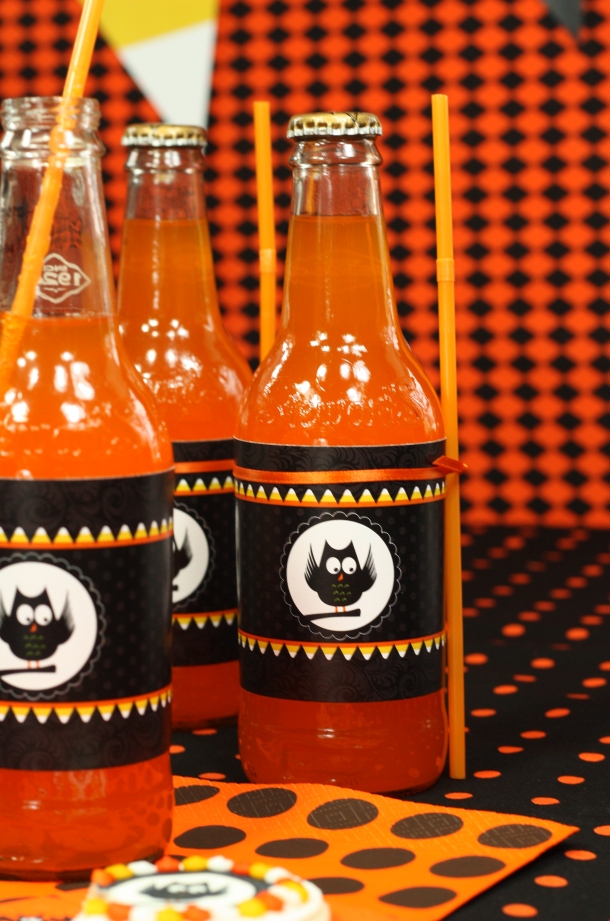 And you can't have a complete dessert table without the beverages. We chose Stewart's old fashioned soda drinks because they were the perfect orange to match our decor. Plus, the hubby loves them!
So you've seen a few glimpses of some fabulous cookies. Let me tell you, they are not only beautiful but they are the best butter cookies I've ever eaten. The very talented Sue at Sweet Tooth Cottage is the sugar artist behind these. I gave her my designs and she not only printed some on sugar paper and embellished them wtih these super fun dots, but she also made, yes made, cookie cutters to fit my designs and then hand iced each cookie. She's not shipping cookies just yet, but I'm working on her! More to come on that, but until then, here are a few more shots of her lovely creations.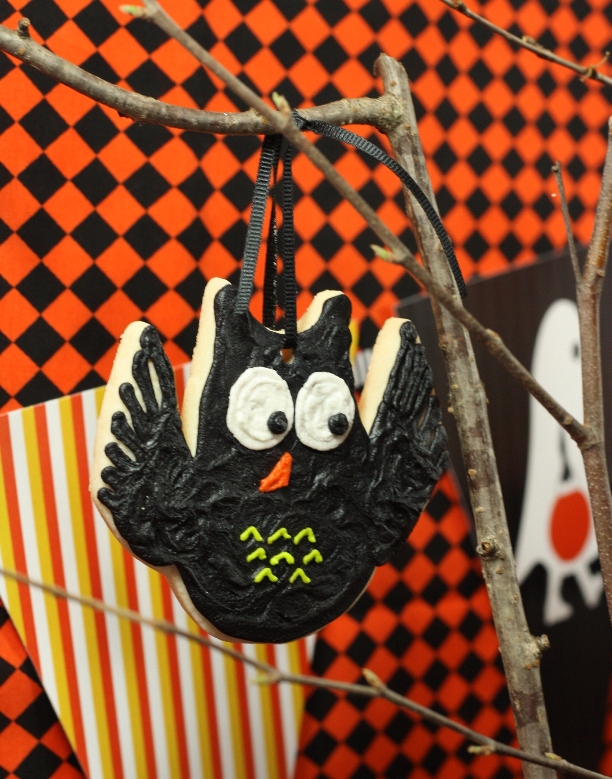 I have to point out that I made the holes in these cookies for the ribbon post-bake. Meaning these cookies were soft enough for a straw to go through them after they were iced. I swear they will melt in your mouth!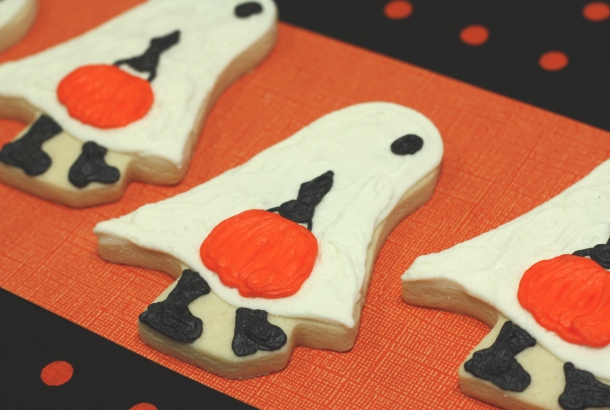 Here's a look at the ghost cookies. You already know how partial I am to him!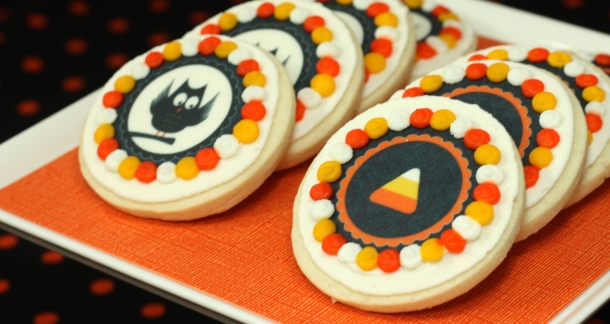 And here's a look at the sugar paper cookies. I love the cutouts, but I have to say there is something about seeing my designs on a cookie like this! And for those of you who are wondering about sugar paper, everyone at the shoot thought they were just as yummy as the cutouts.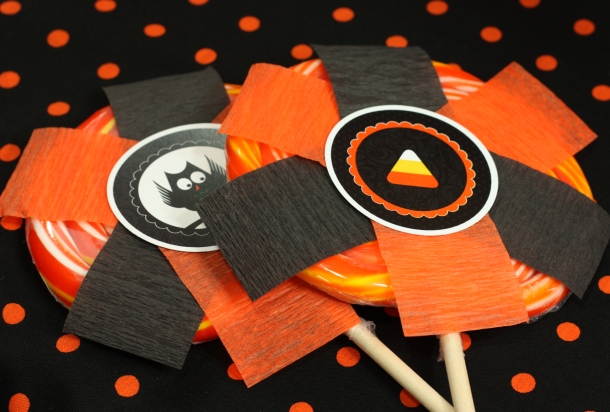 I have lots more pictures to share tomorrow of all the crafts (cake plate, witch hat, Halloween masks, dish towel child apron, crepe covered vase) we made for the shoot, but I thought I would leave you with the lollipops (above) and the kids having a blast telling knock knock jokes while they waited for us (below). As for the lollipops, I'm always looking for unique ways to use our printables, so I whipped up these lollipops with strips of crepe paper, double sided tape and our cupcake pick rounds. They were a huge hit and so very simple.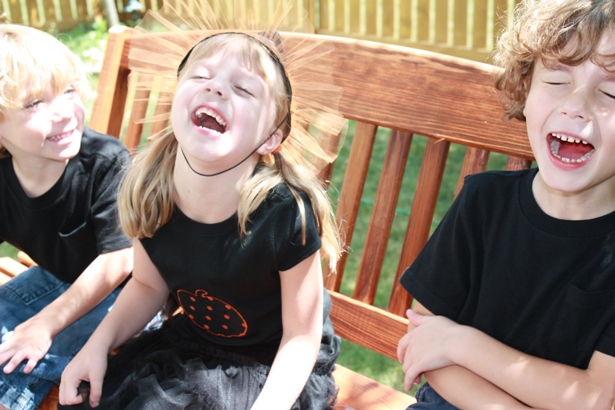 Hop over to the shoppe to see all the details for this collection and more! More crafty details from the shoot to come tomorrow!
As always, I hope you're inspired to craft, bake, create and celebrate!
INSTAGRAM | FACEBOOK | PINTEREST | GOOGLE+ | TWITTER | YOUTUBE | BLOGLOVIN