This morning I'm sharing Flavia of Fete a Fete black, white and orange Itsy Bitsy Spider Halloween party. The entire party was lovely, but I think my favorite idea is the science beaker glassware she used for the kids. So fun!
~~~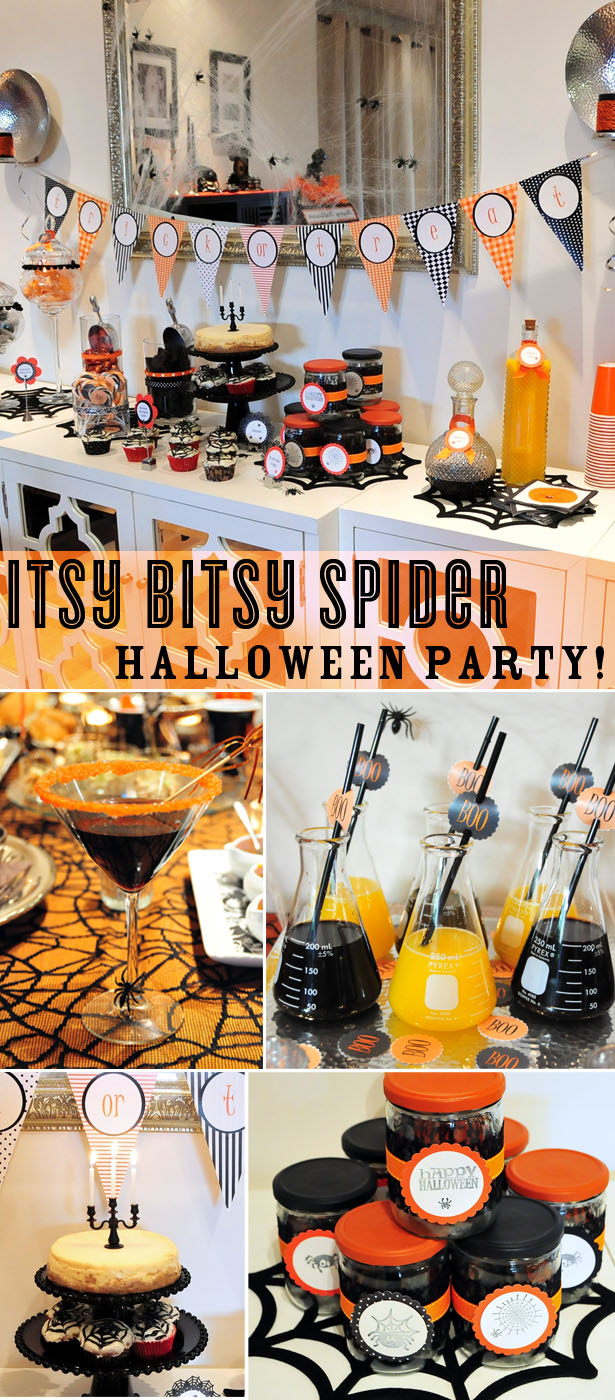 [pinit count="vertical" url="https://thecelebrationshoppe.com/2012/10/03/itsy-bitsy-spider-halloween-party/" image_url="https://thecelebrationshoppe.com/wp-content/uploads/sites/95/2012/10/Itsy-Bitsy-Spider-Halloween-Party.jpg" description="Itsy Bitsy Spider Halloween Party ~ black, white and orange party ideas for all ages!" float="right"]
~~~
The party details in Flavia's words ~
The visual identity of this Halloween party was developed mainly from things I already had at home. Actually, this is how I settled on the color scheme black-white-orange: at first I thought about using black and white only, in part because I like the simplicity of these two timeless colors, but also because I had lots of leftover supplies in this color combination. I thought the addition of the orange brought warmth and playfulness. And it was very fitting, since it was going to be a party for both adults and children.
Next, the "theme", which was slightly focused on spiders. It wasn't intentional, but I noticed I was collecting a bunch of spider-related items (from previous holidays, stores, even recipes!) So, I focused on these little critters and the results range from "spider web cupcakes" to fake cobwebs to plastic spider rings snugged around wine glass stems.
And a Halloween party calls for treat bags, right? Well, I had lots of food jars sitting around (I try to reuse everything I can) so I turned them into "treat jars". I removed the label, painted the lids, wrapped a piece of black lace and orange ribbon around it, and added stamped tags. Voilà, my newly "upcycled" candy jars for guests to fill up with goodies to take home and devour later.
~~~
Looking for more Halloween spider ideas:  Easy DIY Halloween Apothecary Jars, Gumball Spider Halloween Favors, Easy DIY Spider Cello Bags & Favor Tags.
As always, I hope you're inspired to craft, bake, create and celebrate!
INSTAGRAM | FACEBOOK | PINTEREST | GOOGLE+ | TWITTER | YOUTUBE | BLOGLOVIN
 Itsy Bitsy Spider Halloween Party seen on The Celebration Shoppe first.