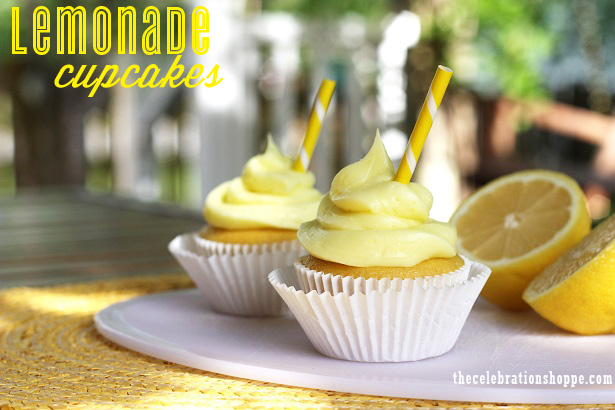 Love cupcakes? Love lemon? You'll love these easy lemonade cupcakes!
With summer just around the corner, lemon is my go to dessert flavor. And these light and creamy lemon cupcakes dressed up to look like a sip of sunshine are a fun and creative way to celebrate!
What you'll need:
Duncan Hines Lemon Supreme Cake Mix
Duncan Hines Creamy Lemon Supreme Icing
Fresh lemon juice (to flavor… I like to squeeze in a whole medium size lemon)
White cupcake liners
White and yellow paper straws (cut in 1/3)
Optional: replace oil with apple sauce
Instructions:
Prepare batter and bake cupcakes as instructed at 350.
Allow to cool for 20 minutes.
Spoon icing into a resealable plastic bag, snip an "X" into one corner and pipe the icing in a swirling motion.
To garnish, set iced cupcake into a second (slightly stretched out) paper liner and insert a paper straw
Do your kiddos like to have a lemonade stand in the summer? My boys always try it at least once when all the neighbors are out on a busy Saturday afternoon. Well, these cupcakes will surely be the star of the stand!
As always, I hope you're inspired to craft, bake, create and celebrate!




Join The Celebration Shoppe on facebook, sign-up for the daily ideas to come right to your inbox (never miss an idea, giveaway or free printable!), connect with Kim on twitter, pinterest and on instagram. And don't forget to shop the party store for birthday, baby shower and holiday party supplies. Oh, and now you can follow the blog with Bloglovin too! Hope to see you around!