When the Martha Stewart Living team asked if I'd like to share an idea from this month's issue, this adorable jack-o-lantern pumpkin craft was my first choice.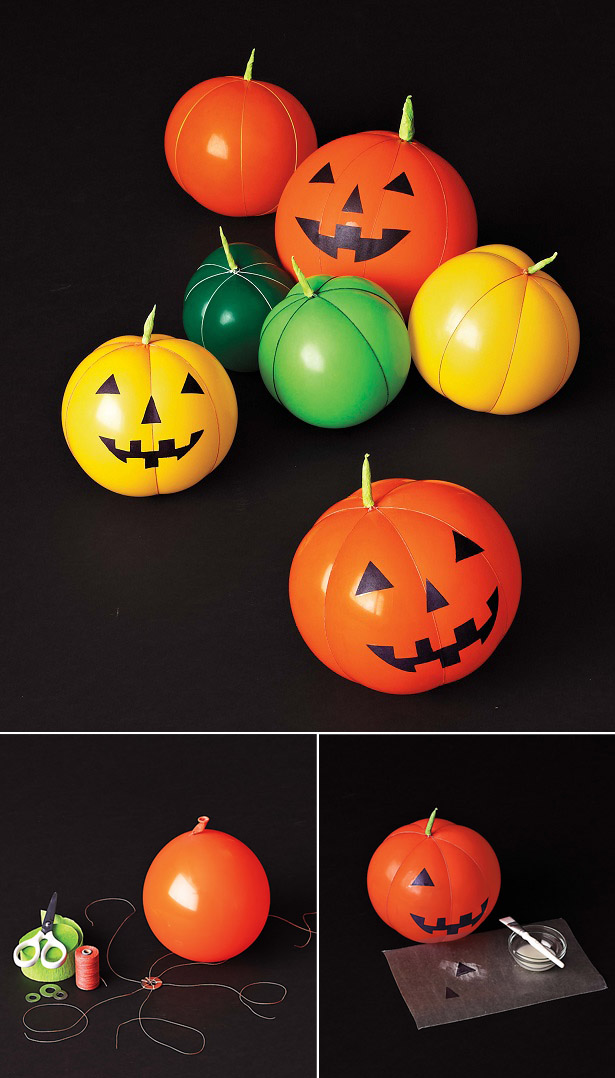 You see, I grew up in Alabama and we didn't always have pumpkins to carve. I live in Ohio now and there are pumpkins on every corner, but when I was a kid down south, not too much!
With this clever idea who needs the real thing (they rot in the heat too quickly anyway)… you can make your own and they'll last the entire Halloween season! So let's get crafty!
YOU'LL NEED:
waxed twine
balloons
metal washers
white glue
crepe-paper streamers (kiwi green shown from partycity.com)
lightweight black construction paper
decoupage finish and paintbrush
HOW-TO
1. To find proper length, wrap twine around inflated balloon, add 6 inches, and cut. Cut 2 more pieces the same length.
2. Loop or knot twine through washer so it has 6 spokes, as shown, top right.
3. Place balloon on top of washer; pull 2 opposing strands of twine up and knot around balloon knot. Repeat with other 4 strands.
4. Trim excess twine down to 1 inch; trim off rolled edge of balloon knot. Apply glue
to strings and remaining knot. Wrap with a 4-inch piece of streamer. Dab end with glue to hold in place.
5. Make jack-o'-lantern face, following instructions on page 102.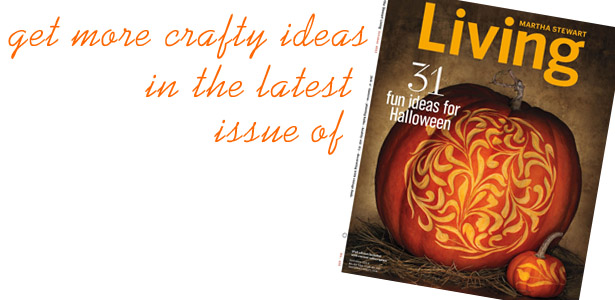 Photos by Aaron Dyer. Courtesy of Martha Stewart Living. Copyright © 2013. For more Halloween craft ideas, check out marthastewart.com.
For more creative Halloween ideas from The Celebration Shoppe:
DIY Balloon Bat Wall & Free Bat Template
As always, I hope you're inspired to craft, bake, create and celebrate!
INSTAGRAM | FACEBOOK | PINTEREST | GOOGLE+ | TWITTER | YOUTUBE | BLOGLOVIN
 Easy DIY Balloon Jack-o-Lantern from Martha Stewart Living seen on The Celebration Shoppe first.