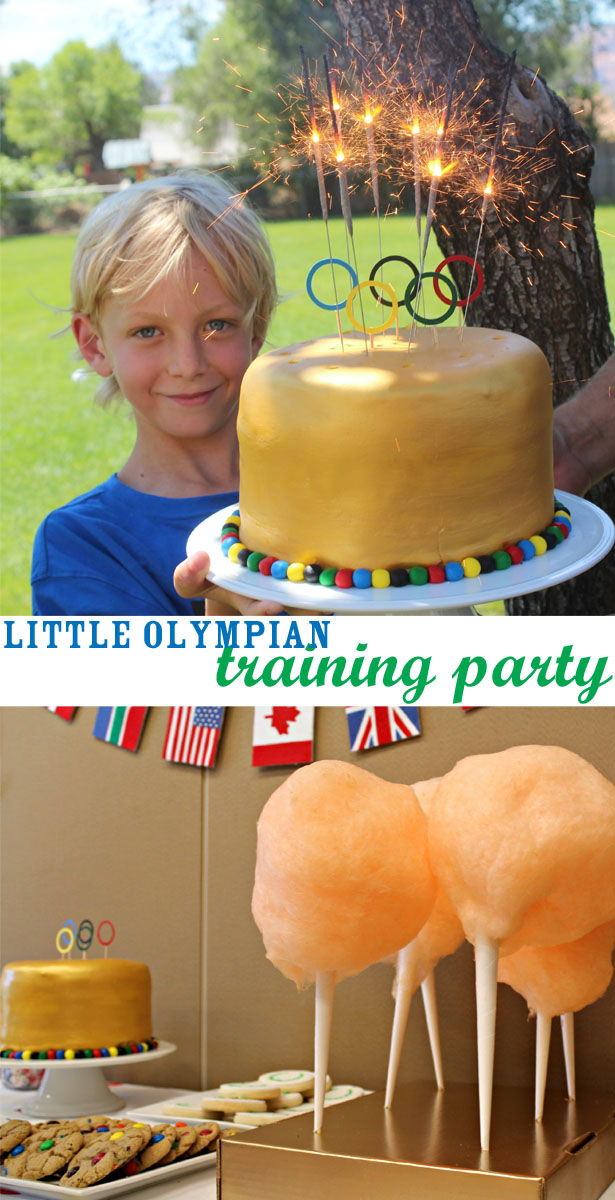 [pinit count="vertical" url="https://thecelebrationshoppe.com/2012/08/09/little-olympian-training-party/" image_url="https://thecelebrationshoppe.com/wp-content/uploads/sites/95/2012/08/Little-Olympian-Training-Party.jpg" description="DIY Little Olympian Training Birthday Party hosted via @Lisa Moore ~ MooreMinutes.com ~ DIY Olympic Podium, Olympic Ring Cake, Cotton Candy Olympic Torches and more!" float="right"]
The Olympics are coming to a close tomorrow and although you can't catch your favorite summer events on TV for another four years, you can host a little Olympian training party like Lisa of Moore Minutes did for her son's 10th birthday party! Don't you love this cake and the orange cotton candy Olympic torches!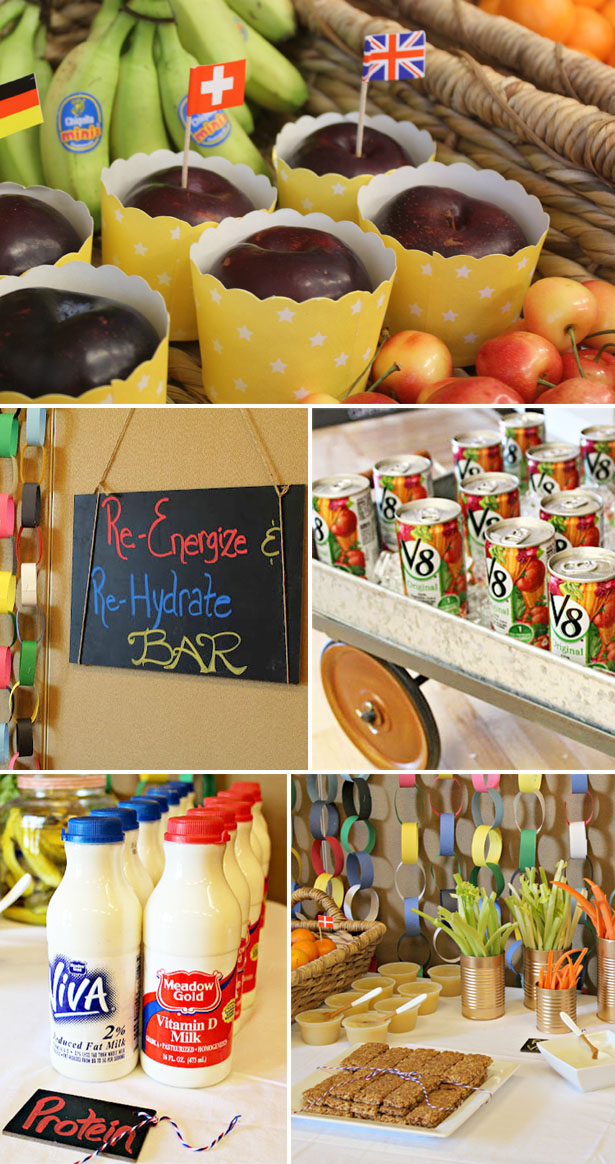 One of my favorite details of this party was the RE-energize and RE-hydrate Bar. I love that she balanced the sweets of it being a birthday party with the typical diet of an Olympian in training.  And isn't the "ring" backdrop just perfect!
Here are just a few of the party details in Lisa's words:
THEME: This party theme focused on little athletes in training for the Olympics. We even had an "athlete station" with rolls of sweat towels and water bottles for the little athletes to re-charge during "training." The party's main attraction was a surprise visit from a fitness coach! He came in, taught the kids about wellness and exercise and did a workout with them. After the workout he awarded them with customized awards on our DIY Olympic podiums (wooden cable reel wrapped with blue crepe paper). We also did an art project of designing awards. And finally we played classic outdoor childhood games like a potato sack race.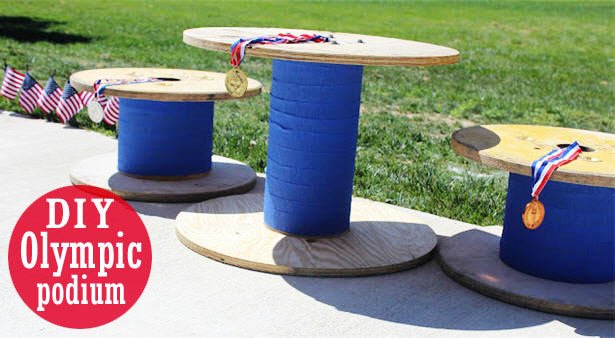 DECOR: Along with the little athlete table, I set up three other tables.
The first table was called the RE-energize and RE-hydrate Bar. This table was designed for the Little Athletes to line up for AFTER their training workout. It was health-focused with an area with PROTEIN, one with CARBS, and one with FRUITS & VEGGIES. On the side of the table was a beverage wagon with boxed juice, h2o, and V8 juice.
The dessert table was playful and fun, decorated in Olympic colors. It had orange cotton candy Olympic torches and we had extras for each guest to take one home. We also served Ancient Greece Olympic olive wreath cookies. The cake was a simply stated design in gold.
The last table was our Olympic Ring Pizza main lunch table. It also had a three-layer RED, WHITE, and BLUE USA punch that I made and real Olympic torches on either side with giant balloons at each end, in Olympic colors.
FAVORS: Along with the cotton candy Olympic torches, the party guests got to take home their own sweat towel autographed by the special guest fitness coach. The favor buckets held treats that were athletic centered: a whistle, water bottle, Olympic colored socks, Patriotic salt taffy and gold medals.
VENDORS:
Taffie Wishes, world flag felt banner
The Cookie Jar, custom cookies
Sugar Shack, cotton candy torches
Spoonful of Sugar, cake 
Banners on the Cheap, party banner
For tons more pictures and details of this fabulous party, hop over to Lisa's blog Moore Minutes. And as always, I hope you're inspired to craft, bake, create and celebrate!
Join The Celebration Shoppe on facebook, sign-up for the daily ideas to come right to your inbox (a box in the right-side navigation bar), follow us on twitter, pinterest and on instagram at @thecelebrationshoppe