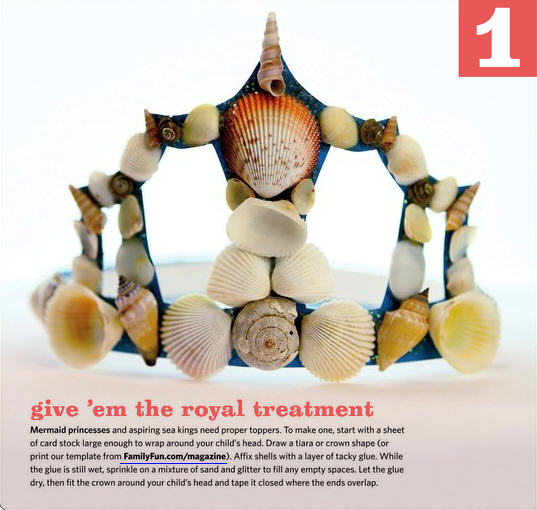 I showcased a few ocean party ideas from Family Fun magazine in yesterday's post. Today I'm sharing a few more for the royal princess living in your midst.
This first one, a beautiful shell crown, is a must for any mermaid princess. You'll need:
Heavy cardstock large enough to encircle your child's head
Tiara or crown template available at FamilyFun.com/magazine
Small shells (large shells will be too heavy and weight down the craft paper)
Tacky glue or hot glue
Sand
Glitter
And here are the simple steps to make this beautiful crown:
Using the template provided by Family Fun, draw and trimout the design. (A cutting mat and staight edge would be helpful.)
Place your shells and then affix them with glue.
Before the glue drys completely sprinkle on sand and glitter to fill in the open spaces.
Allow the crown to dry and then secure it into a circle that will fit your child's head.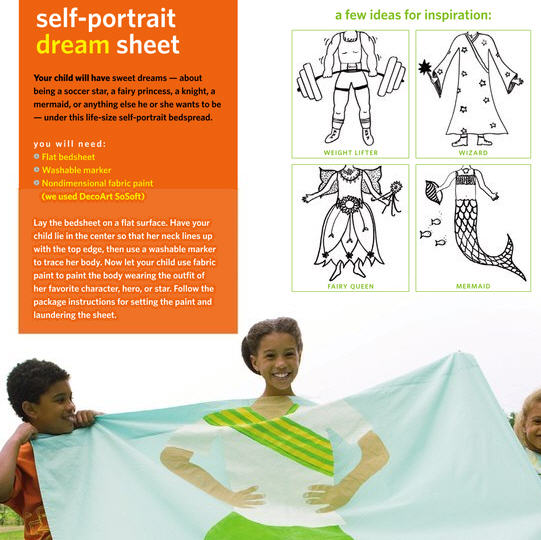 This next craft is too adorable and perfect for photo ops. You'll need:
Flat bedsheet
 Washable marker
Nondimensional fabric paint (e.g., DecoArt SoSoft)
Felt
Fabric glue
And here are the super simple steps:
Lay the bedsheet down on a hard flat surface and have your child lie down in the center so that his or her neck lines up with the top edge.
Using the washable marker, trace the child's body and then sketch the design on top of the outline. (See the mermaid in the upper right corner.)
Now use the fabric paint to create your mermaid. 
I've added my own twist here. Paint the mermaid tail, but then embellish it with glitter felt (the craft store usually has pink and purle!) scales.
Hang your sheet on a laundry line to dry and let the magic begin.
NOTE: Follow the package instructions for setting the paint and laundering the sheet.
Happy crafting!