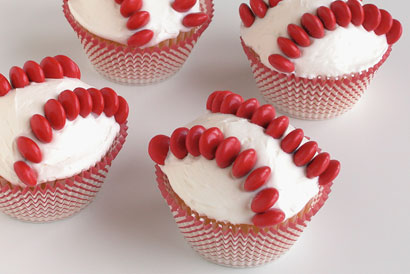 This idea is from BrightIdeas.com and I simply love it! It is so easy; I only wish I knew where they got the cupcake liners. No fear though. If you can't locate something similar I would go with a white baking liner (use a white cake mix and egg whites… and maybe substitute apple sauce for the oil to keep the liners crisp) and red and white grosgrain ribbon.
Here's all you need:
1 box (18.25 oz.) yellow cake mix
2 cups chopped MILKY WAY® Bars
2 12-oz. cans whipped vanilla frosting
3 cups M&M'S® Brand Chocolate Candies
2 12-cup muffin tins
Paper cupcake liners
And here are the simple steps:
Preheat oven to 350°F.
Prepare the cake mix according to the directions on the package. Fold the MILKY WAY® Bars into the batter.
Line the muffin tins and fill. Bake for 20 minutes. Cool completely before spreading with whipped frosting.
Following the photograph, decorate the cupcakes with single color M&M'S® Brand Chocolate Candies to create the baseball seams.
Happy baking!