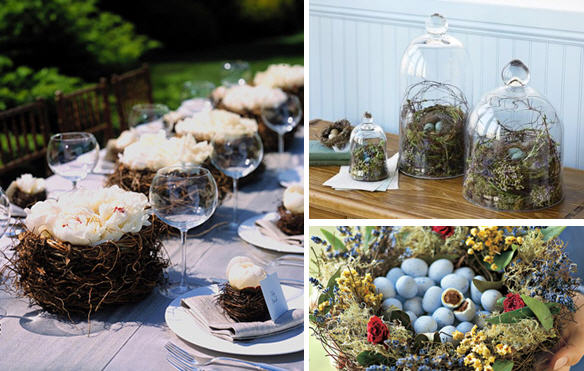 I heard the first tweets of Spring a few days ago and caught a glimpse of a mommy bird building her nest in one of our bird houses… little twigs scattered all over the ground below. (My oldest was concerned that she was killing dad's tree. I had to assure him it would be fine…)
This wonder of nature made me think of all the beautiful ways we use the bird nests in event planning and decorating, so I thought I would round up a few of my favorites.
The centerpiece and placesetting ensemble is from Martha Stewart Weddings… love it!! And it's perfect for our owl couple baby shower collection.
The next two are from William-Sonoma. I just thought the bell glass idea was very unique, and then who could resist chocolate truffles in the shape of baby bird eggs. I mean, really! They've carried them for years and I drool over them every season. {wink}