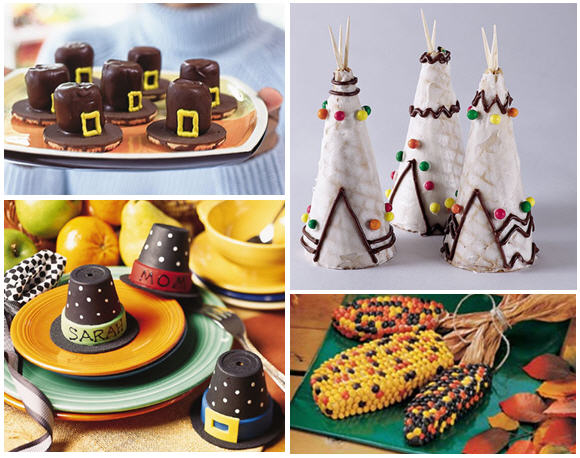 I think I have my kid thanksgiving table ideas almost solidified (I found the most beautiful fabric to make tepees out of) and I can't wait to share them with you… but that requires that I actually get to my craft room and that doesn't look promising with the amount of work on my desk this week. So until the weekend…
Anyway, I thought I would share a few of the wonderful ideas of the web in the meantime. These very cute pilgrim hats (the best part is I found a striped chocolate cookie, Kroger brand, that is dairy free so I can make these for my youngest too with a little melted dairy free chocolate; I can't stand for him to be left out) and tepees are from Family Fun.
Next is the pilgrim hat placecard idea from Better Homes & Gardens. If I didn't already have my placecard craft completed (one of the only components) I would strongly consider this one. Cute!
And last but not least, indian corn cakes from Taste of Home made with Reese's pieces no less! Yummy!