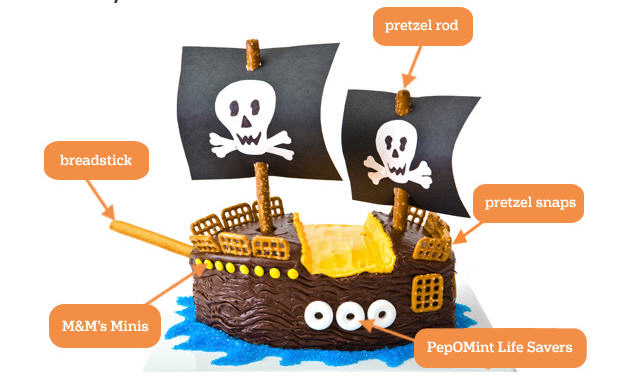 Have a pirate longing for a swashbuckling good time? Invite the crew to weigh anchor and follow the treasure map to this fabulous pirate ship cake from parenting.com. It's the perfect addition to our pirate ship birthday party or pirate skull birthday party theme.
Here's the ingredients and supplies you'll need:
1 (13 by 9-inch) cake
1 can (16 oz) dark chocolate frosting
Yellow food coloring
½ can (1 cup) vanilla frosting
1 plain breadstick (8 inches long)
16 yellow mini-candy-coated chocolates
6 PepOMint Life Savers
1 cup blue coarse decorating sugar
2 thick pretzel rods
A bread knife
A serving platter
A fork
Scissors
Black and white construction paper
Glue
For all the "how to" details and a template for cutting out your cake, visit parenting.com. Happy baking matey!