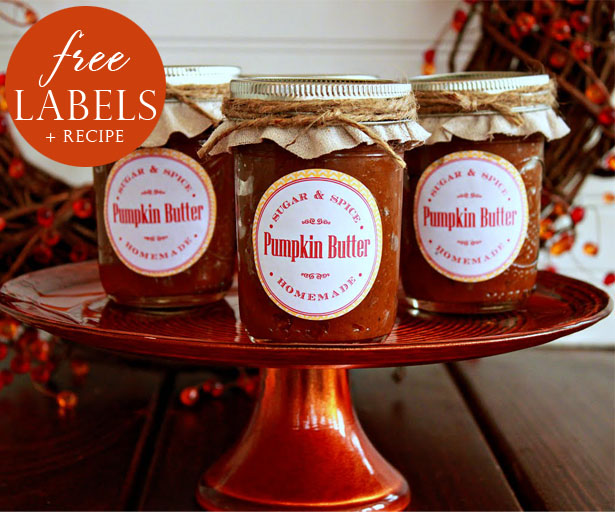 [pinit count="vertical" url="https://thecelebrationshoppe.com/2012/09/17/pumpkin-butter-recipe-free-printable/" image_url="https://thecelebrationshoppe.com/wp-content/uploads/sites/95/2012/09/Pumpkin-Butter-Recipe-And-Free-Labels1.jpg" description="Light Pumpkin Butter Recipe plus free Pumpkin Butter jar labels from @Deanna at Mirabelle Creations via blog.thecelebrationshoppe.com" float="right"]
Happy Monday everyone! There is a little hint of fall here in the Mirabelle Creations kitchen and I'm giddy! The mornings and evenings in my part of Kentucky have actually been down right chilly lately. And, I'm ecstatic! Over the last few months, my kitchen has been teeming with fresh tomatoes, corn and beans, but now that cool weather has arrived, I've shifted to thinking about apples and pumpkins.
My daughter's favorite fall dessert is pumpkin pie and this fall weather prompted me to make some Pumpkin Butter for her. The spices added to this treat are the same spices added to pumpkin pie, so it has all of the flavor, without all of the fat!
It's fantastic spread on toast and muffins, over waffles, stirred in ice cream, paired with fresh apples, or over cheesecake. As a bonus, cooking this light treat makes your entire house smell delicious!
Pumpkin Butter also makes a great hostess gift or party favor. As I entertain and attend gatherings through the fall months, I'll keep extra jars on hand to share with friends.
And to dress up the half pint jars, I designed a "homemade" label and added some tan cotton fabric over the lid with jute twine wrapped around the lid.
Download your FREE Homemade Pumpkin Butter label!
Print them on a full sheet of white adhesive labels (available at your local office supply store) and punch them out with a 2.5″ circle punch or you can trim them out with scissors. Or, you could also print them on card stock, cut them out in squares and tie them to the jars. Either way, your guests and hosts will be delighted with this lovely and tasty little gift! 
Pumpkin Butter recipe
1 (29 ounce) canned pumpkin
1 cup of apple juice
1 cup of light brown sugar
1 vanilla bean (or 1 tsp vanilla extract)
1 teaspoon ginger
½ teaspoon ground cloves
2 teaspoons ground cinnamon
1 teaspoon nutmeg
Place pumpkin, apple juice, light brown sugar, the insides of vanilla bean, ginger, cloves, cinnamon, and nutmeg in a large saucepan. Stir with a whisk. Bring to a boil, reduce heat, and cook for 30-40 minutes. Fill 4 half-pint jars with mixture. Store in refrigerator.
One important reminder about this Pumpkin Butter: it must be refrigerated. Unlike apple butter, which is acidic, this butter does not have a high enough acid content to store outside of the refrigerator. That said, you should easily be able to enjoy the Pumpkin Butter through the fall, as long as you keep it refrigerated.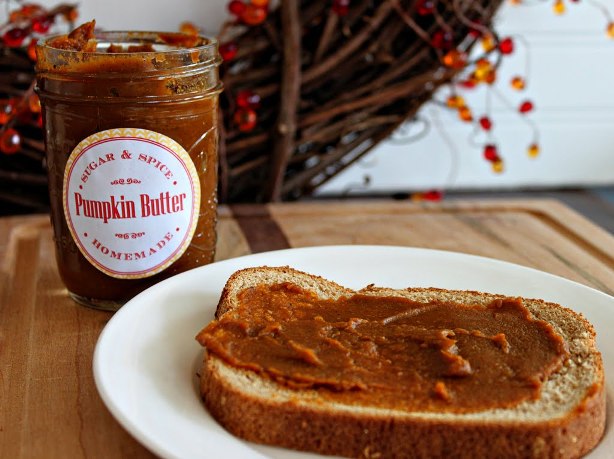 As always, we hope you're inspired to craft, bake, create and celebrate!
Join The Celebration Shoppe on facebook, sign-up for the daily ideas to come right to your inbox (a box in the right-side navigation bar), follow us on twitter, pinterest and on instagram at @thecelebrationshoppe