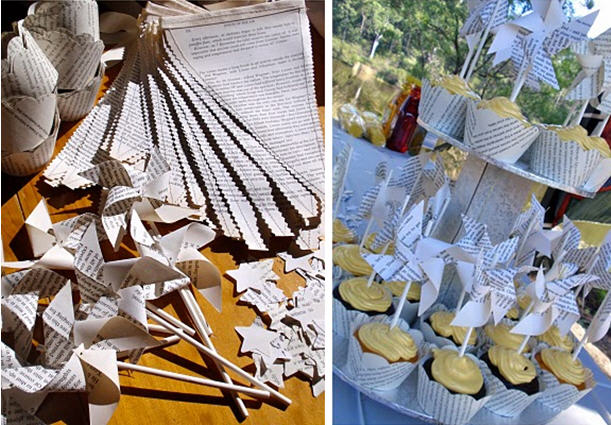 I met Amy from Giggleberry Creations some months ago when she tried making my DIY no-sew pirate flag, and with her talents I'm positive it turned out beautifully. So when I saw this unique and very detailed bookworm birthday party that she threw for her sister I just had to share. You see, I'm a bookworm myself… or a want to be bookworm. I love to read, but with two little ones, a business and a house to run it always falls to the back of the line. I keep a list of books I'll read when my boys are grown and I'm retired… it's getting long.
Anyway, back to this lovely party. I love the way she used, in her words, "two very old and boring books" to make the cupcake wrappers and pinwheels. Smart idea and so perfect for the occasion. (I'll admit I made a craft from an old book, something that I nor anyone else would probably ever read, over the winter. My oldest son, who is also a book lover, got very very VERY upset with me… needless to say I won't be doing that again… at least not in his presence.)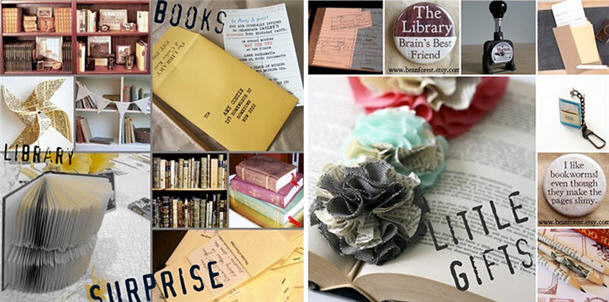 And here, to the left is her inspiration board for this lovely party, and to the right are the gifts she gave her sister in addition to a bookmark from each guest. How fun!
Now, you must hop over to Amy's to see the library backdrop that she drew and painted herself. It is huge and it looks just like a library wall. Very talented. Must go see!