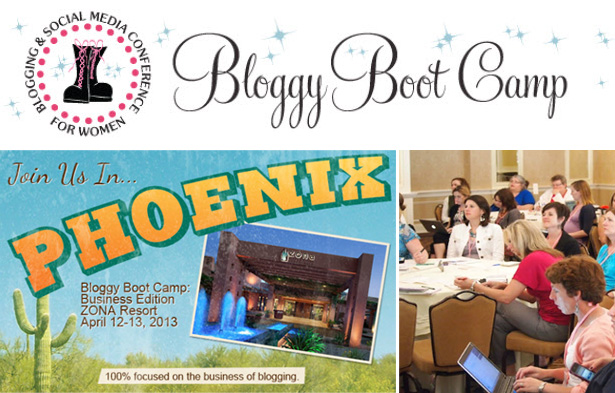 Good morning everyone! I'm thrilled to share that I'll be speaking at Bloggy Boot Camp Brand Edition again! This time in lovely Phoenix! If you've ever wanted to learn how better to work with brands and monetize your blog, then Phoenix is the place you need to be on April 12 and 13!
Dates: April 12 and 13, 2013
Tickets: $200
Location:  Zona Hotel and Suites, 7677 E Princess Blvd Scottsdale, Arizona
Here are a few of the topics for Phoenix's Bloggy Boot Camp Brand Edition:
Paid Blogging Campaigns: How to partner with a brand to successfully execute a paid campaign on your blog.
Brand Ambassadors: Becoming a brand ambassador/social media spokesperson can be a very lucrative opportunity for bloggers. Learn how to pitch and secure these positions.
Work/Life Balance: We all talk about achieving a balance between our online and offline worlds, but how do people really do this? Learn sure-fire techniques to succeed online while managing to not lose sight of the people who really matter.
Managing Social Media for Businesses: Monetizing your blog isn't the only way to make money online. Another option is to manage social media for a business. Learn how to put your skills to use by growing social media accounts and increasing the bottom line for businesses.
How to Get Help, aka Be More Effective and Work Less: What if it were possible to clone yourself and get more done online? You can, but only if you consider getting an intern or assistant. Let us help you understand how to secure a paid (or unpaid) employee, what to look for in a candidate, and where to find people.
From Blog to Business: Setting yourself up as a business matters. Get the inside scoop on insurance, taxes, and which type of corporate structure is best for you.
Hop over to Bloggy Boot Camp to learn more about the Phoenix event including a complete list of speakers with bios and more. I have to admit, I'm excited to hear from Bethann Stenseth, a member of the New Partner Development team at YouTubePlus!
If me telling you isn't enough (and it should be, right… ha!), hop over and read the top 10 reasons to attend, plus read testimonials from fellow bloggers. You can also follow @BloggyBootCamp on Twitter and 2013 attendees with the twitter hashtag, #BloggyBootCamp.
I'd love to see you there!
Join The Celebration Shoppe on facebook, sign-up for the daily ideas to come right to your inbox (a box in the right-side navigation bar), follow us on twitter, pinterest and on instagram at @thecelebrationshoppe