Are you thinking green for St. Patrick's Day yet? Well you really should try these mini Key Lime Pie Doughnuts from my lovely contributor Deanna of Mirabelle Creations!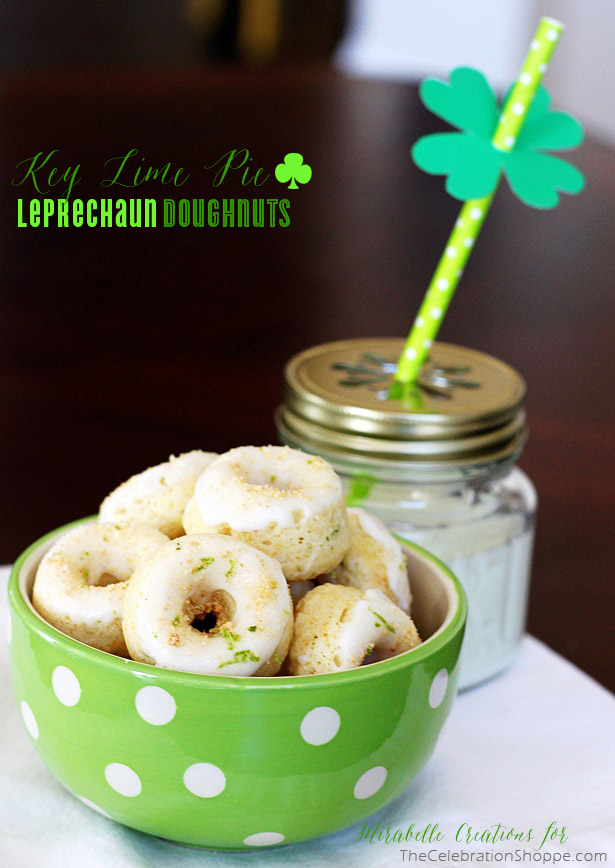 In Deanna's words: My son is a little fascinated with leprechauns this March.  His fascination might be because they are quite mischievous, just like him!  Between a leprechaun's mischievous nature, their pots of gold, and their mini stature, what's not to love?
For St. Patrick's Day, there are so many fun Leprechauns ideas for kids.  My little guy wanted to make a Leprechaun Trap this year.  Some other fun ideas include: green milk left by a leprechaun, the leprechaun leaving little gold coins around the house for the kids, and the leprechaun turning the toilet water green.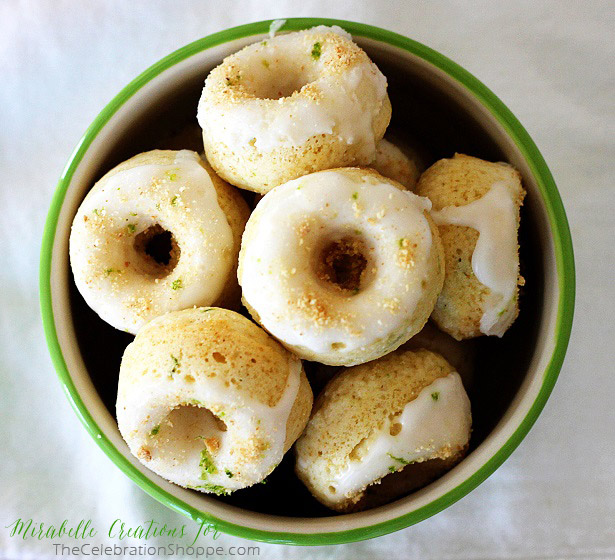 For a St. Patrick's Day breakfast this year, I plan to leave my son some of these Leprechaun Lime Doughnuts (which are Mini Key Lime Pie Doughnuts).  They are healthy treat alternative to a fried doughnut.  Also, they are Leprechaun size and incorporate green without having to use green dye!
Mini Key Lime Pie Doughnuts (adapted from A Zesty Bite)
Ingredients:
1/3 cup milk

2 teaspoons key lime or lime juice

1 egg

1 teaspoon vanilla

1 tablespoon butter, melted

1 cup flour

1/3 cup sugar

1 teaspoon baking powder

½ teaspoon salt

Zest of two small limes

1-2 tablespoons milk

1 cup powdered sugar

1 graham cracker, crushed
Instructions:
Preheat oven to 375 degrees.  Spray the cavity of a mini doughnut pan with cooking spray.

A

dd key lime juice to milk.  Let sit for about 5 minutes, so milk sours.  In a small bowl, mix together egg, vanilla, and butter.  Add soured milk to ingredients.

In another bowl, whisk together flour, sugar, baking powder, salt, and zest of one lime.  Add wet ingredients to dry ingredients until completely combined.  Add batter to a piping bag.  Fill the doughnut cavities approximately 2/3 full by piping batter into cavities.

Bake approximately 8 minutes or until doughnuts are golden brown.   Cool for about 1 minute, then remove from pan.  Let doughnuts cool.

For the glaze: Stir together 1 tablespoon milk and powdered sugar.  Add a little more milk until you achieve the desired consistency.  Dip top half of doughnuts into glaze.  Sprinkle remaining lime zest and graham crackers crumbs on top of glaze.
Makes approximately 24 mini doughnuts.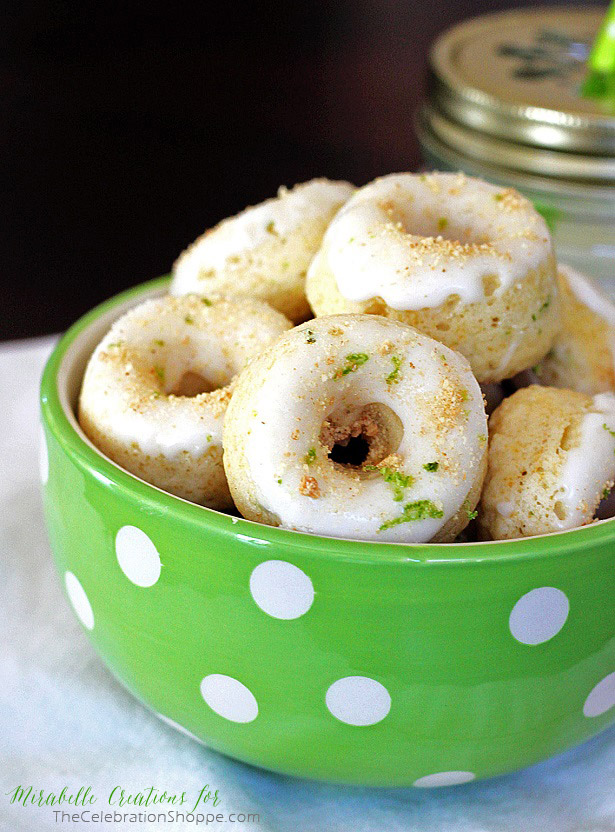 For a few more Mirabelle Creations' St. Patrick's Day ideas, visit Deanna's recent St. Patrick's Day Party Ideas post. 
As always, we hope you're inspired to craft, bake, create and celebrate! 

Join The Celebration Shoppe on facebook, sign-up for the daily ideas to come right to your inbox (never miss an idea, giveaway or free printable!), connect with Kim on twitter, pinterest and on instagram. And don't forget to shop the party store for birthday, baby shower and holiday party supplies. Oh, and now you can follow the blog with Bloglovin too! Hope to see you around!