Hosting Thanksgiving this year? In need of some amazing ideas for a Thanksgiving Table for kids?! I'm giddy to share this amazing table and creative activity ideas from my friend Dawn of Not Just A Mommy. I'm not sure what I love more, the darling table backdrop or the log cabin activity!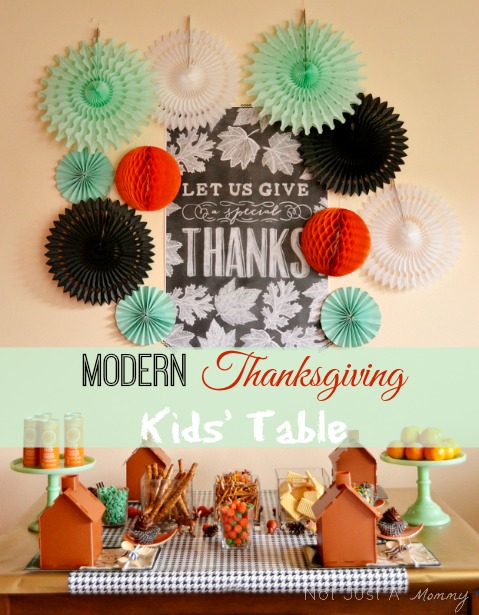 Hello everyone! This is Dawn from Not Just A Mommy and I'm thrilled to be sharing my modern take on a Thanksgiving table for kids with a black, orange and mint color palette.  Don't feel you have to limit your decor to turkeys or a red, brown and orange palette.  I'm always looking for new twists to freshen my holiday tables.
Inspired by my woodland creatures napkins, I played with houndstooth, gold, black, orange and mint color palette for a fun table that will keep the little ones out of the kitchen and your hair.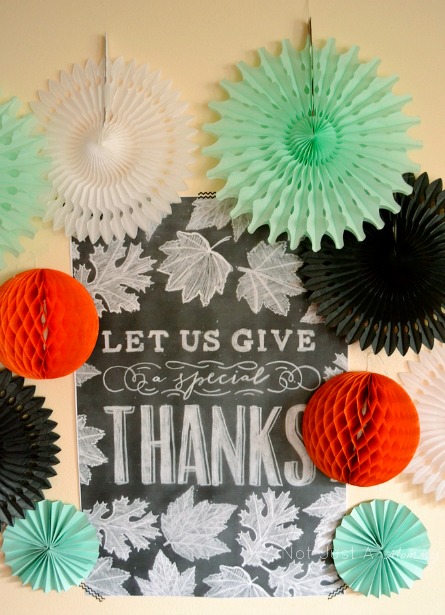 To set the scene, I started with Caravan's Chalk It Up Dining Set Give Thanks poster, tissue decorations and paper rosettes. I love this set because it comes with 3 posters, stickers and placemats for $5.  I took the pdf to Staples and they printed the poster as an engineering print for less than $4!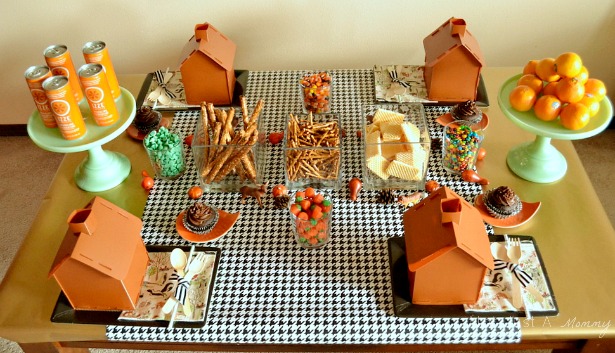 One of my favorite ways to cover a table is with wrapping paper.  Not only are they a perfect starting point for decorating your table, it's easy cleanup when the party's over. To keep a formal but fun feel and break up the strong pattern of the houndstooth, I layered with gold paper.  Psst…I found the houndstooth paper at Hobby Lobby.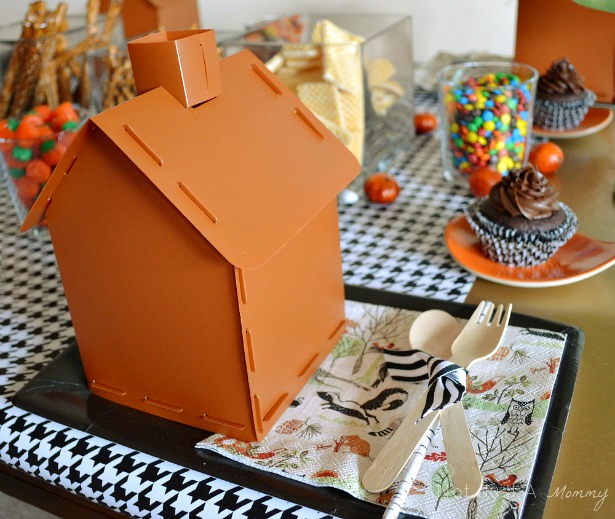 Gingerbread house decorating isn't just for Christmas.  When I saw The Candy Cottage featured in Family Fun, I knew I must have them. They are a no-bake solution for those of us who don't have the time or skills to bake our own. They are reusable, which means the fun can happen all year round. What better way to keep the kids busy than with making log cabins.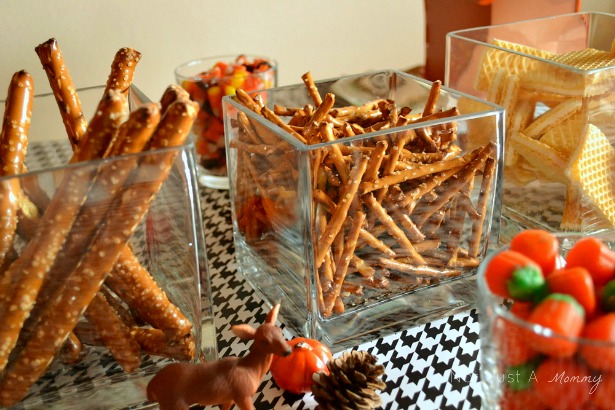 What do you make log cabins with? Why with mini pretzels and rods of course. With wafers and fun candy accents, your little guests will be busy for awhile…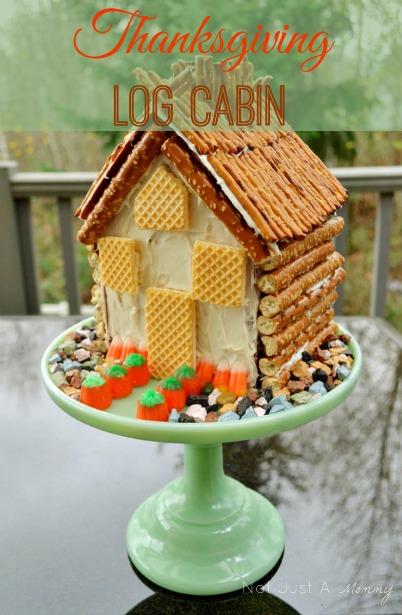 Ta-da! This took me awhile to frost and lay all the pretzels so I know it will keep my boys busy before our own Thanksgiving dinner.  And note, I scored all the pretzels at Dollar Tree, they can be pricey at grocery stores.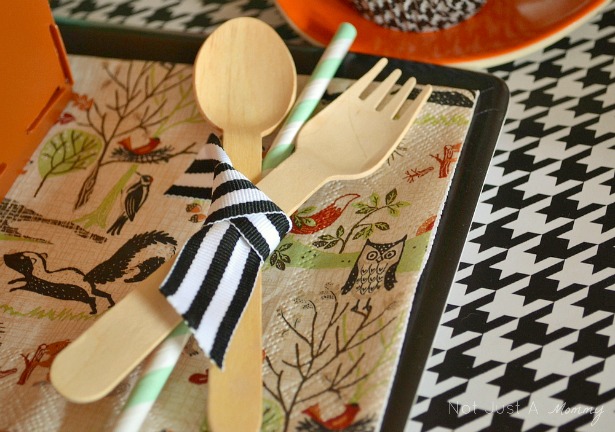 Place settings are more fun tied with grosgrain ribbon and a paper straw.  I love wood utensils, my favorite place to score them…Garnish. I also purchased my birch paper straws there.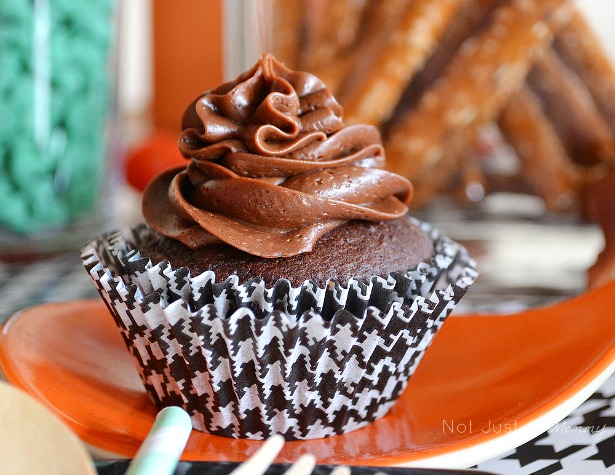 If they promise to eat their veggies, they can have their cupcake! I found these great wrappers at Bake It Pretty.  Even if your cupcakes are store-bought, place them wrapped into a pretty liner that matches your theme.  No one will know you didn't bake them yourself.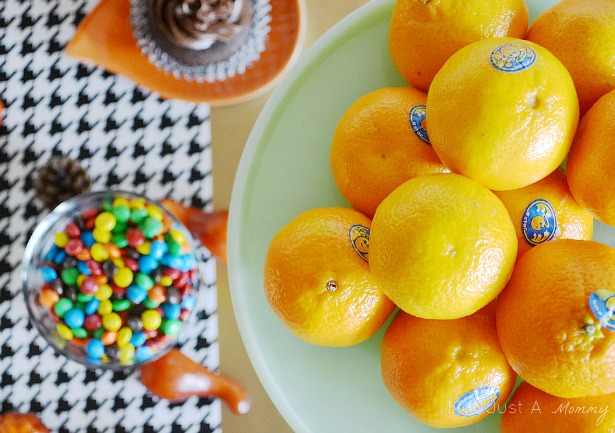 I always try to balance out the sweets with something healthy and a cake stand of easy-to-peel mandarins are both colorful and practical.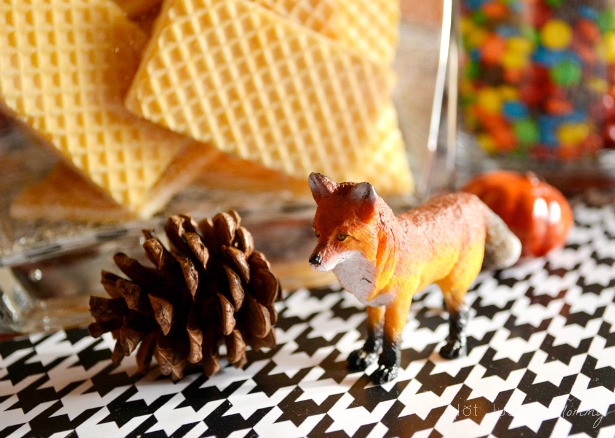 A few toy animals round out our table decorations; not only will they be played with but can go home with guests. I know…what does the fox say?
I hope you have been inspired to think a little outside of the holiday box when it comes to decor and activities this Thanksgiving. Don't be afraid to play around with non-traditional colors, decor and foods. In fact, check out my Modern Thanksgiving post for great ideas like veggie centerpieces and Mason Jar Pumpkin Cheesecake Trifles.
If you liked the Candy Cottages, be sure and sign up to follow me; I'll be hosting a giveaway for both a four-cottage party pack and the full sized original Candy Cottage very soon.
Like what you just read? There's more where that came from…follow Not Just A Mommy on Facebook, Twitter, Pinterest and Instagram. Never miss a post by signing up by email.  You can also follow the blog with Feedly.
As always, I hope you're inspired to craft, bake, create and celebrate!
INSTAGRAM | FACEBOOK | PINTEREST | GOOGLE+ | TWITTER | YOUTUBE | BLOGLOVIN
Thanksgiving Table for Kids: Black, Orange and Mint Color Palette seen first on The Celebration Shoppe