[pinit count="vertical" url="https://thecelebrationshoppe.com/2012/11/08/up-movie-balloon-birthday-party-supplies/" image_url="https://thecelebrationshoppe.com/wp-content/uploads/sites/95/2012/11/Balloon-Birthday-Party-from-thecelebrationshoppe.jpg" description="UP movie balloon birthday party supplies from thecelebrationshoppe.com" float="right"]
For my friend, Francesca of the SITS Girls, we designed a bright "UP" balloon birthday party collection for her little girl. I'll feature pictures from the big day in my next post, but first I want to share all of the fun new birthday party printable designs and supplies making their way to the shoppe this week!
Fran's little one was turning two so she wanted lots of activities to keep the kiddos busy. She hosted an outdoor movie viewing, and a magic show, plus we made fun coloring sheets. Needless to say that between the activities, all the yummy treats, like the s' mores dessert bar and balloon cookies (that our partners at Sweet Tooth Cottage baked up), guests went home smiling!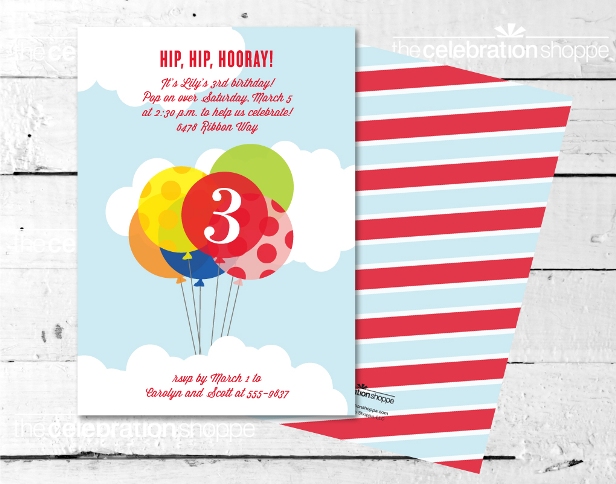 Here's what you can find in this UP MOVIE balloon birthday party (invitation  and party decor, all items can be customized):
Balloon invitation and thank you note
Welcome guests with a Large Movie Premier Sign (11×17; TIP: print at Costco for $5.99)
Balloon cupcake picks and multi-colored cupcake wrappers
Book Adventures favor mat (5×7)
Balloon favor tag
Adventure awaits balloon bookmarks
S' mores dessert bar mat
Balloon dessert tags
Balloon beverage wrappers
Magic show activity poster
Activity balloon coloring page
Balloon napkin rings
Balloon placemats (11×17)
Custom balloon butter cookies (from our partners at Sweet Tooth Cottage)
All items will be in the shoppe later this week! Until then, you can e-mail us at [email protected] if you need something right away or are interested in a custom collection created just for you!
As always, we hope you're inspired to craft, bake, create and CELEBRATE!
Join The Celebration Shoppe on facebook, sign-up for the daily ideas to come right to your inbox (a box in the right-side navigation bar), follow us on twitter, pinterest and on instagram at@thecelebrationshoppe