With Cinco De Mayo only a few short weeks away I'm already testing drink recipes and planning snacks. This watermelon lemonade drink recipe is perfect for the kiddos (or you could spike it and make it a margarita!).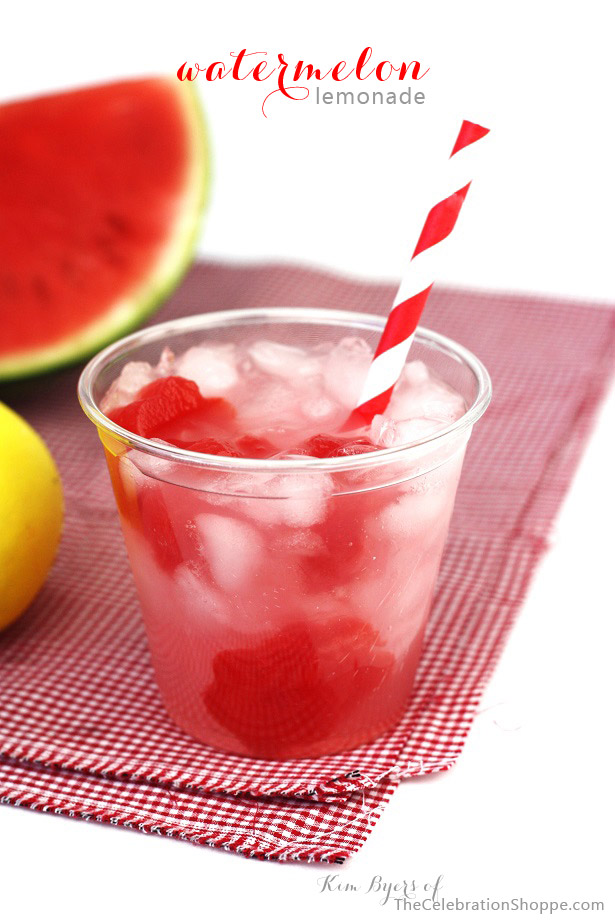 Ingredients
8 cups seedless watermelon (will take most of a five pound watermelon), cut into small cubes
1 1/2 cups fresh lemon juice (about 8 lemons)
3 1/2 cups water
1 cup granulated white sugar
garnish – watermelon cubes or small cookie cutter flowers (like me) plus lemon wheels
Yields 8 Servings
Directions
Blend watermelon and lemon juice in food processor or blender until smooth. Strain the mixture through a wire sieve to remove any seeds, pulp or foam.
Transfer to a glass pitcher.
Bring 3 1/2 cups water and sugar to boil in medium saucepan over high heat, stirring until sugar dissolves.
Add mixture to pitcher with watermelon and lemon juice.
Refrigerate until cold.
Adapted from AllRecipes.com
Want more Cinco de Mayo recipes and party ideas?  Look at my other posts  Mocktail Moms, Cinco de Mayo Party Inspiration and Cinco de Mayo Recipes.
As always, I hope you're inspired to craft, bake, create and celebrate!
INSTAGRAM | FACEBOOK | PINTEREST | GOOGLE+ | TWITTER | YOUTUBE | BLOGLOVIN