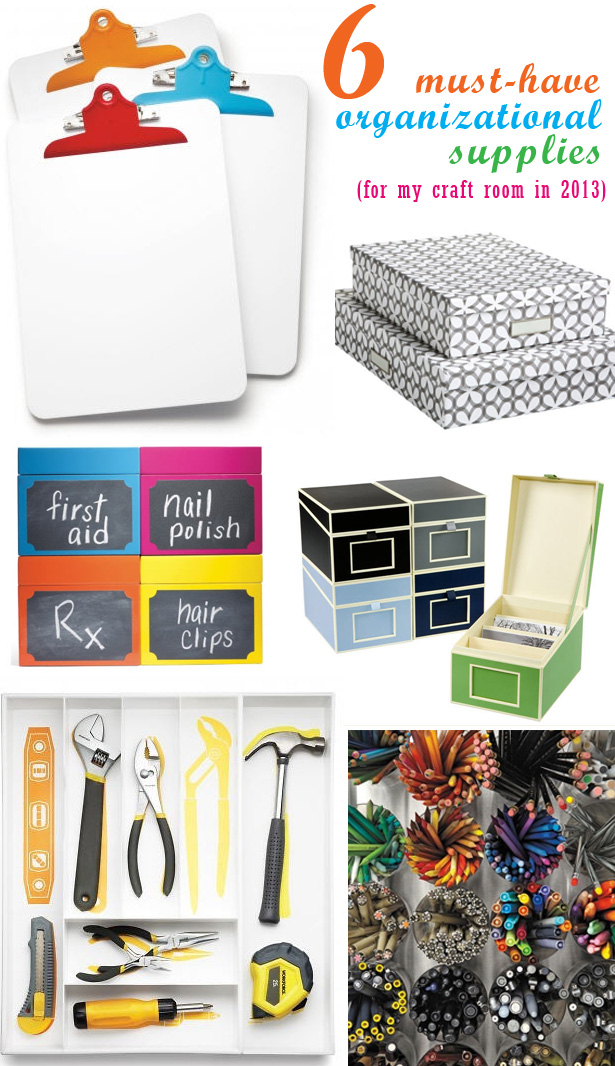 Over the holidays I reorganized my studio, a room in my house where I craft, style and photograph. No computers (unless to see the shots as I take them), no paperwork, just creative materials. I have a separate room I use for my office. I found that combining the two didn't give me enough space for one, but also distracted me too much! I'm not quite done yet, but once I am I'll share a bit of my space.
So with this in mind, these are six things that I either already use or will be implementing in my craft room and photography studio. Some people like things out and showing… not me. I like the room to stay fairly clean so that when I switch from styling a birthday project to styling a holiday project all within the same day I'm not distracted by clutter.
clipboards – I often have multiple projects going at once so I organize them with clipboards so that I can put the sketch sheet with my props

chalkboard labels – labels are essential for me. It keeps me straight and also any guests (or little boys) that might be crafting with me

tool silhouettes – this one I love! I've not figured out how I'm going to do it in my new room yet, but how better to know something is missing?

pen and pencil organization ~ I keep all of my many pens, pencils and sharpies in glass jars, buckets and paint cans. Sounds hodge-podge, but it actually looks nice, plus I can grab and go quickly
paper storage and media storage boxes ~ my brand colors are gray and pink, accented with aqua, orange and yellow… these gray fabric covered boxes are perfect and media boxes are a must!
Resources: clipboards, chalkboard labels and tool silhouettes from Martha Stewart, paper storage and media storage boxes from the container store and pencil organization from Darcy Miller's craft room.
More to come as I bring the room together! Happy Wednesday everyone!
Join The Celebration Shoppe on facebook, sign-up for the daily ideas to come right to your inbox (never miss an idea, giveaway or free printable!), follow us on twitter, pinterest and on instagram at @thecelebrationshoppe.