This season isn't all about Halloween; there are beautiful fall colors and shapes we can celebrate too. I came across this acorn cake from Bright Ideas and just had to share it. It's actually pretty easy.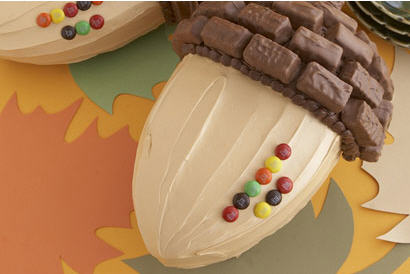 The recipe makes two cakes and each serves about eight people. Here's what you need:
Snickers and Twix fun size candy bars (1 bag KID'S FAVORITE MIX FUN SIZE® 48 count Variety Bag)
1 can (16 oz.) chocolate frosting
2 (18.5 oz.) boxes Devil's Food Cake mix
1 (16 oz.) can vanilla or cream cheese frosting
brown food coloring (or green and red to make brown)
1 1/2 quart oven safe glass bowl
1 (9″x13″) cake pan
wax paper
steps:
Prepare both cake mixes according to the box directions and divide the batter between a buttered oven safe glass bowl and a buttered and waxed paper lined oblong cake pan.
Bake both cakes in a preheated 350-degree oven for approximately 40 to 50 minutes or until an inserted toothpick comes out clean. Cool cakes in their pans for 10 minutes, then remove them and place them on a cooling rack to cool completely before decorating.
Cut both cakes in half using a serrated knife and using the photo as guide, cut the flat cake into the bottom portion of the acorn. Use the half moon shaped cake as acorn top. Push the half moon shape cake against the straight edge of flat cake to form the acorn.
Tint the frosting beige with several drops of brown food coloring and apply a thin crumb coat to the bottom of the acorn. Let it dry for a 5-10 minutes and then apply a generous coat with a cake spatula (or butter knife) pulling the icing to you in straight lines.
Cover the acorn tops with chocolate frosting, arrange Snickers Bars around the acorn using a Twix Bar for the stem and place M&Ms as seen in the photo.
You might also like:  Thanksgiving Owl Acorn Craft, Thanksgiving Cake Topper , Acorn Chocolate Cookies.
Enjoy fall!
As always, I hope you're inspired to craft, bake, create and celebrate!
INSTAGRAM | FACEBOOK | PINTEREST | GOOGLE+ | TWITTER | YOUTUBE | BLOGLOVIN
Acorn Cake seen first on The Celebration Shoppe.