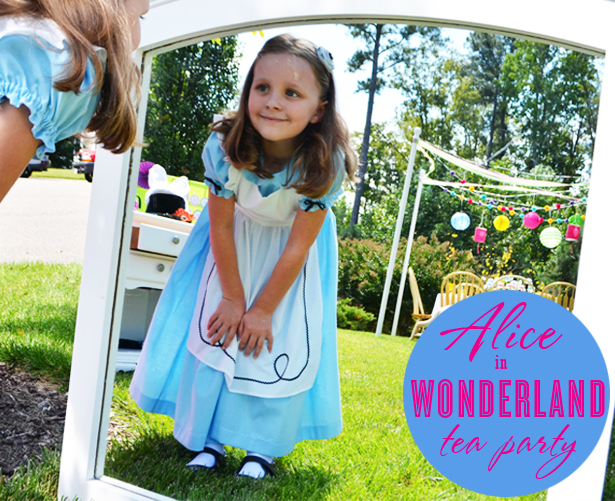 [pinit count="vertical" url="https://thecelebrationshoppe.com/2012/10/11/alice-in-wonderland-tea-party/" image_url="https://thecelebrationshoppe.com/wp-content/uploads/sites/95/2012/10/Alice-in-Wonderland-Tea-Party.jpg" description="Alice in Wonderland Mad Hatter Tea Party from Jen of Passion for Parties via blog.thecelebrationshoppe.com" float="right"]
Good morning everyone! My name is Jen of Passion for Parties and I'm guest posting this morning to share my niece's Alice In Wonderland Tea Party.
I have to admit, when she told me she wanted her birthday party to be Alice in Wonderland, I wasn't super excited! I'm more drawn to original, unique themes. So I knew that to pull this off in a way that I'd be happy with, I was going to have to get creative.
I sketched out some ideas, enlisted the help of my party elves (my hubby, mom, and sister), and got to work! In the end, this turned out to be one of my most favorite parties ever! 
Here's a peek at what we did: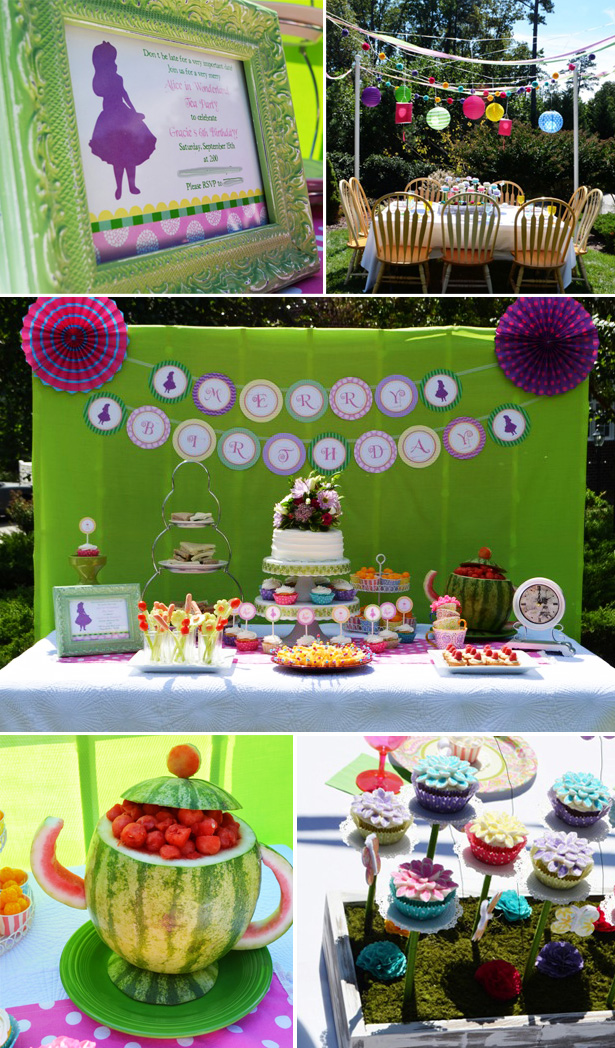 Our invitations featured a simple silhouette of Alice in purple(the birthday girl's favorite color). A pretty pink blossom border was embellished with glitter to add a touch of "wonder" to our Wonderland invites. Each envelope was secured with baker's twine, then topped with a handmade, whimsical butterfly for a fun touch.
Our homemade "arbor" took center stage for the party. We used PVC pipe, deck post finials (painted white), and e600 glue to create a gorgeous enclosure for our tea party table.
Streamers created the outline for the frame, while curling ribbon was strung from post to post and was used to hang colorful party lanterns over the table. 
The table, in itself, was one of the most talked-about aspects of the party.
The DIY centerpiece was like something straight out of Wonderland. Bright tissue paper flowers rested on mossy grass, while marshmallow flower cupcakes grew on stem pedestals, surrounded by dancing paper butterflies. 
Each place setting was adorned with colorful paisley plates and topped with homemade tea cups filled with marshmallows. Colorful goblets completed the look.
The food table was filled with tea party goodies. Finger sandwiches, "Queen of Hearts" raspberry tarts, flower veggie bouquets and a teapot watermelon were some of the favorites.
Our cake was simple, yet beautiful, with a pretty flower bouquet as a topper. The cupcakes were adorned with our Alice in Wonderland party toppers that coordinated nicely with our "Merry Birthday" banner that was displayed on the backdrop.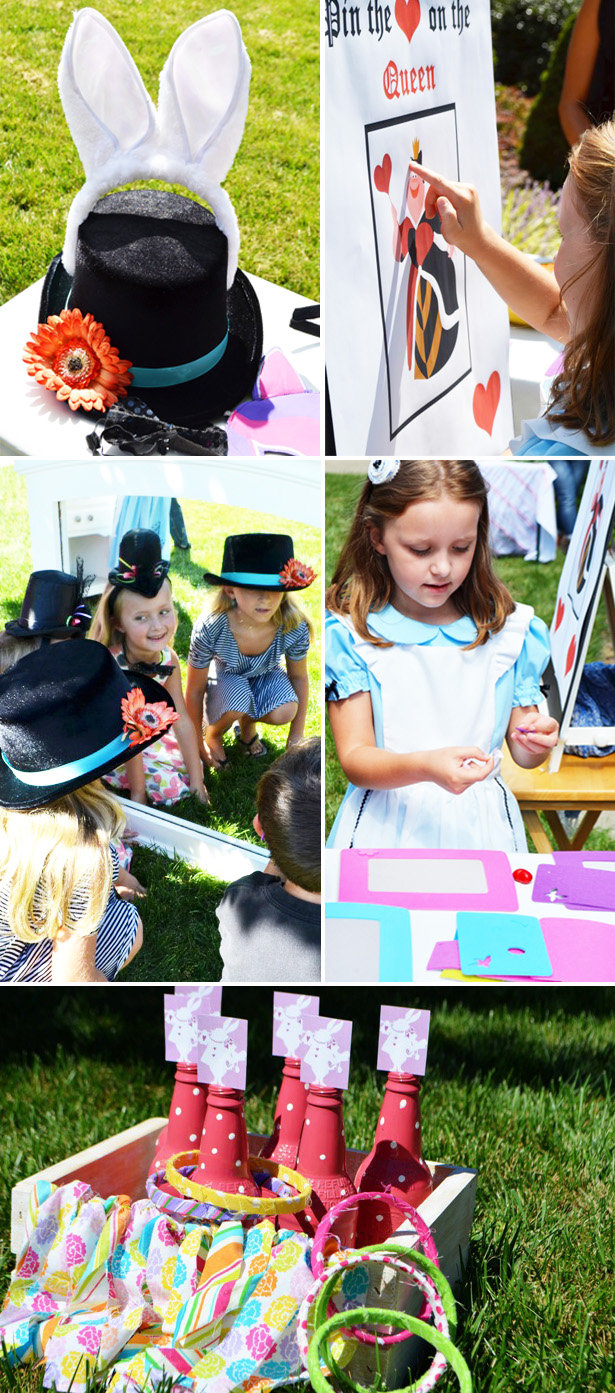 Since the rabbit shouting "I'm late, I'm late, for a very important date" is what started Alice's adventure into Wonderland, we turned that into a game. We secured pictures of the rabbit onto hand-painted root beer bottles, and hand-wrapped embroidery hoops to use as rings. The kiddos had to toss the rings to try to "capture the rabbit" and find out what he was late for.
"Pin the Heart on the Queen" was another game the kids enjoyed.
The biggest hit for the kids was the dress-up station. Our birthday girl was dressed in a beautiful Alice dress, so we wanted the other kiddos to feel like they were in Wonderland, too!
A Mad Hatter hat, rabbit ears and tails, a Cheshire cat mask (I just painted a black cat mask with pink and purple), a cat tail, a bow tie, silly glasses, and a tea party mini hat headband were displayed on a white bedside table, alongside a mirror for the kids to see themselves all dressed up.
They just LOVED this, and wore the dress-up items throughout the entire party!
To showcase these fun dress-up moments, the kids each decorated a picture frame to take home as a party favor. Photos of themselves all dressed up were sent with the thank you notes to be framed in the frames they made.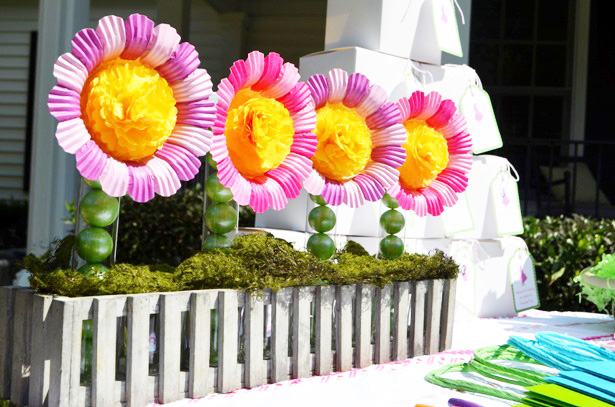 The kids also got to take home the marshmallow cupcakes from the table centerpiece, that were tucked inside individual cupcake boxes and adorned with our custom favor tags. 
Other favors included DIY Wonderland gumball flowers, and prizes that the kids won during all of the activities that they played.
As always, we hope you're inspired to craft, bake, create and CELEBRATE!
Resources:
Join The Celebration Shoppe on facebook, sign-up for the daily ideas to come right to your inbox (a box in the right-side navigation bar), follow us on twitter, pinterest and on instagram at @thecelebrationshoppe