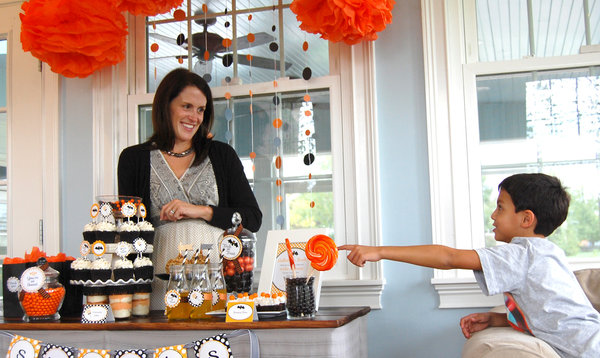 Good morning everyone! I'm so happy to share that Deanna of Mirabelle Creations (shown here with her son) will be contributing her creativity  here on The Celebration Shoppe blog regularly!
She's a mom of two beautiful children, Mira and Sam, a southern girl (you gotta like her already!), a former lawyer and a party lover! 
You can get to know more about her in this recent article with Central Kentucky News where she shares that party planning is her "way of showing the people I love that they're important to me."
Please welcome Deanna! You can also find her:
Happy Friday everyone and check out Deanna's first official contributor post later this morning, adorable and easy Vampire Bat Cookies! 
As always, we hope you're inspired to craft, bake, create and CELEBRATE!
Photo credit: Central Kentucky News
Join The Celebration Shoppe on facebook, sign-up for the daily ideas to come right to your inbox (a box in the right-side navigation bar), follow us on twitter, pinterest and on instagram at @thecelebrationshoppe