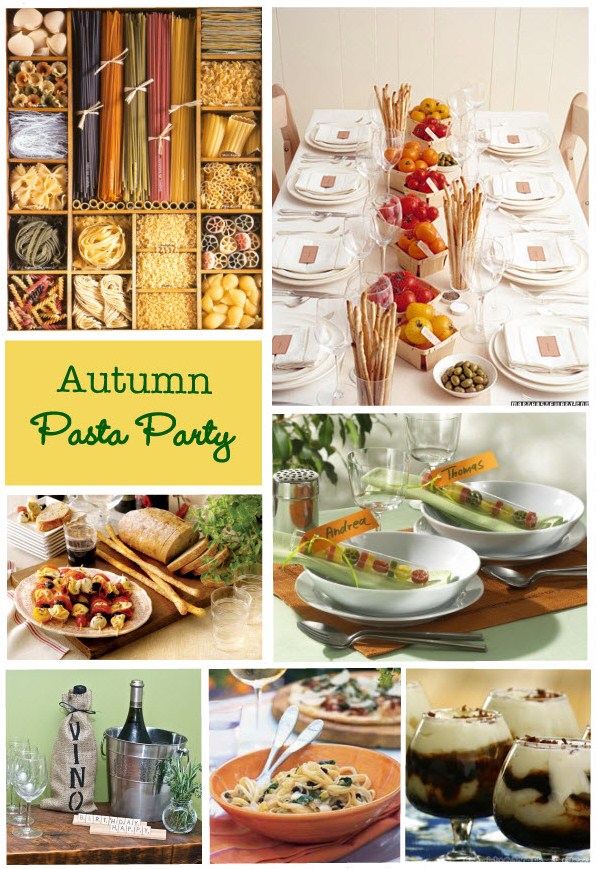 As the weather gets cooler, it seems our meals get a bit more hearty. What would the fall and winter months be without soup, chili, and everyone's favorite, pasta? With that in mind, I put together an inspiration board to help you think about hosting a cozy Pasta Party with friends.
The atmosphere should be casual and inviting with organic centerpieces, simple place settings, and plenty of wine! The adorable name card holders shown are an interesting and unique detail. Keep appetizers to a minimum to save room for the main meal. These small antipasti skewers are just the right size. Speaking of the main meal, I love the idea of serving a pasta bar with a few different pasta varieties, as well as two or three different sauces to try. You could have red sauce and white sauce, meatballs on the side to add, and freshly grated cheese. Or for another twist you could have guests bring their own secret recipe and have a sauce showdown!
Serve individual sized tiramisu in cocktail glasses, along with espresso, to keep the conversation lively throughout the night. As a parting favor for your guests, wrap a small potted herb such as rosemary or thyme, in burlap tied with twine.
There's no better way to spend quality time with friends than over a casual Autumn meal.
Credits:
Pastas, Table  setting, Appetizer, Place card setting, Wine, Pasta, Tiramisu 
Guest blogger, Chris of Celebrations At Home