Hi everyone! I'm Amy from Living Locurto and thrilled to be guest posting today for Kim. As a fellow party girl, I thought sharing one of my favorite fall recipes would be the perfect topic for today. I served these last year at my Halloween Boofett and they were the hit of the party!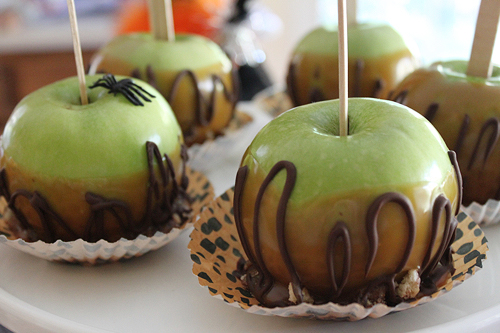 Make these for any fall event and your guest will love them! You can also wrap them up with a bow for teachers gifts as well.
Here's what you'll need:
1 bag (14 Oz.) Caramels
8 Apples
8 Wooden Sticks(or real sticks from outside for a rustic touch)
1 Large Bar of Your Favorite Candy Bar (I used Snickers)
1 Cup Melted Chocolate Chips
And here are a few simple instructions:
Melt the caramels in a microwave safe dish for about 3 to 5 minutes until melted.
Put sticks in the apples.
Melt chocolate in the microwave. Chop up the candy bars.
Dip apples in caramel and roll in the candy bar.
Place on a cupcake wrapper and pipe chocolate over the apple.
YUM!
I hope you'll visit my blog for lots of free printables and fun! Thanks for having me here today Kim. I'm sure you're having a wonderful time at Disney!! – Amy
For more delicious fall recipes:  11 Delicious Apple Recipes, Pumpkin Butter Recipe and Free Printable, Apple Pie Pops Recipe.
As always, I hope you're inspired to craft, bake, create and celebrate!
INSTAGRAM | FACEBOOK | PINTEREST | GOOGLE+ | TWITTER | YOUTUBE | BLOGLOVIN