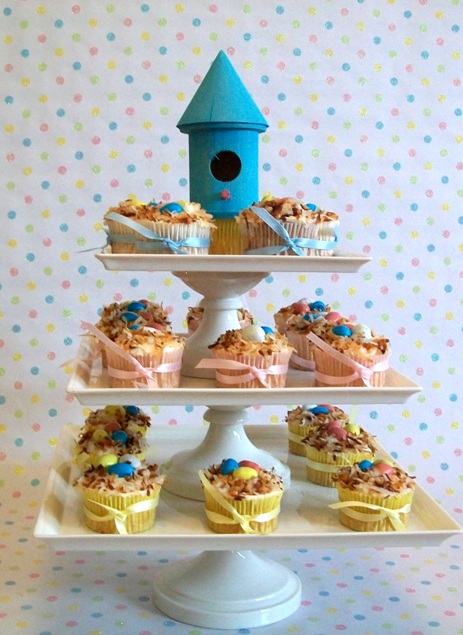 This morning on Daytime Columbus with Gail Hogan I shared how to make these "oh so cute" baby bird nest cupcakes. These are perfect for a baby shower or any spring celebration, maybe an Easter brunch.
Here's what you'll need to embellish your cupcakes:
1 can cream cheese or vanilla icing
Coconut
Robin egg candies or jelly beans
Ribbon, fabric pastel colors shown
Cupcake liners, pastel assortment from Wilton shown
Baking sheet
Three tier cake plates (8″, 10″ and 12″ stackable)
Small bird house (I got this one for a $1 at the craft store)
And here's what you'll need to do:
Use egg whites only when preparing your batter so that it is ultra white. The lighter the batter the clearer the original color of your cupcake liners will be.
Also, I suggest using apple sauce instead of oil so that they don't become oily.
Spread your coconut on a baking sheet and place it in the oven on 350 degrees for five to six minutes or until lightly toasted. You may want to toss your coconut before embellishing your cupcakes as the coconut in the center of the pan is likely to be lighter than the coconut on the outer edges.
Cut 7-8″ sections of coordinating ribbon and wrap your cooled cupcakes.
Ice each cupcake with a generous amount of icing, place three candies in the middle and then top with coconut.
Shake off excess coconut and you're ready to serve.
Visit our shoppe to see our shower invitations and décor. And if you would prefer to see this craft in action, here's the "how to" video.
Happy baking!