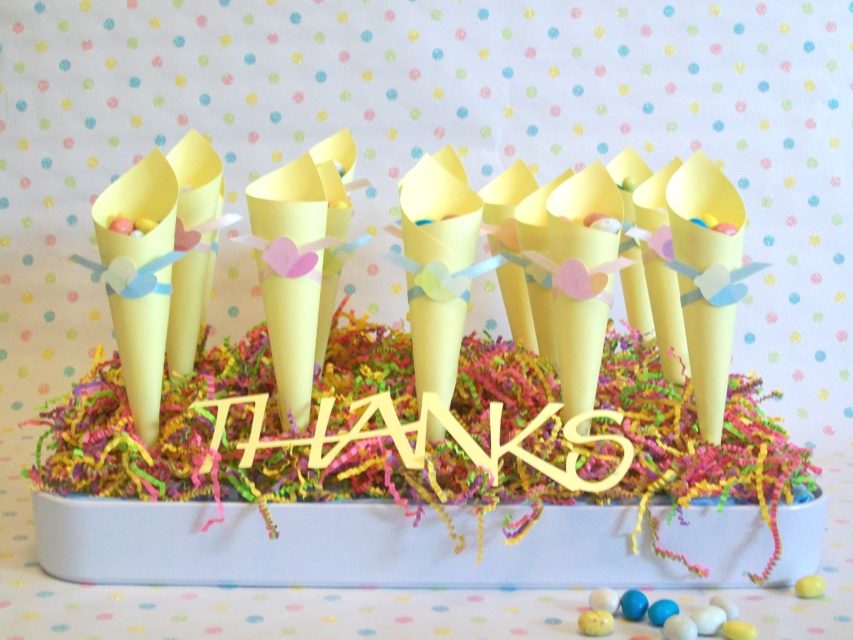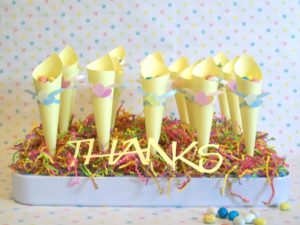 This morning on NBC's Daytime Columbus I'll be demonstrating how to make these beautiful baby shower favors. Here's what you'll need to get started:
Lipped serving tray
2″ Styrofoam board cut to fit
2 gift wrap tissue paper sheets
Gift wrap shredded paper (available in bags)
Lollipop sticks
Ruler
Crafters glue
6″ squares of card stock
Ribbon
Stickers or die cuts
Candies
"Thanks" or "Take One" note on card stock
And here are the easy steps:
Cut your Styrofoam board to fit the serving tray. (Tip: This is an activity best performed outdoors.)
Wrap your foam in tissue paper. This serves two purposes. It covers the fibers that might still be loose from cutting and it hides the stark white.
Cover the foam with shredded gift wrap paper.
Determine the number of favors you'll need and measure your spacing to ensure even placement.
Insert the lollipop sticks.
Curl the 6″ cardstock squares into cones, securing them in place with crafters glue.
Apply the ribbon and die cuts to the cones and fill with candies.
Make a "Thanks" or "Take One" note from the same card stock.
See our shower invitations and decor. Happy crafting.