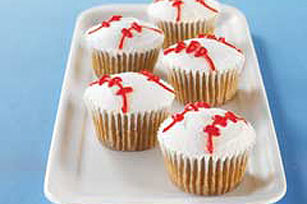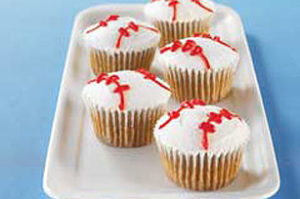 Okay, so I'm loving KraftFoods.com this week, but I had to share this idea too. These are super easy and a great addition to any baseball themed birthday. Or, better yet, just a great treat to take to the ball field this spring.
Here's what you'll need:
1 pkg. white cake mix (and required additional ingredients)
10 OREO Cookies, crushed
2 cups thawed COOL WHIP Whipped Topping or can white icing
Tube red decorating gel
White muffin cups
And here's how you make it:
Prepare the cake batter as directed on the package and stir in cookie crumbs; spoon evenly into 24 paper-lined medium muffin cups. (NOTE: To make these egg and dairy free, use puree apricots, two halves to one egg, in the place of the egg and ice with dairy free can frosting.)
Bake and allow cupcakes to cool completely.
Frost cupcakes with the whipped topping (requires storing the finished cupcake in the refrigerator). Or, if you decide to use regular icing, heat it in 15 second intervals in a glass bowl in the microwave and dip your cupcakes allowing the excess icing to drip off before setting them aside to cool. Use the decorating gel to draw stitching lines on top of each cupcake to resemble a baseball.
Happy baking!