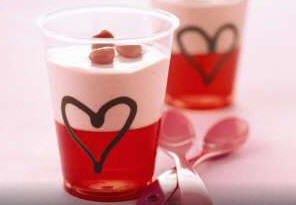 I ran across these on KraftFoods.com, one of my favorite sites for easy recipes, and just had to share because they are soooo darn cute.
Here's what you'll need:
1 square BAKER'S Semi-Sweet Chocolate, melted
2 cups boiling water, divided
2 pkg. (3 oz. each) JELL-O Strawberry Flavor Gelatin
1-1/2 cups cold water, divided
Ice cubes
1 cup thawed COOL WHIP Whipped Topping
Decorations: assorted Valentine sprinkles and candies
And here's how you make it:
Draw a heart design or write a Valentine's Day message in each of 8 (6-oz.) clear plastic cups by piping chocolate onto insides of cups. Refrigerate until chocolate is firm.
Add 1 cup boiling water to 1 pkg. gelatin mix in medium bowl; stir 2 min. until completely dissolved. Stir in 1 cup cold water; pour into cups. Refrigerate 1 hour or until gelatin is firm.
Meanwhile, add remaining boiling water to remaining gelatin mix; stir 2 min. until completely dissolved. Add enough ice to remaining cold water to measure 1 cup. Add to gelatin; stir until thickened. Stir in COOL WHIP; spoon over gelatin layer in cups. Refrigerate 3 hours or until firm. Decorate as desired.