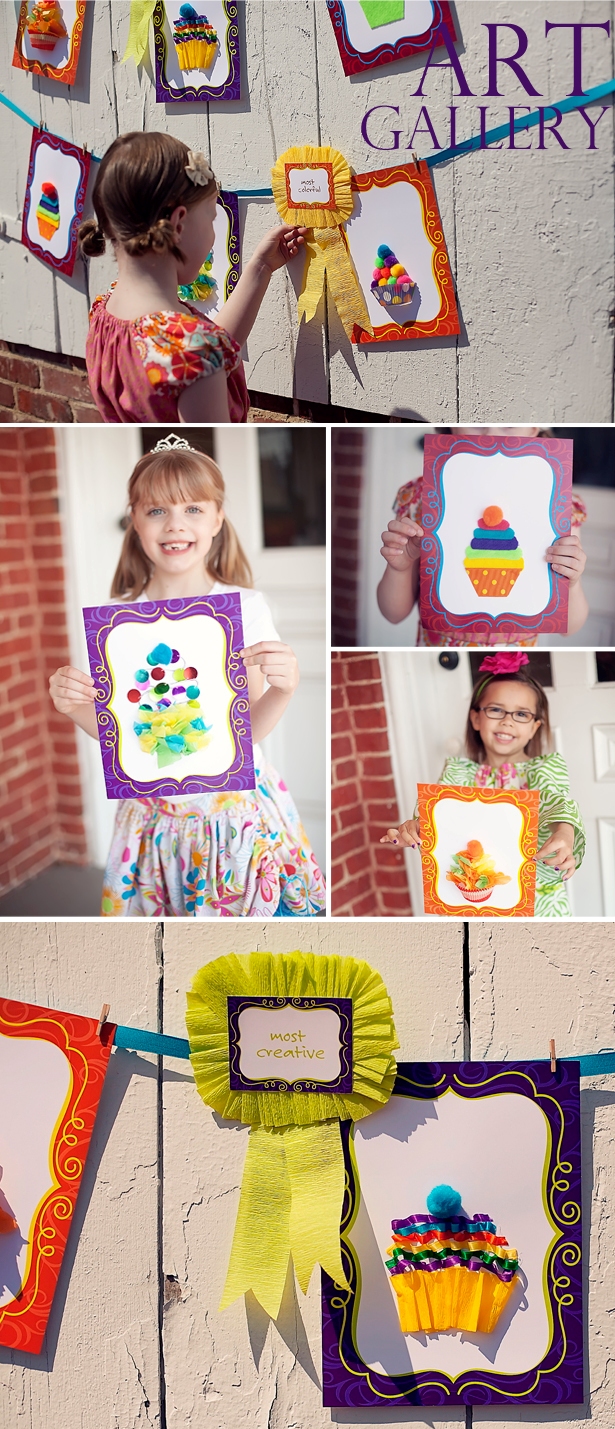 As I mentioned in my last post, our newest collection is an art birthday party. This collection was so fun to create. And when we thought about activities for the kids there were so many great ideas, but my favorite was sharing their art in a gallery.
A little side note, before I became a mom I used to think "I'll never cover my fridge with my kid's pictures!" Well, okay, I still don't, but that's only because I gave them both their own 36×52″ framed cork-board in their playroom (which happens to be on the main floor just off of the kitchen)! Long story short, they love showing it off and I truly love seeing it.
Included in the printables for this collection we designed four whimsy frames for the kids to create on: red/blue, orange/yellow, purple/chartreuse and black/white. We also created "award badges" that you can give to each guest. They say things like most creative, best in show, most artistic, best design, most colorful and best color palette. A great way for every child to feel special. The printable is the rectangle tag in the center and then we created the crepe ribbon backer. (You can see how to create a similar idea with our graduation collection.)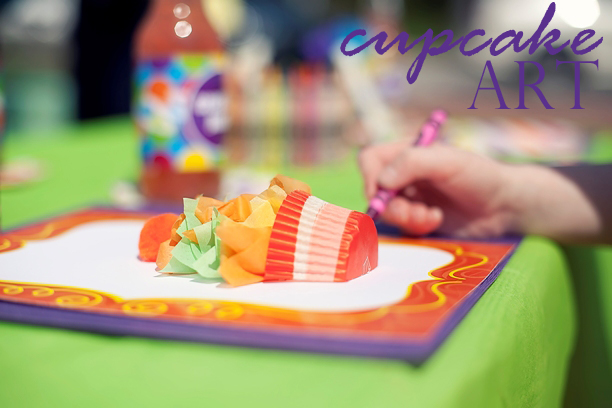 For the art project, we created 3-D cupcake art. We didn't buy a thing, we just gathered odds and ends from around my craft room like tissue paper (cut into squares), pom poms, ribbon, crepe paper, felt and cupcake wrappers, just to name a few. I loved how they all turned out!
And last but not least, here's a look at the Art Gallery entry sign that is also part of the printable collection. We printed it at Costco for $5.99 and embellished it with yellow crepe paper. Can you tell I'm loving crepe paper lately?! It's inexpensive, comes in a variety of colors and so simple to manipulate. LOVE. By the way, Happy Belated Birthday to little Emma, my assistant's daughter, and the muse for many of these ideas.
You can see more details from our new Art birthday party collection in the shoppe now, AND stop back in for more details including the dessert table. And as always, I hope you're inspired!
Photography by the fabulous Angie Arthur Photography!