We made a number of Halloween crafts for our Candy Corn Halloween collection photo shoot last week, including the DIY cake plate ruffle and DIY Halloween Dish Towel Apron ideas. So today I want to share these super simple Halloween masks and for all those who've asked, I swear I'm sharing the witch hat (shown in the background above) in my next post!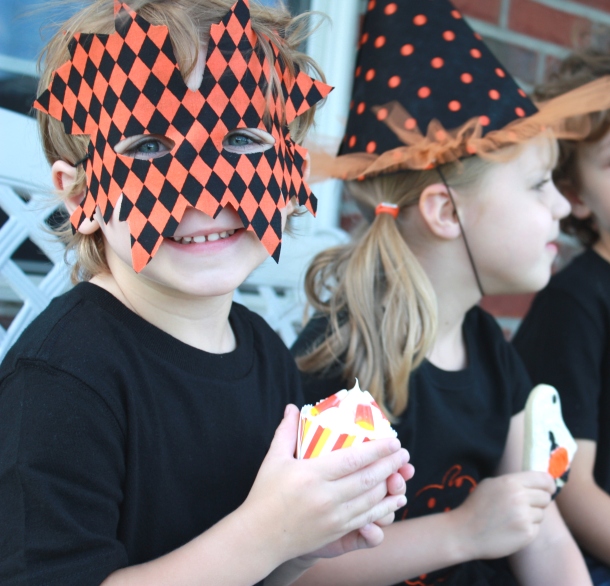 Materials:
Halloween mask templates from Good Housekeeping magazine 
1/3 yard fabric (for front and back)
Stretch rite elastic for strap
Wonder Under fusible web (self-adhesive available at any craft store)
Sharp scissors or cutter
Iron
Easy steps:
Print and cut out your mask template
Cut your mask out of fabric, twice, and out of Wonder Under once. We chose to use this self-adhesive and two layers of fabric to give the mask stiffness
Place the fabric in place and then look for any Wonder Under that might be protruding out of the mask. You'll want to cut that off so that it doesn't ruin your iron and so that your edges are smooth
Following the instructions on the Wonder Under package, iron your mask and set the glue
Hold the mask up to your child and then snip a tiny hole/flap on one side of the mask for the strap. Make sure you don't snip too closely to the edge. Now fold your mask in half and snip a hole/flap in the other side in exactly the same place
Measure your child's head for the elastic strap
Insert the elastic on either side and tie
I chose a fabric that matched my dessert table, but this mask could also be adorable in a fall pattern too since it looks like leaves.
As always, I hope you're inspired to craft, bake, create and celebrate!
INSTAGRAM | FACEBOOK | PINTEREST | GOOGLE+ | TWITTER | YOUTUBE | BLOGLOVIN