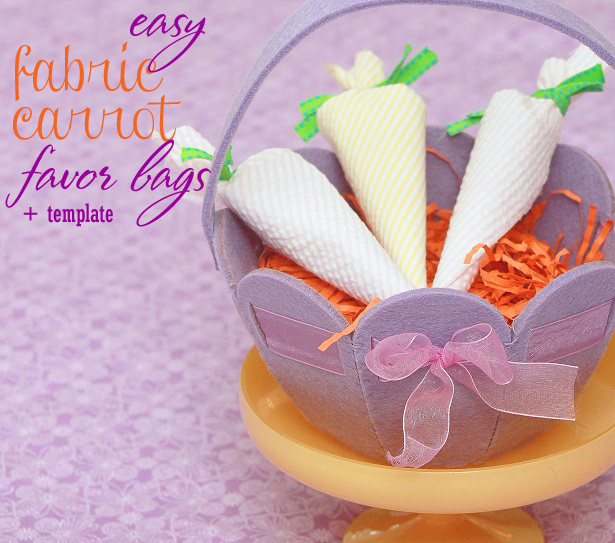 Hi there! It's Deanna from Mirabelle Creations. I'm excited to share a no-sew fabric carrot that's perfect for Easter candy and egg hunt goody bag favors! Kids will love opening these little carrot treats, especially when filled with their favorite jelly beans!
I chose something a little different than the traditional orange carrot this year. I created a Seersucker & Bow Ties Easter party collection  and decided to make my carrots out of seersucker too!
What You'll Need To Make Your Own Fabric Carrots:
Paper
Scissors
Fabric of your choice
Green ribbon or yarn
Hot glue gun
Easy DIY Instructions For Fabric Carrots:
Print out the free carrot template. Cut out the larger 5×7 rectangle pattern using the fabric of your choice. Repeat for as many carrots as you are planning on making.
After you have finished cutting out the fabric, cut out the template for the smaller square with the diagonal corner. Trace the shape onto plain white paper and cut out.
Run a small line of hot glue along the edge of the paper. Press side with glue onto the wrong-side of the fabric. Gluing the paper to the fabric will make the fabric stronger and able to hold the shape once it's rolled.
Roll the paper from the shorter side to the longer side, making a cone shape. Run a small line of hot glue along the inside edge to secure.
Tie off the ends of the fabric with green ribbon.
You can find me at Mirabelle Creations and as always, we hope you're inspired to craft, bake, create and celebrate!
Join The Celebration Shoppe on facebook, sign-up for the daily ideas to come right to your inbox (never miss an idea, giveaway or free printable!), follow us on twitter, pinterest and on instagram at @thecelebrationshoppe. And don't forget to shop our party store for birthday, baby shower and holiday party supplies