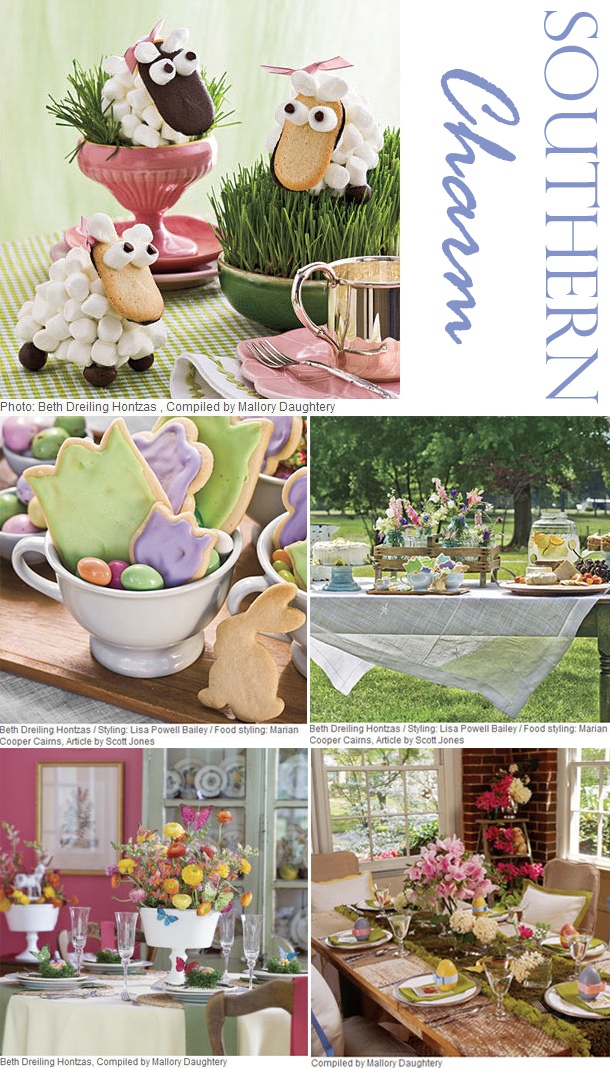 The temperatures are uncommonly warm this week in Ohio and it has me dreaming of spring! As you all know, I'm a southern girl, born and raised in Alabama (also lived in Mississippi, Texas and Tennessee before moving to Ohio about 10 years ago). I subscribe to Southern Living magazine for many reasons but the most important is that it helps me bring a little bit of my southern heritage into my home each month.  
So when I was looking around for wonderful Easter ideas I was surprised to find an idea on southernliving.com that I don't recall from the magazines. Since I usually pour over it slowly with a hot cup of coffee I can only think that the pages stuck together or I would shared these baa baa black and white sheep treats with you long ago. LOVE this idea for my kids' Easter table this year! Here are the easy steps:
To shape the body, use melted white candy coating (found in the baking aisle) to secure miniature marshmallows to one Pepperidge Farm Milano Black & White cookie.
Attach Peanut M & M's for hooves.
Use a second Milano cookie for the head, and attach miniature marshmallows and miniature chocolate morsels for the eyes.
Use flattened marshmallows, pinched together at one end, to make ears.
And what about these spring table setting ideas?! The talented designers at Southern Living never disappoint!
As always, I hope you're inspired!