Browsing around my JoAnn Fabric and Craft Store I stumbled on this darling witch silhouette design and was instantly inspired to make these easy sew DIY Halloween placemats. And what do you think of my witch's hat utensil holders?


I'm personally in love! They look so cute on my island bar. (We just painted the kitchen a silver gray. I need to load some pics for you!)
And the best part… they take no time at all. I made my placemats 18.5 x 13.5″. You'll need (per placemat):
Witch silhouette fabric (with the seasonal fabrics), 1/2 yard
Silver glitter polka dot fabric (in general fabric, on the wall in my JoAnn), less than an 1/8 yard (smallest you can purchase)
Wonder Under (comes in a roll 15″ x 15 yards)
Gray thread
Ruffle, 1/4 yard (has a mesh backing)
Clear ruler
Cutter
Cutting mat
Optional: Stitch in the Ditch sewing foot, Sewing clips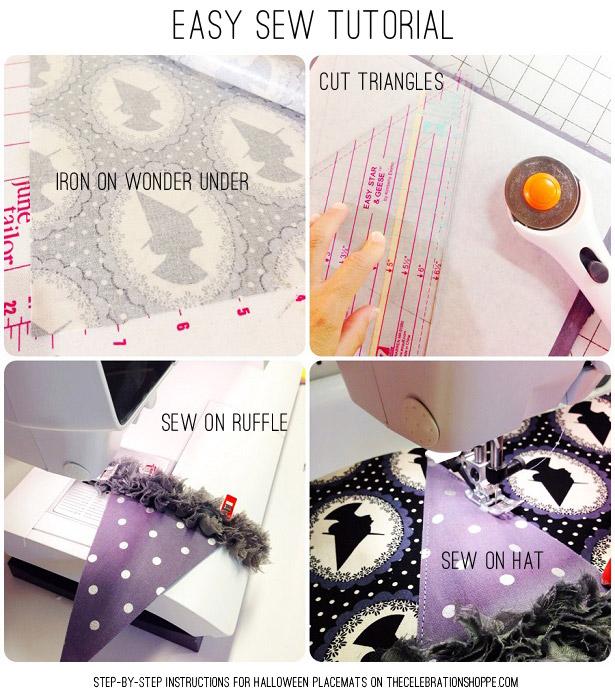 Easy tutorial:
Cut – cut out placemats (being careful to match up designs, I used her nose as a guide), 18.5″ x 13.5″
Iron – iron Wonder Under to one side of fabric, line up and iron both sides together (thickens fabric without needing batting, could also use interfacing)
Cut – cut out witch's hats, 4 3.4″ across top and 7 1/8″ inches to tip
Iron –  iron Wonder Under to one side of fabric, line up and iron both sides together
Cut,  clip, sew – cut embellishment to length (slightly longer than hat), clip and use a large stitch. If you have a rubber stylus, use it to hold the ruffles out of the way.
Measure, mark – measure placement on the placemat, mark
Sew – with a .30 stitch, sew witch's hat utensil holder in place
Sew – with a .30 stitch, embellish the edge of the placemat, not necessary, but lovely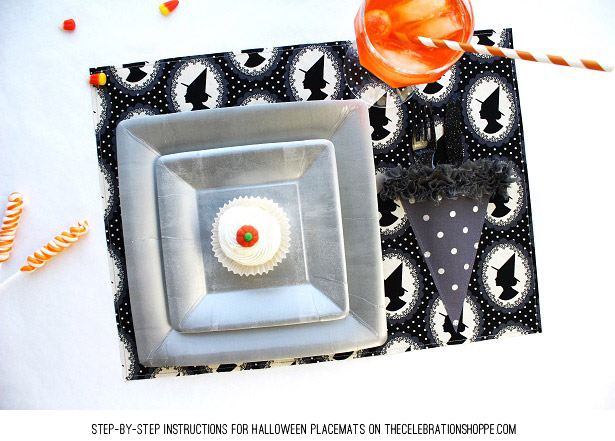 You can find all of the supplies for this project at JoAnn. And if you've not yet, you should sign up for their app. It's full of coupons so you'll never leave them at home again!
Happy National Sewing Month!
You might also like:
Easy Embroidery Hoop Pumpkins & Jack-o-Lantern Craft
As always, I hope you're inspired to craft, bake, create and celebrate!
INSTAGRAM | FACEBOOK | PINTEREST | GOOGLE+ | TWITTER | YOUTUBE | BLOGLOVIN
Easy Sew Halloween Placemat with Witch's Hat Utensil Holder Tutorial seen first on The Celebration Shoppe.