Hi there!  It's Deanna from Mirabelle Creations. I'm  sharing a fun and simple Halloween treat, not-so-scary vampire bat cookies, that will impress your kiddos, but just takes minutes to make!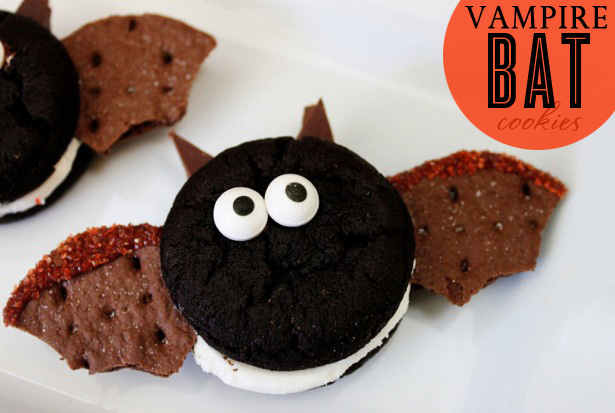 [pinit count="vertical" url="https://thecelebrationshoppe.com/2012/10/12/easy-vampire-bat-cookies/" image_url="https://thecelebrationshoppe.com/wp-content/uploads/sites/95/2012/10/Easy-Oreo-Bat-Cookies-f.jpg" description="Get batty this Halloween with these easy vampire bat cookies with from Mirabelle Creations via blog.thecelebrationshoppe.com" float="right"]
When my kids get home from school, they are usually starving, so after-school snacks are a must! Although snacks are usually healthy, on occasion I make them a special snack to enjoy.  Recently, my husband brought them home from school and I had these cute little bats waiting for them. They were a huge hit!
I've seen variations of these little bat cookies made with chocolate bat wings. I admit that I don't always have the best of luck with melted chocolate, so I tried to think of another way to make the bat wings.  These wings are simply chocolate graham crackers cut with a bat cookie cutter.
Here's what you'll need to make Halloween bat cookies:
Oreo Cakesters
100 calorie pack chocolate graham crackers
chocolate bar
Wilton candy eyes
orange sprinkles
bat shaped cookie cutter (I used a Wilton cutter)
Simple how to steps:
Using a bat cookie cutter, cut graham crackers into bats. With a knife, cut off both wings from bat's body.
Break off a small part of a chocolate bar, melt in microwave. For wings with sprinkles, dip the top half of wing into the chocolate. Shake off any excess chocolate. Pour sprinkles onto plate and dip the portion of the wing that you dipped into chocolate into the sprinkles.
Let chocolate dry for a couple of minutes.  Insert each bat wing into the cream part of the Oreo Cakester.
Dip the bottom half of the candy eyes into the melted chocolate, press onto the top of the Oreo.
Using the portion of the chocolate bar that you didn't melt, cut two small triangles for the bat's ears.  Insert ears into the cream part of the Oreo.
These cute bats only took minutes to create, making them the perfect after-school snack. But, they would also be great for a Halloween party or play date!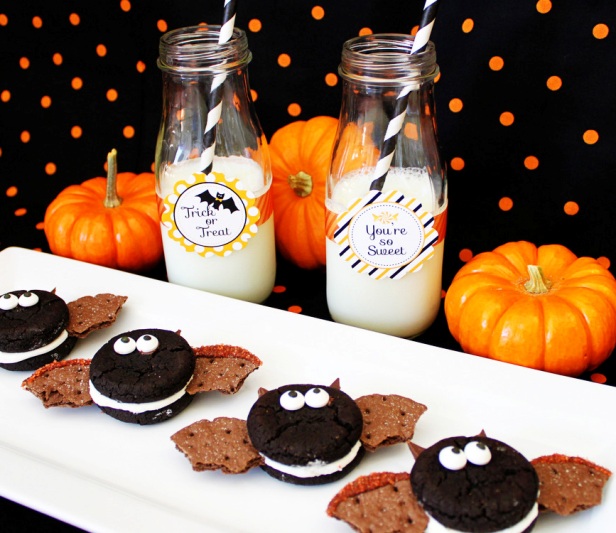 You might also like:  Not So Spooky Vampire Cookies, Monsters, Bats, Mummies, Oh My!, Easy Crashing Witch Cake. 
As always, I hope you're inspired to craft, bake, create and celebrate!
INSTAGRAM | FACEBOOK | PINTEREST | GOOGLE+ | TWITTER | YOUTUBE | BLOGLOVIN
 Easy Vampire Bat Cookies seen on The Celebration Shoppe first.
Visit Mirabelle Creations for details on how to purchase the complete Trick or Treat, You're So Sweet Halloween printable party collection.