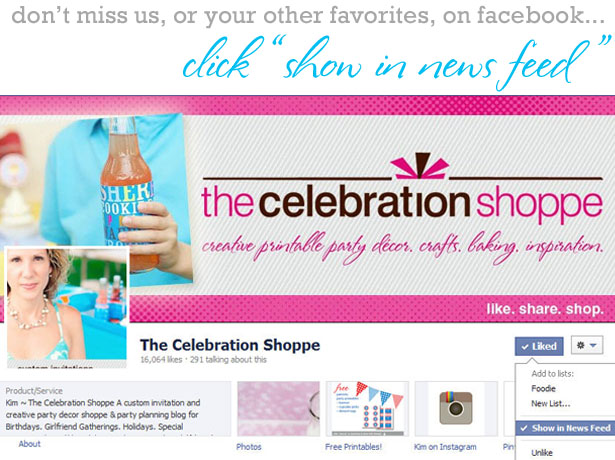 Facebook has made some changes to all business Facebook pages. Have you noticed that your favorite brands, bloggers, or fan pages haven't been showing up in your Facebook feed? It may be because of Facebook's new Promoted Posts.
Brands have spent tons of time and money promoting their Facebook pages, free advertising for Facebook, but now all those that have "liked" our pages don't necessarily see our updates unless we "promote"… aka "pay" Facebook… and it ain't cheap! 
To make sure you see all of your favorites in your direct feed, follow these three simple steps:
1. Go to my fan page, and your other favs
2. Click on the "Liked" button under the large cover photo (see above)
3. Click the "Show in News Feed" option
Now you'll go back to getting all the party, baking and crafting inspiration that The Celebration Shoppe has to offer right in your normal feed. That's it! And if you're not a The Celebration Shoppe facebook fan, now's the perfect time to join me!
I'm off to craft some super cute bugs with my boys to share later this week!
Join The Celebration Shoppe on facebook, sign-up for the daily ideas to come right to your inbox (a box in the right-side navigation bar), follow us on twitter, pinterest and on instagram at @thecelebrationshoppe